What Are the Reasons to Book Air Ambulance Services in India?
Jun 03, 2023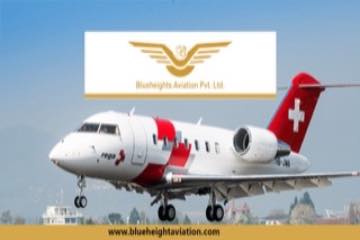 When a patient need instant shifting from one small hospital in a tier II or Tier III city to a major hospital in metro cities by covering the distance of more than 500 kms in emergency hours, no other option can be better than air ambulance services in India – provided by leading aviation companies. Covering such distance or more than the aforementioned one via road need hours to complete; while chances are higher to stuck in city traffics, roads that are not paved well, and many other issues that may cause death of patient too.
Air ambulance services are offered to cover the same distance in just an hour or hardly some more time. The charter choppers or private jets that are involved in offering such services are equipped with all essential devices and medical systems that are required to provide support to patient for the duration of shifting. Medical staff is also available to take care of patients.
Air ambulance services in India take instant clearance from air traffic control so that they can be taking on or off instantly.
Patient will have a dedicated team looking after their needs. You as patient's care taker will be get precise solutions from booking to boarding and disembarking.
You'll have more flexibility and control over your journey.
Patient will get fast and efficient transfer. Patient will be taken from present location to next in the shortest time frame.
A dedicated flight team will monitor patient's condition throughout the journey and take measures to ensure that it's safe for you to fly
They won't draw attention to your presence onboard. In this way, you can travel in privacy and comfort.
You can get Mumbai air ambulance services and for other destinations
Some renowned aviation companies provide air ambulance services to locations worldwide.
Their charges are reasonable for such precise air ambulance services. You have to make a contact as per your requirement, go through the details, and get precise solutions for patient transfer.
Blueheights Aviation is a one stop reliable name in this domain providing you with complete peace of mind and ensuring you will be able to get your patient shifted in the shortest possible time frame. From Mumbai air ambulance services to offering such services to other cities, they cover all parts – from remote locations to tier II and III Cities. Stay in touch with experts and get the right air ambulance services for better care and instant life support system for patients.
You May Also Like
Your Private Charter Journey Starts Here
Subscribe and we'll send the best deals to you