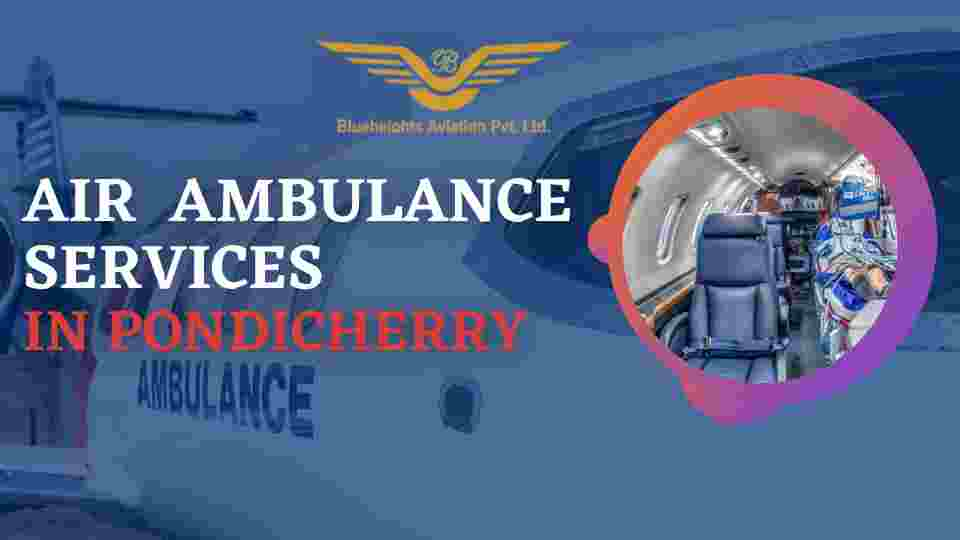 The Best Air Ambulance Services in Pondicherry
Are you looking for reliable air ambulance services in Pondicherry? With highly experienced healthcare professionals and quality service, get the best air ambulance services for yourself and your loved ones in Pondicherry.
Research the Different Companies Offering Air Ambulance Services.
Before selecting an air ambulance service, it's important to do some research to find out the different companies offering air ambulance services in Pondicherry. Consider factors such as experience, quality of service, pricing and availability before making a decision on which company to choose. Additionally, look for reviews from individuals who have used their services in the past, to further inform your choice.
When researching air ambulance services, start by making a list of possible companies. Perhaps you can ask your local hospital or clinic if they have any recommendations, or check online and in newspapers for service listings. Once you've narrowed down your list, call and email the various services to get detailed information on their experience and availability. Additionally, find out if the service offers any special packages that may prove more cost-effective than paying for individual flights. Finally, be sure to read reviews from past customers to gauge the quality of their customer service as well as how timely and professional the transport was.
Check for Insurance Coverage & Emergency Support System.
It's essential to make sure the air ambulance service you're selecting offers insurance coverage and a good emergency support system. Ask them specifically about their policies and procedures in the event of an emergency, such as how quickly they can respond to calls and how they will handle your insurance paperwork. Additionally, make sure that their medical staff is experienced and qualified to handle any situation.
Look into Blueheights Aviation for Air Ambulance
Blueheights Aviation is a trusted name when it comes to air ambulance services in Pondicherry. Not only do they provide medical staff who are qualified and experienced but they also have a reliable emergency support system, offering both assurance and security during times of crisis. They are also highly transparent about their policies, making sure that you have all the information you need about the process. With competitive rates for air rescue flights and 24/7 availability, Blueheights Aviation is the perfect choice for fast and effective air ambulance services in Pondicherry.
Blueheights Aviation offers a wide range of air ambulance services, from inter-facility transports to long-distance medical flights. Their team is highly trained and experienced in dealing with any medical emergency, both domestic and international. Their fleet consists of world-class aircraft equipped with the latest medical technology, including state-of-the-art life support equipment and sophisticated navigation systems. Moreover, every flight is planed and scheduled around the patient's need so that they receive timely treatment at their destination. With staff who are always on call, you can rest assured that Blueheights Aviation will provide you with a safe and comfortable air ambulance experience in Pondicherry.
What is cost of air ambulance in Pondicherry?
The cost of air ambulance services in Pondicherry can vary depending on the type of aircraft that is used, distance of the transfer, and any additional medical services that are needed. Blueheights Aviation offers competitive rates and promises complete transparency when it comes to pricing so you know exactly what you're getting for your money. They also have a team of experts who can help you select the right package for your needs and provide all the necessary information before bookings are made to ensure everything meets your expectations.
The cost of air ambulance services in Pondicherry is estimated to range from around INR 1.5 lakhs to INR 4 lakhs, depending on factors such as the type of aircraft required and how far you're travelling. All payments are accepted through digital payment channels like credit/debit card, Google Pay or UPI. Blueheights Aviation also boasts a wide network of air ambulances distributed throughout major cities across the country. Their services are tailored specifically for the purpose of providing fast and reliable response times during medical emergencies.
Consider Timely Response and Access to Top Facilities and Expert Doctors During Transferring Processes.
When it comes to selecting the best air ambulance services in Pondicherry, timely response and access to top facilities and expert doctors during transferring processes are key. BlueHeights Aviation is renowned for its prompt responses, with dedicated staff always on hand to provide all necessary assistance when needed. Their fleet of air ambulances and ICU setups are top-notch, equipped with all necessary medical appliances, experienced doctors, trained paramedics, and highly professional staff. In addition to that, their competitive prices ensure you get the best value for your money.
Your Private Charter Journey Starts Here
Subscribe and we'll send the best deals to you