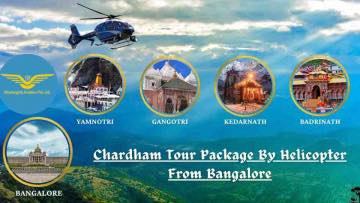 Chardham Tour Package By Helicopter from Bangalore ( Bengaluru)
Chardham Yatra is a pilgrimage undertaken by Hindus starting in May. Chardham Yatris follow a route that passes through specifically four sacred places such as Badrinath, Kedarnath, Gangotri, and Yamunotri. CharDham Yatra holds high significance in Hinduism. It is believed to be a path of Moksha.
People coming from Bangaluru or Karnataka city often look up to the best Chardham Yatra Packages from Bangalore. Between the Yatra by road and Helicopter, Chardham Yatra by Helicopter from Bangalore is in high demand. It is due to the increased convenience and the comfort that CharDham Yatra By Helicopter offers. .
If you look forward to becoming a part of this iconic Char Dham Yatra from Bangalore, here we go with our detailed itinerary.
Day 1: Bangalore to Dehradun
There are ample air services and a railway network connecting Banglore with Dehradun and Delhi. You can easily click through trains from Bangalore to Dehradun, which forms the base camp for the Chardham Yatra.
We recommend taking the Bangalore to Dehradun air charter services for the most convenient and quickest yatra experience.
Day 2: Dehradun to Yamunotri
Your holy Chardham journey begins at Yamunotri, dedicated to the Hindu River Yamuna. You will board a Helicopter at Shastradhara Helipad in Dehradun to reach Kharsali Helipad in Yamunotri. Our representative will receive you at the Harsil Helipad to proceed to the hotel to check in. Thereafter, you will leave for a soulful Yumunotri Temple Darshan. Once back, its time to relax and unwind.
Day 3: Yamunotri to Gangotri
The next Dham to poroceed after Yamunotri will become Gangotri Dham. It is the heavenly dwelling of the Ganges, a sacred river in India. You will reach the Harsil helipad early morning and proceed to check in hotel. Then you will be taken to Gangotri temple which is approximately 50 minute drive away. Come back and soak yourself in the nature's beauty to rewind.
Day 4: Gangotri to Kedarnath
After Gangotri, The next dham to follow is Kedarnath. It is described as the home of Lord Shiva, the destroyer. Early morning, you will proceed from Harsil helipad to reach Sersi helipad. A shuttle service will take you to the Kedarnath ji for Darshan. In the span of approximately 2 hours, you will dive into the soulful Darshan of Kedarnath ji.
Day 5: Kedarnath to Badrinath
It's the final Dham you will visit that is believed to be the heavenly home of Lord Vishnu, the creator. You will board a helicopter from Sersi Helipad to reach Badrinath temple. Mana Village is one of the prominent attraction in Badrinath that is also considered as the last village of India. After this village, the China boarder begins.
Day 6: Back to Dehradun
After the heartfelt darshan of al the four Dhams, it's time to return to Dehradun after treasuring some precious memories. You board from Badrinath to Sharastradhara Helipad in Dehradun. Our representative will assist you back to the Hotel in Dehradun to collect your luggage. Then, you'll take the train/flight to Bengaluru.
You may also choose an overnight stay at Dehradun on chargeable basis to unwind yourself.
Terms & Conditions For Blue Height Aviation Helicopter Services
The passenger shouldn't carry baggage that weighs more than 2 kilograms. The excess weight of luggage will not be accepted on the helicopter.
All children over the age of 2 has a full ticket.
Don't confuse the reporting time and departure time. The reporting time is one hour earlier than the departure time.
Passengers are asked to come into our office wearing a CTT voucher.
The minimum wait time for a traveler is 2 hours, based on the conditions of the weather.
The temples are all in high altitudes, so travelers must carry a medical equipment with them.
There is no restriction or other concessions for children or older adults.
Any additional night of stay due to weather conditions will be the responsibility of the guest the hotel.
Our Services reserves the right delay the time of flight due to weather conditions that are not ideal.
Senior citizens and those with disabilities will be given preference
The duration for passenger darshan is 1hr 30 minutes.
In the helicopter ride, we do not take responsibility for your baggage.
If you take any shortcuts during your trek, we're not accountable for it.
Chardham Yatra Packages 2022 would be designed to accommodate passengers in groups of their own. It is however not always feasible at all times to split passengers into groups to allow for weight adjustments.
Important Note:
In the event of a flight being was cancelled or changed due to weather conditions technical difficulties, lack of passengers, or other reasons the passengers will be required to travel on their own, based on the package you purchased, a complete refund will be given. If you have any issues with 4 Dham Yatra helicopter services contact us on our support number and our experts will resolve your issue immediately.
Once you book Char Dham helicopter services, we will provide the finest services to ensure you have a relaxing and luxurious experience. In line with the increasing demands of our clients, we have a forte in providing the best helicopter services. Our team of experts regularly communicate with our customers and offer an option to rent a helicopter in accordance with their requirements and purchase these services from us at an affordable price.
Our fleet includes 100+ aircrafts as well as helicopters to ensure that no matter your travel requirement, we have the perfect aircraft for you within the shortest time. To enjoy an unparalleled air charter experience, book on with BlueHeight Aviation.
Why To Book Chardham Yatra From Bangalore from Blueheight Aviation?
Our exquisite Chardham Yatra tour packages let you make the most of your journey to Uttarakhand. The Chardham Yatra 2022 package by Blueheight Aviation is available at the most affordable prices and was developed after considering all your needs and desires. If you're short of time, look into Do Dham Yatra instead of Chardham Yatra packages from Bangalore.
What's included in the Chardham Packages?
These Chardham Yatra packages departing from Bangalore will ensure that your every need and preference are taken care of to meet your expectations. When you book your flights or train tickets, we will ensure that you are provided with the best accommodations that are affordable and satisfy every requirement. Chardham packages will ensure you are provided with top-quality services. Because the trip from Bangalore across Uttarakhand is very long and tiring, our routes are planned so that you can have plenty of time to unwind and relax.
Does lack of time or the inability to go on long road trips causes defers your Chardham Yatra? Use the Chardham Tour by Helicopter from Blueheight Aviation to discover the four holy spots in the most precise and short amount of time. It is the Chardham Yatra helicopter service that brings you fantastic sightseeing. The stunning views you can see from the ground will delight your eyes.
Explore and sightseeing tour with Chardham Yatra
Our tours come at the most affordable prices to make sure you participate in Chardham Yatra darshan and enjoy exploring the various places in the course of your visit. If you're coming from Bangalore, you'll likely be keen to visit some of the world's most popular tourist attractions and locations in procimity to CharDham. Special arrangements can be made on request to visit these locations to make your travelling experience enriching than ever.
We also offer packages that can be customized.
Blue height aviation offers a customized Chardham Yatra Bangalore package depending on your requirements and preferences. Select a cost-effective, budget-friendly and luxurious Chardham Pilgrimage Tour with us and enjoy the most memorable experience.
You Might Also Like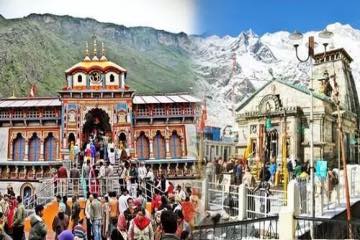 Chardham Yatra Helicopter Services


Kedarnath yatra helicopter services
Your Private Charter Journey Starts Here
Subscribe and we'll send the best deals to you