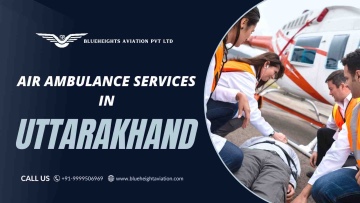 Air Ambulance Service in Uttarakhand
Are you looking for Air Ambulance Services in Uttarakhand? If yes, then look no further because we have got you covered.
Blueheight Air Ambulance Uttarakhand is available at affordable prices. Our highly qualified professionals have years of experience in providing quality service.
We offer 24/7 emergency medical services across India. Whether you require urgent or non-emergency care, our expert doctors and paramedics will ensure you receive the best possible treatment.
Our mission is to provide high-quality healthcare services at affordable rates. We strive to deliver excellent customer satisfaction through efficient and effective management systems.
We understand your need and urgency for immediate medical assistance, so we ensure that you get the best possible care. We also provide same-day emergency medical services. We have over 10 years of industry experience and have already transported more than 1000 patients safely to various locations in India and abroad.
Our team of experts provides round-the-clock emergency medical services.
If you are looking for an air ambulance service provider in Uttarakhand, Blueheight is the right choice.
What is an air ambulance?
An air ambulance is an airplane equipped with advanced life support equipment. It can be used for transporting patients from one hospital to another.
The aircraft is specially designed to take off and land on short runways. It makes it suitable for landing in remote areas without enough space for a large helicopter.
It is usually staffed by a doctor, nurse, paramedic, flight crew, and maintenance personnel. The patient is transferred to the aircraft via a stretcher or gurney.
Who Needs An Air Ambulance Service?
There are many reasons why people require an air ambulance:
1) Emergencies such as cardiac arrest, stroke, heart attack, etc.
2) Trauma cases like road accidents falls, gunshot wounds, etc.
3) Patients who cannot travel long distances due to illness or disability.
4) Patients who need specialized treatments like dialysis, organ transplants, etc.
5) People are traveling to hospitals outside their country.
Why is Air Ambulance Better than Road Ambulance?
Air ambulance services are the best way to get medical care in a short period. The air ambulance service provides fast and reliable transportation, which means you can be treated at your destination without having to wait for long hours or days. It takes only 30 minutes to reach the hospital from the airport. You don't have to worry about traffic jams or other delays.
Some of the considerable benefits of Air Ambulances are:
• Fastest mode of transport
Air ambulances are much faster than road ambulances in evacuating patients from their respective hospitals to the required medical facility. They can cover long distances over a shorter time.
• Paramedic Team Onboard
All the air ambulances are equipped with a Paramedic team to deal with any emergency during transfers. These are well-qualified doctors with all the necessary tools and medicines to treat the patient.
• No waiting around
You do not have to wait for long hours before getting treatment. Especially in an emergency, an air ambulance can evacuate between 2 to 4 hours inter-city, which is impossible with a road ambulance.
• Well Equipped
All the Air Ambulances are well-equipped with life-supporting systems that are not possible with road ambulances due to space constrained. Ventilators, defibrillators, oxygen tanks, suction machines, monitors, etc., are some essential items that make air ambulances better than road ambulances.
• Reliable and safe mode of transport
Air ambulances are not prone to bumps that cause uncomfort to the patients. It ensures a smooth transfer instead of proper facilities on board.
How to Choose an Air Ambulance Company?
Choosing an air ambulance company is very important. Ensure that the air ambulance company has a good reputation and experience in providing quality services. Also, check if they provide 24/7 services. Look for their experience in the industry to understand their portfolio and expertise.
Check online reviews that give you a fair idea about the quality of their services. Ask them for references so that you can contact past clients.
Ask them what kind of aircraft they use for the transfer. Check whether the aircraft is certified by the DGCA (Directorate General of Civil Aviation) or IATA (International Air Transport Association).
Few Questions to be Asked from an Aviation Company
Ask them how often they conduct training sessions for pilots and paramedics.
Ask them about the maintenance schedule of the aircraft.
Ask them about the cancellation policy.
Ask them about payment options like cash, credit card, debit card, or net banking.
Ask them about pre-flight checks.
Ask them about customer support.
Ask them about their service charges.
Ask them about return policies.
Ask them about emergency evacuation procedures.
Ask them about flight safety regulations.
Ask them about medical equipment onboard.
Frequently Asked Questions
How does an Air Ambulance Work?
When you call us for an air ambulance service, our team of experts will arrive at your location within 15 minutes. They will check your health condition and decide whether you need an air ambulance or not. If yes, they will take you to the nearest airport, where a helicopter will pick you up. Once you reach the helipad, the paramedics will start treating you immediately. After the treatment, you will be transported to the nearby hospital.
How does an Air Ambulance Work?
When you book air ambulance service, you will be provided with all the necessary information about the aircraft type, capacity, and other details. Once you confirm the booking, we will send a representative to your place to collect all the relevant documents and ensure that everything is ready for the flight. Our representatives will also help you with the documentation process.
What is the Air Ambulance Cost in Uttarakhand?
The average Air Ambulance Cost per hour in Uttarakhand is 1.5 lakh to 2 lakh, depending on the distance and duration of the transfer. Many factors affect the air ambulances prices in Uttrakhand, as follows:
• Distance covered by the air ambulance
• Duration of the transfer
• Type of aircraft used
• Time is taken to reach the destination
You May also like :
Your Private Charter Journey Starts Here
Subscribe and we'll send the best deals to you