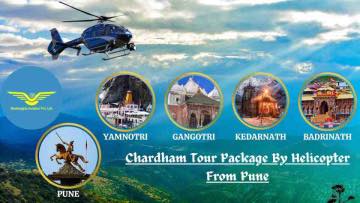 Chardham Tour Package By Helicopter from Pune 2023
Pune and its surroundings are well-known to be the "cultural capital of the Marathas" in Maharashtra and are home to spiritualists constantly seeking spiritual experience in India. The Pune residents deeply believe in Lord Badri and Kedar of the Himalayas, Goddess Ganga, and the Yamuna. It is the reason why every year, hundreds of visitors come to Pune for a visit to the Chardham temples of the Uttarakhand Himalayas.
If you're searching for Chardham Yatra packages 2023 in Pune, take a pilgrimage trip to the four tourist destinations, which include Yamunotri, Gangotri, Kedarnath & Badrinath, and Badrinath. BLueheight Avaition is here to help you as a dependable tour provider in planning the Chardham Darshan tour in the Himalayas starting from Pune.
Terms & Conditions For Blueheights Aviation Helicopter Services
The passenger shouldn't carry baggage that weighs more than 2 kilograms. The excess weight of luggage will not be accepted on the helicopter.
All children over the age of 2 has a full ticket.
Don't confuse the reporting time and departure time. The reporting time is one hour earlier than the departure time.
Passengers are asked to come into our office wearing a CTT voucher.
The minimum wait time for a traveler is 2 hours, based on the conditions of the weather.
The temples are all in high altitudes, so travelers must carry a medical equipment with them.
There is no restriction or other concessions for children or older adults.
Any additional night of stay due to weather conditions will be the responsibility of the guest the hotel.
Our Services reserves the right delay the time of flight due to weather conditions that are not ideal.
Senior citizens and those with disabilities will be given preference
The duration for passenger darshan is 1hr 30 minutes.
In the helicopter ride, we do not take responsibility for your baggage.
If you take any shortcuts during your trek, we're not accountable for it.

Chardham Yatra Packages 2023 would be designed to accommodate passengers in groups of their own. It is however not always feasible at all times to split passengers into groups to allow for weight adjustments.
Important Note:
In the event of a flight being was cancelled or changed due to weather conditions technical difficulties, lack of passengers, or other reasons the passengers will be required to travel on their own, based on the package you purchased, a complete refund will be given. If you have any issues with 4 Dham Yatra helicopter services contact us on our support number and our experts will resolve your issue immediately.
Once you book Char Dham helicopter services, we will provide the finest services to ensure you have a relaxing and luxurious experience. In line with the increasing demands of our clients, we have a forte in providing the best helicopter services. Our team of experts regularly communicate with our customers and offer an option to rent a helicopter in accordance with their requirements and purchase these services from us at an affordable price.
Our fleet includes 100+ aircrafts as well as helicopters to ensure that no matter your travel requirement, we have the perfect aircraft for you within the shortest time. To enjoy an unparalleled air charter experience, book on with BlueHeight Aviation.
What do we have to offer you for your Chardham Yatra departing from Pune?
Our exquisitely designed Chardham Yatra tour packages let you enjoy the most of your pilgrimage to Uttarakhand. The Chardham Yatra 2022 package by Blueheight Aviation is available at the lowest prices and was designed after considering all your desires and needs. If you are short on time, you can also consider Do Dham Yatra instead of Chardham Yatra packages from Pune.
What's Included with our Chardham Packages?
The Chardham Yatra packages from Pune will ensure that all your needs and demands are addressed to satisfy you. Whether booking your train or flight tickets, ensuring you have the most comfortable accommodations that fit your budget and meet every need and requirement, Our Chardham packages will ensure that you receive top services. Since the journey between Pune through Uttarakhand is quite long, our itineraries are designed so that you will have ample time to relax and unwind.
Chardham Yatra by Helicopter
Lack of time or unwillingness to take long road trips makes you tired? Take advantage of your Chardham Tour with Helicopter package to explore the four holy places in the most straightforward and shortest duration. The Chardham Darshan helicopter service is an excellent option for enjoying some breathtaking sightseeing. The sights that greet you from the ground delight the eyes.
Explore and Sightseeing Tour with Chardham Yatra
Our packages for tours with the lowest prices make sure that you do not just get to enjoy taking part in the Chardham Yatra darshan but also take advantage of sightseeing as well. In the end, since you're arriving from Pune, you will likely like to visit the famous tourist destinations and places.
Separate arrangements shall be available for the visitors who wish to explore the scenic beauty of surrounding places.
We also provide package customization.
We allow you to customize your Chardham Yatra Pune package depending on your needs and preferences. Choose a budget-friendly, affordable, and luxury Chardham Pilgrimage Tour with us to enjoy an unforgettable experience.
Train Information
There isn't a direct railway connection connecting Pune as well as Uttarakhand. To reach Uttarakhand, it is necessary first to get to Delhi and then board a train/flight from there to Dehradun. There are around six trains that run between Delhi as well as Haridwar and three trains from Delhi to Dehradun.
Alternatively, you can board the connecting flights from Pune to Delhi and then Delhi to Dehradun. It will ensure the fastest and convenient way to reach Dehradun from Pune.

If you wish to you Book Chardham Yatra 2023 Helicopter packages from Pune, here is the detailed itinerary:
Day 1: Pune – Delhi – Dehradun
As there is no direct flight from Pune to Dehradun, you can avail yourself of a connecting flight from Pune to Delhi and then Delhi to Dehradun to begin your spiritual journey of Chardham. On arrival at Dehradun, you get a free complimentary stay at Dehradun from Blueheights aviation.
Day 2: Dehradun – Yamunotri
Your pious Chardham journey begins with Yamunotri, dedicated to the Hindu river Yamuna. You will board a helicopter in the morning to reach Yamunotri after having breakfast. After returning from Yamunotri Temple to the hotel, enjoy a delectable lunch and unwind to prepare for the next day.
Day 3: Yamunotri to Gangotri
The next Dham will be Gangotri Dham, the heavenly abode of the Ganges, a holy river of India. It is our next destination for the Chardham yatra. You will board a helicopter from Kharsali to Harsil to visit the pious seat of Goddess Ganga. You will reach the Gangotri temple after a 50 minute drive from Harshil helipad.
Day 4: Kedarnath
After Gangotri, the next dham to proceed with is Kedarnath. It is referred to as the abode of Lord Shiva – the destroyer. You will board a helicopter from Harsil to Sersi. At Sersi, our representative will assist with check in to the nearest hotel. Kedarnath ji also forms a crucial destination for Chota Char Dham.
Day 5: Badrinath
It is the last Dham on your itinerary, considered the heavenly abode of Lord Vishnu – the creator. You will board the helicopter from Sersi Helipad in morning to reach badrinath. Mana Village is one of the prominent sight-seeing option in Badrinath. It is known to be the last village of India after which the China border begins.
Day 6: Back to Dehradun
After the soulful darshan of all the dhams, it's time to head back to Dehradun, along with some cherished memories. Our representative will assist you to check out from the hotel in Dejhradun after collecting your luggage from the hotel's clockroam. Then you will board the flight/train to Pune.
You may also choose to stay in Dehradun on chargeable basis.
Helicopter tickets Ex Dehradun
5 Nights accommodation
VIP Darshan
Local sightseeing at char dham
Airport pick and drop
Mana village tour
Flight tickets
Haridwar or Rishikesh sightseeing
Any special Pooja
Your Private Charter Journey Starts Here
Subscribe and we'll send the best deals to you