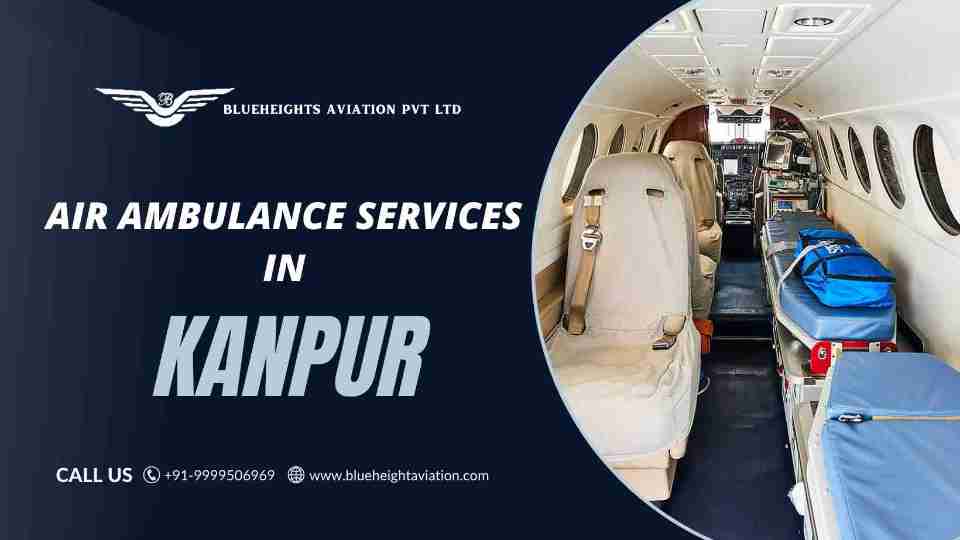 Air Ambulance Services in Kanpur
Air Ambulances are now widely used across India due to their high-quality services. They provide emergency medical care to patients suffering from heart attacks, strokes, accidents, etc. The air ambulance service providers offer 24/7 services throughout the year.
In recent years, the demand for these ambulances has increased significantly because of the rising number of road traffic accidents leading to emergencies that need quick medical evacuation. These ambulances are equipped with advanced life support systems and other necessary equipment to ensure the safe transportation of the patient.
Are You Looking for Affordable Air Ambulance Services in Kanpur?
Blueheight Aviation Air Ambulance in Kanpur is one of India's best and most affordable air ambulance service providers. They provide the best emergency medical care services throughout entire India. Their dedicated team of highly skilled professionals ensures that you receive the best possible treatment.
This air ambulance service provider has round-the-clock services rendering facility per possibilities means 24/7 hours in the year.
They have specialized air ambulances for every type of emergency, such as heart attack, stroke, cardiac arrest, brain injury, spinal cord injuries, multiple trauma, etc.
Their well-trained paramedics and crew members ensure everyone receives the highest standard of care.
They use state-of-the-art technology and equipment to give you the best possible treatment. They offer complete transparency in terms of pricing and charges. They offer flexible payment options.
You can book their air ambulance services online via their website https://blueheightaviation.com/air-ambulance-services and You can also call them at 9999506969,9650578989
What is the Air Ambulance Price in Kanpur?
Several factors affect the Air Ambulance Cost in Kanpur, as follows:
Airport Landing Charges
Airport landing charges and evacuation fees for the patients evacuated using flights. There will be additional charges if the airport remains open beyond its timings for flight take-offs or landings.
Distance Covered
The distance to be covered plays a significant role in deciding the air ambulance cost per hour in Kanpur. If you need to fly within the city, it will cost you less than traveling inter-city. The thumb of the rule is the greater the distance; the higher shall be the air ambulance cost in Kanpur.
Type of Aircraft Required
Various deciding factors govern the type of medical flight required to transport:
the patient's condition
the necessary equipment
the number of people traveling with patients.
Critically ill patients need the helicopter ambulance evacuation that takes off from the patient's location to the required hospital by landing on and off the ground.
Permission to Travel to High-Risk Areas
The cost of travel to high-risk areas is significantly high. The areas that require permission for Air Ambulance involves higher cost. Hence the cost of an ambulance varies from one place to another.
Availability of Paramedic Team
A Paramedic team on board also increases the cost of air ambulances. For critical patients, it is essential to have qualified doctors on board to deal with any medical emergency.
Considering the factors above, the average cost of an air ambulance from Kanpur is 1.6 lakhs to 2 lakhs per hour.
Why Consider Blueheight Aviation for Air Ambulance in Kanpur?
Blueheight aviation holds over 10 years of experience in evacuating critical patients. We have been providing quality air ambulance services since 2006. Our highly trained paramedical staff and advanced aircraft equipment ensure your loved ones get the best care. They provide reliable and affordable air ambulance services in Kanpur.
We know how important it is to reach the destination safely and quickly.
Our main motto is "Safety First." We want to ensure that the patient reaches the hospital safely and quickly. For this purpose, we have employed highly skilled paramedics and physicians. They are very much aware of emergencies and how to deal with them.
For more information about Air Ambulance in India, please visit our website
https://blueheightaviation.com/air-ambulance-services
Frequently Asked Questions
How to Book Air Ambulance in Kanpur?
The process of booking an air ambulance with Blueheight aviation is straightforward:
You will connect with us via call or email at your convenience.
Our representative will ask you the relevant questions to understand the patient's condition.
After carefully analyzing the patient's health, the team will prepare a case report for approval.
The doctors will assist the patients with healthcare till the air ambulance arrives.
If the patient is critically ill, the air ambulance generally arrives within 2 hours of booking.
A paramedic team also boards the critical patient to handle any emergency during air transfer.
The paramedic doctor also coordinates with the emergency dispatch management unit of the hospital.
Ground ambulance ensures the patient is transferred from the air ambulance landing zone to the medical facility.
Blueheight aviation offers a bed-to-bed transfer facility for smooth transfers of critically ill or injured patients.
When Are Air Ambulance Services Necessary?
You may need to book an air ambulance service in Kanpur for many reasons. Some of these include:
To transport a patient who has suffered a heart attack or stroke.
To transport a patient suffering from severe burns or other trauma.
To transport a pregnant woman who needs urgent delivery.
To transport critically injured or ill patients that require immediate treatment.
How Quickly Can An Air Transfer be Arranged?
The air transfers can be arranged depending on the aircraft and the crew's availability. Factors such as landing permissions, overflight, visa and passport requirements, and if the specialist bed is available also influence the schedules of Air Ambulance.
However, most air ambulances can schedule their flights within 24 hours of booking. In case of medical emergencies, they can even arrange the medical evacuation within 2 hours of booking.
Can A Loved One Accompany me On the Aircraft?
Depending on the aircraft size and the medical equipment requirements, the decision to allow someone to accompany the patient is at the sole discretion of the Paramedic team on board.
You May also like :
Your Private Charter Journey Starts Here
Subscribe and we'll send the best deals to you