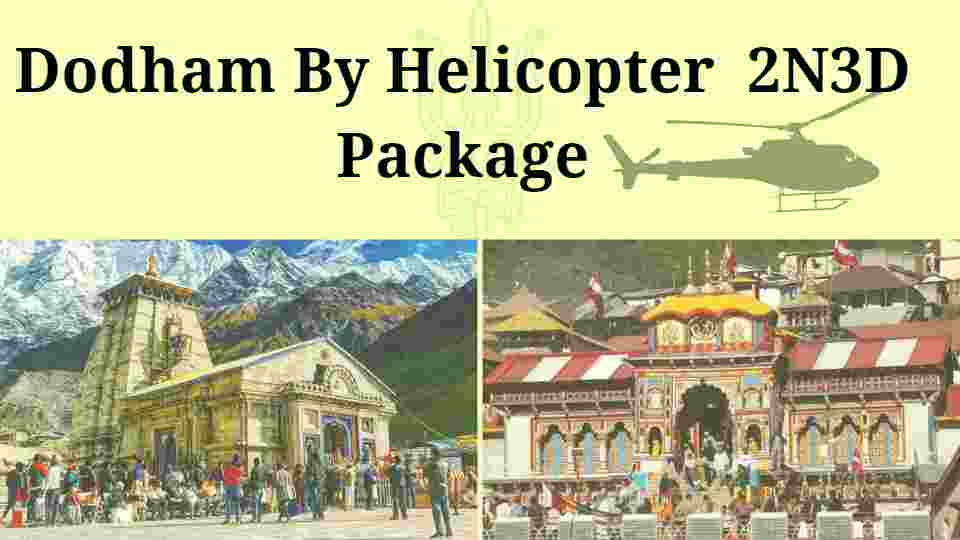 Do Dham Yatra Package By Helicopter | 2 Nights 3 Days Flight
The religious sanctity of trinity of god – Brahma, Vishnu and Mahesh is unparalleled for Hinduism. Known as the creator, preserver and destroyer, this trinity can be perfectly visualized with a quick Do Dham Yatra Badrinath and Kedarnath by Helicopter. Looking for a quick 1 day yatra Kedarnath Yatra By Helicopter Located in the plush hills of Uttrakhand, Do Dham Yatra by Helicopter has always been in the list of religious enthusiasts. Out of the four Dhams, kedarnath and Badrinath holds the high significance and known to be the home of Vishnu and Lord Shiva. Exploring the spectacular views of Himalayan valley using Helicopter Charter Service by indulging into religious spirits has its own charm. Do Dham yatra by Helicopter from Dehradun is an incredible option for the people with tight schedules and looking forward to take a short break to visit the pious abode of gods.
Do Dham Yatra is a pilgrimage to the two holiest sites in the Indian state of Uttarakhand: the Kedarnath Temple and the Badrinath Temple. Considering their history and mythological relevance, these two sites are considered highly sacred by Hinduism. It is believed to bring blessings, peace, and prosperity to the people who undertake Do Dham Yatra once in their lifetime.
One of the main reasons why the Do Dham Yatra is important is because it is believed to be a way to attain Moksha, or liberation from the cycle of birth and death. Hindus believe that by visiting these sacred sites and performing the necessary rituals and prayers, they can purify their minds and bodies and attain higher spiritual enlightenment.
In addition to the spiritual benefits of the Do Dham Yatra, the journey itself is also considered an essential part of Hindu culture and tradition. The journey to the Kedarnath Temple and the Badrinath Temple involves travelling through some of the most beautiful and breathtaking landscapes in the Himalayas. It is considered to be a once-in-a-lifetime experience for many Hindus.
Do Dham Yatra by helicopter is a shortened version of the traditional pilgrimage yatra. Instead of completing the journey on foot or by car, travellers can take a helicopter ride to reach the two temples. It can be a convenient option for those who need more time or physical ability to complete the full journey or for those who want to experience the beauty of the Himalayas from aerial views.
About Badrinath Temple
Badrinath is a town located in the Indian state of Uttarakhand, at an altitude of 3,100 meters in the Himalayas. It is home to the Badrinath Temple, one of the holiest sites in Hinduism and is dedicated to the deity Lord Vishnu. The town is located in the Chamoli district and is surrounded by snow-capped peaks and alpine meadows.
The Badrinath Temple is believed to have been established by the Hindu sage Adi Shankaracharya in the 8th century and is one of the four Divya Desams, or holiest sites, of Lord Vishnu. It is also an essential stop on the Char Dham Yatra, a pilgrimage to the four holiest sites in Uttarakhand, and thousands of pilgrims visit yearly.
In addition to the Badrinath Temple, the town of Badrinath is also home to several other religious sites, including the Tapt Kund, a hot spring believed to have medicinal properties. The Narada Kund is a small lake known for its hot water spring. It is named after Narad Muni and is known to cure many skin diseases.
The Badrinath Temple is open to the public from April to November, as the town is covered in snow during the winter months. According to Hindu Mythology, Lord Vishnu sat in Badrinath for meditation. To protect him from adverse climatic conditions of the region, his consort Laxmi took the form of the Badri (Indian date or Jujubee) tree. Delighted with the devotion of his wife, Laxmi, Lord Vishnu names the place Badrinath.
About Badrinath Temple
Kedarnath is a town located in the Indian state of Uttarakhand, at an altitude of 3,583 meters (11,755 feet) in the Himalayas and known as the home to Kedarnath temple. The Kedarnath Temple is believed to have been established by the Hindu sage Adi Shankaracharya in the 8th century and is considered one of the twelve Jyotirlingas, or sacred shrines of Lord Shiva. It is also an essential stop on the Char Dham Yatra and a pilgrimage to the four holiest sites in Uttarakhand.
In addition to the Kedarnath Temple, the town of Kedarnath is also home to several other religious sites. Some of them are the Samadhi of Adi Shankaracharya and the Vasuki Tal, a high-altitude lake believed to have healing properties. The town is also a popular base for trekking and mountaineering, offering breathtaking views of the surrounding Himalayan peaks.
Even Kedarnath temple opens from April to November owing to the adverse climatic conditions of the Himalayas.
Let's have a quick glance on the popular 2 nights/ 3 days Do Dham Helicopter Booking
Do Dham Yatra By helicopter
Travelling via road or foot is the traditional way of completing the Do Dham Yatra. However, it is hectic to cover the yatra with conventional modes. Do Dham Yatra by helicopter is the quickest and most convenient way to cover the holy pilgrimage. It takes 2 days to complete the yatra by helicopter, while the traditional form may take 3-4 days. You also avail of the VIP darshan at Kedarnath and Badrinath in your package for Do Dham Yatra by helicopter.
Badrinath kedarnath tour package by helicopter- Inclusions:
Exclusive Helicopter services from Dehradun (Sahastradhara Helipad) to the Do Dham shrines & back.
2 Night Accommodation at Do Dham's on twin sharing basis only with all meals.
1 Night stay at Dehradun Marriott /simmilar with breakfast and dinner.
Complimenatry pick and drop services from hotel.
Local Sight Seeing with our guides at both destinations.
VIP Darshans.
Shri Kedarnath ji helicopter shuttle services: Sersi – Kedar - Sersi.
Guptkashi sightseeing
Mana village sightseeing
Helicopter handling charges.
Taxes & other government levy.
We have included every little detail, comfort & charge applicable from Dehradun helipad to back Dehradun helipad that you will encounter on your Do Dham yatra. After booking with us you are ready to move on a journey of a lifetime.
Dehradun-Badrinath-Kedarnath-Dehradun
Day 01: Visit Kedarnath:
On arrival at Sahastradhara Helipad, we fly to Sersi Helipad then again fly to Kedarnath from same Helipad. Temple is approx. 500 meters away from helipad and will take approx. 15 min to reach. The Pandit will accompany the group and lead us to the VIP darshan in Kedarnath temple. After darshan and Poojan, The group will fly back to Sersi helipad. We will have lunch & Overnight stay at Guptkashi located at the banks of river Mandakini.
Program Summary:
Sahastradhara Helipad to Sersi Helipad
Sersi to Kedarnath
Kedarnath Darshan
In Afternoon coming back to Guptkashi for an Overnight stay
Day 02: Visit Badrinath:
The group is headed towards the Helipad at Sersi Helipad. From the Helipad we proceed to Badrinath. On arrival at Badrinath Helipad, The group will be Check-In to the hotel. After Lunch, we will be going to Mana village, the last border of India with China for sightseeing. At the evening, Passengers will attend Swarna Aarti at Badrinath temple & then dinner and overnight stay at Badrinath.
Program Summary:
Going to Sersi Helipad
From Sersi Helipad to Badrinath Helipad
Afternoon sightseeing at Mana village
Evening swarna Aarti
Day 03: Departure from Badrinath
After the breakfast, while we are heading back to Dehradun, see the beautiful over view of the Region, especially the picturesque view of the confluences, which is an eye-candy for nature lovers. We will fly between the beautiful valleys of thick forest and over five confluences like Vishu Prayag, Nanda Prayag, Karna Prayag, Rudra Prayag and Dev Prayag. We will come back and drop to helipad.
Inclusions of Do Dham Yatra by Helicopter
Helicopter flying charges ex-Dehradun.
Shri Kedarnath shuttle tickets.
VIP Darshan at both the temples.
Royalty, landing & parking charges as per UCADA.
Helicopter handling & transportation charges at Badrinath.
PAYMENT TERMS
The booking has to be done in advance with a deposit of 25% of the total amount. Balance payment has to be deposited 20 days prior to the date of arrival at Dehradun.
Passengers will not be permitted to board or commence the tour, unless full & final payment of the tour has been done.
TERMS, CONDITIONS & CANCELLATION POLICY:
Each person is allowed to carry only one single bag with up-to 2.5 to 5 Kg weight in the Helicopter.
Blueheights Aviation travel bags will be provided. Therefore, we discourage bringing too much luggage. In case, if you have any extra luggage you can keep it at the Hotel cloak room.
Children above the age of 2 years will be considered full ticket.
There is no provision of concession ticket to children or senior citizens.
Full amount has to be deposited within 30 days ahead of the Journey.
In case the Do Dham Yatra is delayed due to bad weather or any other unforeseen reasons, The Journey will be conducted on the next available date or the unutilized part of the journey (Rs.10,000/- per Dham for each customer) will be refunded.
In Case of Rescheduling The Journey From The Customer's Side The Booking Will Be Treated As Cancelled And A Fresh Booking is Required Which is Subject to Availability of Seats.
Cancelation can be done at least 30 days before the date of journey.
If the booking is cancelled before 30 Days 50% of the amount will be refunded.
If the booking is cancelled before 30-15 Days 25% of the amount will be refunded.
Refund will be zero if cancelled before 15 days of flying.
All extras (food, beverages and any other services) ordered by the customer will be on their expense.
Any meals, services not utilized, partly utilized are non-refundable.
The pilgrims have to stick to the Itinerary.
The Company Has The Right To Change The Itinerary In The Event Of Adverse Weather Condition Or Any Unforeseen Circumstances Which Is Beyond Our Control.
The Customer Has to Bear the Proportionate Tour Cost In Case Of Extended Stay Or Travelling Due To Any Unforeseen Reason.
The Company Will Not Be Responsible for Any Change in the Itinerary Due To Natural Calamity or Unforeseen Reasons.
Add on services
Additional Night Halt at either Dham along with Maha Abhishek/Rudra Abhishek Pujas (on request, subject to availability of rooms).
Hotel transfers.
Hotel accommodation at Dehradun.
Airport transfers.
Breakfast/Lunch
Day trip to Mussoorie/Rishikesh/Haridwar.
The confirmation for the above services is to be given by clients at the time of confirmation of booking.
PASSENGER GUIDELINES
Pilgrims need to carry only handbags as suitcases cannot be carried in the helicopter. We encourage using our travel bag.
All temples in Do Dham are located at high altitude areas. Pilgrims are advised to carry a small oxygen bottle with them as a precaution. It is available at medical shops.
Passengers have to submit their correct weights at the time of booking. If any change in weight found at the time of their travel from the submitted weights, which would exceed our aircraft's weight carrying capacity, passengers would be deboared & cancelled for the Heli-tour without any refund.
In respect of covid-19, all necessary measures issued by the state & central governments would have to be adhered by all the pilgrims for their own as well other safety & health.
Fitness: all pilgrims should be physically fit. It is better to do some jogging and other light exercise as you prepare for this journey.
In these locations the temperature will fall to 10 degree Celsius or less at night. Therefore, pilgrims are advised to carry woolen clothes.
Photography: still cameras/ portable video cameras are allowed in Himalayan ranges but not inside the temple. Please do not attempt to take pictures inside the temples.
Communication: although all private mobile phones have coverage, BSNL/Jio network service mobile is better in most of the places.
DISPUTES
Disputes as to legality, interpretation, application or performance of service or any of its terms and conditions shall be governed by the laws of Delhi Jurisdiction.
HOTELS TO BE USED
Day1 Dehradun FAIRFIELD BY MARRIOT/ LEMON-TREE / SIMILAR
Day2 Guptkashi KEDAR KANTHA RESORT / SIMILAR
Day3 Badrinath LORDS PALACE / SIMILAR
FAQS
Frequently Asked Questions
The length of the Do Dham Yatra by helicopter depends on the specific itinerary and the number of stops made along the way. The journey generally takes one or two days and includes round-trip helicopter rides to the Kedarnath Temple and the Badrinath Temple. The Yatra begins and ends at the Shastradhara helipad in Dehradun.
A typical Do Dham Yatra by helicopter package includes round-trip helicopter rides to the Kedarnath Temple and the Badrinath Temple, accommodation at both dhams, meals, and transfers. Do Dham Yatra by Helicopter packages include transportation to and from the helicopter departure point and other sightseeing activities.
Kedarnath is safe now to visit as the dham has been completely restored after the 2013 floods. Helicopter travel can be safe, but choosing a reputable and experienced operator like Blueheights Aviation is essential.
Yes! You can completely customize the Do Dham Yatra by helicopter with Blueheights Aviation. Places like Valley of Flowers and Hemkund Sahib are worth exploring on your way to Badrinath. However, you will require to stretch your yatra from 2 days to 4-5 days
To book a Do Dham Yatra by helicopter package, you can call us on +91-9999-50-6969 or send a mail chardham@blueheightaviation.com, with your detailed requirements. A representative from Blueheights Aviation will get back to you at the earliest.
No, there are no health or age restrictions for Do Dham Yatra by Helicopter. However, people above the age of 70 must undergo a health check-up and may require to provide the health check-up record on request.
The weather in the Himalayas can be unpredictable, and it is essential to check the forecast before embarking on the Do Dham Yatra by helicopter. The journey is typically only offered from April to November, as the region is covered in snow during winter
The traditional ritual of opening the main doors of the Badrinath temple is expected to take place on 27th April 2023
Your Private Charter Journey Starts Here
Subscribe and we'll send the best deals to you