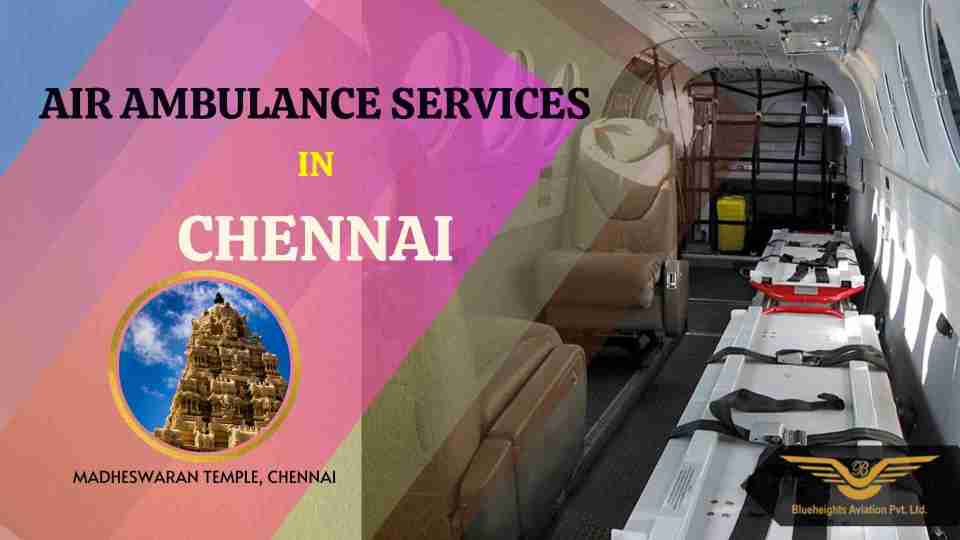 Air Ambulance Service in Chennai
The capital of Tamil Nadu is the sixth most populous city in the country and a traditional gateway to South India. It is among the most visited cities by foreign tourists and ranked as a beta-level city on Global City Index. Counted among the hottest cities worth living in the long term, Chennai has left no stone unturned in establishing world-class infrastructure.

Coming to its medical facilities, the city also hosts Air Ambulance Services for all kinds of emergencies from across the globe. The city boasts some of the best hospitals in the country, equipped with state-of-the-art technology. In recent years, Air Ambulance in Chennai has emerged as one of the most demanded services due to its unparalleled patient convenience.
What is Air Ambulance Service?
An air ambulance service in Chennai is an emergency transport service provided by trained professionals who specialize in transporting critically ill or injured people between locations. They provide safe and reliable transportation services to ensure that those who need urgent medical attention can receive it without delay. These services are available 24/7 and are usually used when no other option is available.
Why Choose Air Ambulance?
There are many reasons why you should choose air ambulances over any other mode of transport. Some of them include:
• Convenience: Unlike ground ambulances which require a lot of time to reach their destination, air ambulances can cover large distances within minutes.
• Availability: If you have been diagnosed with a life-threatening condition, then chances are high that you may not get access to timely treatment. With air ambulances, you can avail yourself of advanced medical care at almost any global location.
• Safety: As mentioned earlier, these aircraft are specially designed to carry out critical missions safely. They are fitted with sophisticated equipment and highly skilled pilots who know how to handle such situations.
• Reliability: Because they operate under controlled conditions, air ambulances are very reliable. There are fewer chances of road accidents, unlike ground ambulances, where the weather plays a significant role in determining the safety of the mission.
Why Consider Blueheight Air Ambulance Services?
Blueheight Air Ambulance is one of the leading providers of air ambulance Chennai. We offer our clients round-the-clock support and assistance throughout the entire process. Our team consists of highly qualified paramedics and doctors who will be on standby during the whole journey. We take utmost care of your loved ones and ensure they arrive at the hospital safely.
Our Mission
To provide quality air ambulance services to our customers through our experienced staff and modern fleet of aircraft.
To achieve this goal, we aim to deliver an outstanding customer experience by providing efficient and cost-effective solutions to meet the needs of our customers.
Our Vision
To become the preferred choice of air ambulance services in India.
To be recognized as the leader in the industry by offering superior customer service and value for money.
What Makes Blueheight Air Aviation A Pioneer Air Ambulance Service?
Blueheight Air Ambulances provides world-class air ambulance services to the people of Chennai. We understand the importance of delivering quality healthcare services to needy patients and thus strive hard to maintain the highest standards of patient care. It is what makes us stand apart from the rest. Here are some of the key features that set us apart from the rest:
•
High-Quality Medical Facilities
We use only state-of-art medical facilities to treat our patients. All our aircraft are equipped with the latest technology and well-trained medical personnel.
•
Highly Skilled Crew
Our crew members are highly trained and certified to perform various procedures. They undergo rigorous training programs to enhance their skills and knowledge.
•
Advanced Equipment
We use only the best equipment to ensure that all our passengers receive the best medical attention.
•
24/7 Support
We are available 24 hours a day, 7 days a week, to help you in an emergency. You can contact us anytime via phone or email.
•
Affordable Rates
We charge reasonable rates so that everyone can afford it. We offer value for money to our clients and save lives by offering emergency services in time. Get a quote on air ambulance charges in Chennai.
All Time with Bed to Bed Response by Transferring the Patients
Blueheight Aviation provides the best response in the field of emergency medical care. It transfers the patient by air ambulance facility, offering the best quality of services and facilities to the needy.
We provide the best response in terms of timely response, efficient service delivery, promptness, safety, reliability, transparency, accountability, customer satisfaction, and overall performance.
We are equipped with an experienced transporting crew, curative staff, attentive vehicle coordinators, and other state-of-art amenities. We work effortlessly to ensure excellent care during your voyage. We also cater for urgent road transportation, stretcher arrangements for critical ailments, and medical accompanying pediatric patients.
Blueheight is successfully commutations without any hassle or delay. We offer the bed to bed transfer facility to our critical patients.
Blueheight is a leading airline company that provides safe and reliable air ambulance services to patients across India. We have separate arrangements for Covid and Non-Covid patients and follow the strict Covid-19 protocols to ensure the highest safety of our patients.
What is the tentative Air Ambulance cost in Chennai?
The air ambulance price in Chennai depends on several factors such as distance travelled, type of aircraft, condition of the patient, and type of para-medic service required. The tentative cost of an Air Ambulance in India begins at 2.5 lakhs and may go up to 18 lakhs.
The service provider must bear the cost of ground staff at airports and an isolation pod onboard.
All the international air ambulance services are available from major cities like Delhi, Mumbai, Kolkata, Hyderabad, Chennai, and other leading international airports across India.
How to Book Air Ambulance?
For Booking. Call us now! 9999506969,9650578989.
Alternatively, you can also send a mail to email id: ... sales@blueheightaviation.com
Although we will try to book your air ambulance immediately once we receive a booking confirmation, the unavailability of aircraft or any other circumstances beyond human control may lead to delays in Booking.
We ensure to update our clients for any such delays as we are dedicated to offering the best services to all our esteemed clients.
If you have any queries or concerns, please feel free to connect here!
You May also like :
Your Private Charter Journey Starts Here
Subscribe and we'll send the best deals to you