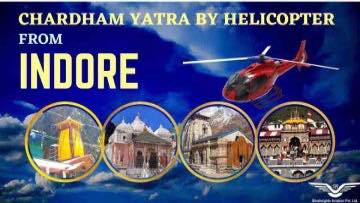 Chardham Tour Package By Helicopter From Indore (2023)
Referred as one of the most populated cities of Madhya Pradesh, Indore is considered the center of Indian Territory. It is the largest city in Madhya Pradesh, located in the western region. This influential city also witnesses hundreds of people visiting Char Dham to explore Uttrakhand's divine darshan of four sacred places.
Uttarakhand, also known as Dev Bhumi, the Land of God, etc., is in North India and lies at the foothills of the Himalayas. It is home to over 140 Hindu temples, some dating back thousands of years. Yamunotri, Kedarnath, Gangotri, and Badrinath are the four Dhams covered in this Yatra.
The Char Dham Yatra by Helicopter is a five-day Yatra. In Hinduism, it is believed that Pilgrims should visit each shrine atleast once in their lifetime to seek blessings from the respective god or goddesses. Considered one of the most sacred Yatras in Hinduism, thousands of people head to Char Dham every year to dive into spirituality.
While there are many ways to complete Char Dham Yatra, the Chardham Yatra By Helicopter is the best.
Advantages of Char Dham Yatra By Helicopter
1) Char Dham Yatra by Helicopter makes travel much easier and more comfortable over the long journey by road
2) There is no need to worry about the weather conditions as the helicopter services are only available for the months safe for Helicopter flying.
3) It is possible to complete the Char Dham Yatra in just six days via Helicopter.
4) The hassle-free journey takes you through the shortest possible route.
5) The helicopter ride gives you a bird's eye view of the entire route.
6) The journey by Helicopter for Char Dham is safe and secure.
7) The flight takes less than half an hour, while a traditional journey via road takes long hours to complete and is very hectic
Itinerary for Chardham Yatra By Helicopter From Indore
Here is a detailed itinerary for the Chardham yatra by Helicopter from Indore:
Day 1: Indore to Dehradun
There are direct flights available from Indore to Dehradun. Daily, approximately eight flights take off to Dehradun from Indore. It takes around 6 hours from Indore to reach Dehradun via airway. If you are looking for an affordable option, consider traveling via train.
But the train journey is quite long and takes about 22 hours to reach from Indore to Dehradun. Once you arrive at Dehradun Airport/Railway station, our representative will escort you to the hotel for a complimentary overnight stay.
Itinerary at Brief
Indore to Dehradun
Overnight Stay at Dehradun
Day 2: Dehradun to Yamunotri
It is believed that the most sacred Dham Yatra will start from the Dehradun to Kharsali Helipad (Yamunotri temple). The journey from Kharsali Helipad to the temple will be covered by riding on the back of a horse or a Palki.
It's just 6 km from the shrine. After the darshan, pilgrims will return to Kharsali. Explore the hot springs at Yamunotri, and visit Shani Mandir and Yamuna Mata Mandir, located in the vicinity of Kharsali. Overnight stay to rejuvenate and rewind.
Itinerary at Brief
Flying to Kharsali Helipad
Kharsali Helipad to Yamunotri temple via horses or by Palki
Sightseeing and Night stay at Kharsali
Day 3: Yamunotri to Gangotri
Early morning checkout to depart Kharsali towards Harsil Helipad. From Harsil, we will take a car to Gangotri temple. The distance is approximately 25km, and it will take 50 mins to complete the journey. Harsil is a breathtaking valley with thick forests and beautiful mountains.
While traveling through the valley, you'll see many stunning spots to enjoy the beauty of nature. Remember to take pictures that will make your visit unforgettable for the rest of your life. Sightseeing activities include visiting Shiv Temple in Harsil, a Nature walk from Jhalla, and a Short trek to Chholmi Village. Stay overnight night and gorge on a delicious dinner at Hotel.
Itinerary at Brief
The flight departs from Kharsali towards Harsil Helipad
Harsil towards Gangotri temple via car
Sightseeing at Harsil
Day 4: Gangotri to Kedarnath
Early morning checkout from hotel to reach Sersi base. A shuttle service shall be available for the guests to reach Kedarnath Dham after breakfast. You will have approximately 2 hours for Darshan at Kedarnath temple.
You will also visit the Bhairo Mandir, Adi Shankaracharya Samadhi, along with Blueheight Aviation Crew. Explore the fantastic experience of Triyuginarayan Temple, which is popularly known as the celestial marriage of Lord Shiva and Goddess Parvati.
Itinerary at Brief
Gangotri to Sersi Helipad
Sersi to Kedarnath temple
Sightseeing at Sersi
A restful day ahead
Day 5: Kedarnath to Badrinath
Head to Sersi early morning to board the Helicopter for Badrinath. A soul-awakening darshan at Badrinath temple in the afternoon for around 2 hours. You will reach the temple via car.
The temple remains closed from 1 PM to 3 PM. In the evening, guests will be taken sightseeing at Badrinath. Mana Village is a popular tourist attraction as the last village in India. After this, the Tibet border starts.
Itinerary at Brief
Sersi helipad to Badrinath
Reaching Badrinath temple via car
A heritage walk to Mana Village
Overnight stay at Sersi
Day 6: Back to Dehradun
It's time to head back to Dehradun. We will leave the Sersi to reach the Sahastradhara helipad. On your way, you will be enthralled by the beauty of nature. We will fly over spectacular valleys of thick forests and witness the confluence of 5 rivers - Vishnu Prayag, Nanda Prayag, Karna Prayag, Rudra Prayag, and Dev Prayag.
When you arrive at Dehradun, collect your luggage that was drop-off at Dehradun Hotel at the beginning of the journey.
Tour ends with beautiful memories.
Program Summary
Badrinath to Dehradun Drop off
Frequently Asked Questions
When is the best time to Visit Char Dham?
While Char Dham Yatra is available from April to November, the best time to visit this place is April and May. The weather remains pleasant during this time, with no chance of rainfall or chilly winds.
Which Mobile Network works Best in Char Dham?
BSNL and Reliance JIO is the most reliable mobile network in Chardham. You can rely on this network without any hassles and issues. Jio, Airtel, Vodafone, and Idea are the other reliable networks you can consider.
It is recommended to keep a backup at certain places. If one network troubles, you can keep another network handy. Per the user's review, the Jio network is sometimes subject to risk.
Is there any ATM Available in or around Char Dham?
It would help if you did not solely rely on the ATM in or around Char Dham to meet your urgent cash crunch. While major cities like Haridwar and Dehradun come with ATM facilities.
However, specifically in these Dhams, it is challenging to find the ATM. Hence, all travelers should maintain adequate cash to avoid any cash crunch during Yatra.
Why is Blueheight Aviation best for Char Dham Yatra By Helicopter?
Blueheight Aviation has provided Char Dham yatra services to our clients for the last ten years. We provide char Dham yatra service at affordable prices with excellent quality. Our experienced pilots and crew members ensure that your char Dham yatra experience will be safe and comfortable.
Our Char Dham yatra packages include all expenses like food, accommodation, transportation, guide, permits, etc. So, you don't need to worry about any additional bookings.
So, what are you waiting for? Book Your Chardham Yatra From Indore Now!
You Might Also Like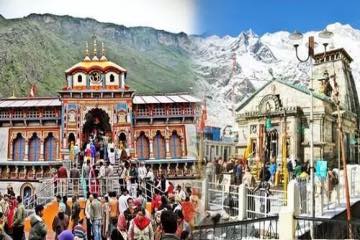 Your Private Charter Journey Starts Here
Subscribe and we'll send the best deals to you