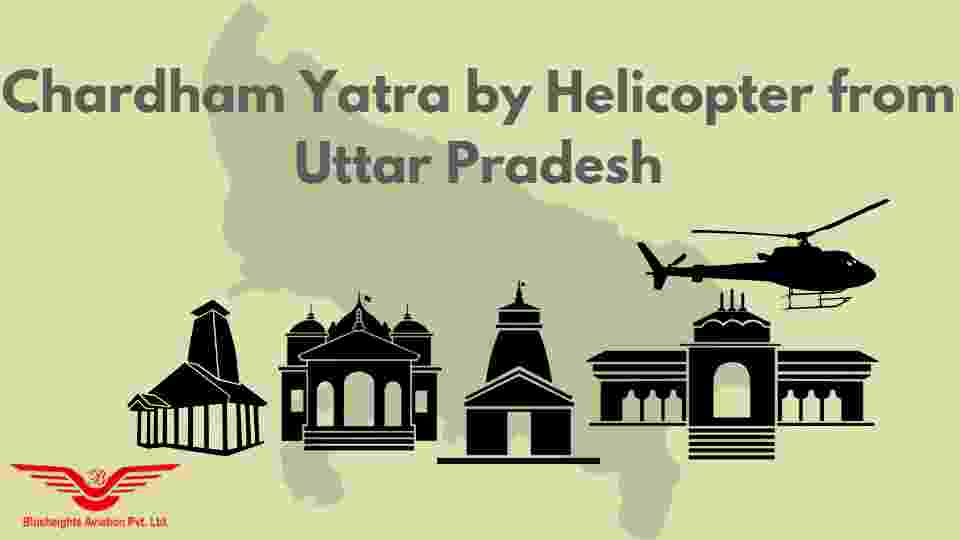 Chardham Yatra By Helicopter From Uttar Pradesh
Are you looking for an exemplary spiritual experience at sacred sites in India? Then Chardham Yatra by helicopter should be added to your bucket list.
Chardham Yatra is an annual pilgrimage to four of the most revered Hindu shrines: Badrinath, Kedarnath, Gangotri, and Yamunotri. Discovered by the Adi Guru Shankaracharya in the 8th century, Chardham Yatra is the religious duty of every Hindu.
Now there is another way to make this spiritual journey more convenient and an equally magical experience - Chardham Yatra by helicopter. This article explores why this is one of the best ways to enjoy the 'Yatra'.
Why Consider Chardham Yatra by Helicopter?
Chardham Yatra by helicopter is a great way to experience the beauty of the Himalayas and its sacred sites quickly. It is especially beneficial for those who are pressed for time or have physical limitations that prevent them from undertaking the traditional pilgrimage.
Chardham Yatra by helicopter takes you over some of the most stunning landscapes in India, including snow-capped mountains, lush green valleys, and pristine rivers. The mesmerizing aerial view is an experience that will stay with you forever.
Historical Relevance of Chardham Yatra
Chardham Yatra has been a part of Indian culture for centuries. It is believed that Adi Guru Shankaracharya discovered the four sites in the 8th century, and since then, it has become an essential pilgrimage for Hindus.
Here are some of the legends associated with all four Dhams covered under Chardham:
Yamunotri
According to Hindu beliefs, Yamuna is the daughter of the sun and Yama (the god of death)'s twin. Sage Asit Muni supposedly once lived near these two rivers, bathing in both. When he got older and couldn't journey to Gangotri anymore, Ganga's stream was miraculously joined with Yamuna's.
Gangotri
At the request of King Bhagiratha, the River Ganga came down to the earth to absolve the sins of his ancestors. It is considered the most sacred river of all the rivers, released from the locks of the mighty Lord Shiva.
Kedarnath
The Pandavas, looking for Lord Shiva to apologize for their sins at the Mahabharata battlefield, could not discover him. In response, he changed into a bull and journeyed to Garhwal in Uttarakhand. When the Pandavas located him, he disappeared beneath the earth's surface.
Parts of Lord Shiva then arose at different spots- his hump was found in Kedarnath, his arms were found at Tunganath, his navel surfaced in Madhya-Maheshwar, his face appeared at Rudranath and hair emerged at Kalpeshwar. The five sites together are known as Panch-Kedar. Subsequently, the Pandavas erected temples at each of the five places.
Badrinath
According to one tale, Lord Vishnu was criticized by a sage for his luxurious lifestyle, and he meditated in penance in the same place. Goddess Laxmi (his wife) turned herself into a berry tree to protect him from the sun and other harsh weather conditions. Another myth states that the area of Badrinath used to be ruled by Shiva. Nevertheless, Vishnu managed to make Shiva leave so he could become ruler instead.
Itinerary for Chardham Yatra by Helicopter
Here is an itinerary from Blueheights Aviation for an incredible Chardham yatra by helicopter experience:
Day 1: Rishikesh to Dehradun
It takes an hour to complete the journey from Rishikesh to Dehradun via cab. The distance between the two is 17km. Several trains also connect Rishikesh to Dehradun. The fastest train takes around 1 hr 20mins to reach. There is no airport in Rishikesh.
Day 2: Begin Your Journey in Yamunotri
Begin your pilgrimage to the Chardham at the holy city of Yamunotri, where you will revere the sacred Hindu river - Yamuna. Start your morning by checking out of a hotel in Dehradun. Then travelling to the Shastradhara Helipad via helicopter to Kharsali Helipad in Yamunotri. A representative from Blueheights Aviation awaits your arrival and will take you to Kharsali's lodgings for check-in. Then you will reach Yamunotri temple which is 6 kms away either via trek or by hiring a pony.
Day 3: Fly to Gangotri
The next Dham on your Chardham expedition will be Gangotri. It is referred to as the abode of the holy river Ganga. Early morning, you will depart Kharsali to reach Harsil – the closest helipad to Gangotri. You can reach the Gangotri temple via cab in 50 minutes as it is 25 kms away. After a soulful darshan at Gangotri, you will head back to Harsil. Explore a short trek to Chholmi village and a nature walk from Jhalla to explore the serenity of Harsil.
Day 4: Head to Kedarnath
The next destination on your voyage is the sacred city of Kedarnath, home to Lord Shiva. Early morning, you will take a helicopter ride from the Harsil Helipad to the Sersi Helipad, At Sersi, you will take a shuttle flight to reach Kedarnath temple. You will have 2 hours to complete your darshan and pooja at the temple. After completing darshan, you will head to Triyuginarayan Temple which is popular as the place of celestial marriage of Lord Shiva and Goddess Parvati.
Day 5: Visit Badrinath
Your pilgrimage to the Chardham will culminate in the sacred city of Badrinath, commonly believed to be Lord Vishnu's dwelling. You will be setting off from the Sersi Helipad and taking a helicopter ride to Badrinath in the morning. You will have 2 hours for your pooja and darshan at its temple. Take advantage of exploring Mana Village, situated close by. It is mentioned in Mahabharata that Pandavas had crossed through here before they passed away journey to heaven. Furthermore, it is known as the last Indian village on India's border with Tibet/China.
Day 6: Return to Dehradun
Concluding your Chardham tour, you will fly in a helicopter to the Sharastradhara Helipad in Dehradun from Badrinath. Blueheights Aviation's associate will then take you to your hotel in Dehradun so you can pick up your suitcases. You can either head back to Uttar Pradesh or stay back in Dehradun for an overnight stay at an additional cost.
Why is Blueheights Aviation Best for Chardham Yatra by helicopter?
Blueheights Aviation is the pioneer Chardham Yatra by helicopter service provider. They offer a comprehensive package that includes all the necessary arrangements for your pilgrimage, such as accommodation, meals, and transportation. Their experienced pilots are highly trained to ensure safety and comfort during the journey.
Furthermore, they provide an experienced tour guide who will accompany you throughout your trip and help you explore each of the four destinations in detail. Additionally, they offer a variety of packages to suit your budget and preferences.
They provide 24/7 customer support to ensure that all your queries are answered promptly. Furthermore, their team is committed to providing the best possible experience for their customers. If you are looking for a best-in-class Chardham Yatra by Helicopter experience, Blueheights Aviation is your ultimate partner.
Frequently Asked Questions
From where the Chardham Yatra by Helicopter starts?
The Holy Yatra of Chardham by Helicopter starts from Shastradhara in Dehradun. You begin your journey by leaving the Shastradhara and reaching Kharsali, the nearest helipad to Yamunotri.
Can I complete Chardham Yatra by Helicopter in one day?
No, covering all four dhams in just one day is very hectic. At the same time, the standard itinerary for Chardham is stretched for 6 days to ensure that you have a smooth yatra experience and ample opportunity to explore the other sightseeing options near these popular dhams. However, blueheights aviation also caters to customized Chardham yatra by Helicopter packages where you can get a customized itinerary.
What is, Do Dham Yatra by Helicopter?
Do Dham Yatra by helicopter includes a visit to Kedarnath and Badrinath. The journey can be completed in just 3 days and is the most suitable for people who are short of time and looking for a quick yatra experience.
Do I need to book my ticket for the helicopter in advance?
Yes! It is best to book your Chardham Yatra by Helicopter packages in advance so that you can book your slots as per your desired dates. Often the last-minute bookings may let you compromise with some aspects. As Chardham Yatra is seasonal and many devotees come over to Uttrakhand to experience it, planning your Yatra well in advance is highly recommended.
Whether you are looking for an incredible Chardham yatra or Do Dham yatra by helicopter, Blueheights Aviation is your one-stop solution to make your yatra an unforgettable experience.
Your Private Charter Journey Starts Here
Subscribe and we'll send the best deals to you