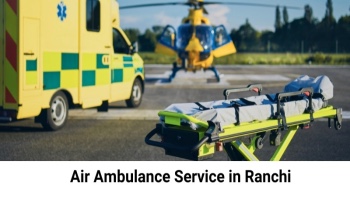 Air Ambulance services in Jharkhand
Are you looking for Air Ambulance Services in Jharkhand? If yes, we are here to help you with the best and most affordable air ambulance services in Jharkhand at your doorstep. Blueheight Aviation provides 24/7 emergency medical service all over India.
We have a team of highly experienced doctors who will be on board with you during the entire journey from when you contact us until you reach the hospital. Our team is well equipped with the latest life support systems and medicines required for any emergency.
What is Air Ambulance Service?
An air ambulance or an aeromedical evacuation (AME) is a type of aircraft that provides advanced pre-hospital care to critically ill patients. It is used when other forms of transport such as road ambulances, helicopters, fixed-wing airplanes, or ground ambulances cannot safely get to the patient due to terrain, weather, or other conditions.
Why Choose Us?
BlueHeight Aviation has been providing world-class air ambulance services since 2011. We have served more than 5000+ clients across India and abroad.
Our fleet consists of modern and fully equipped aircraft like King Air B200, Bell 206 Jet Ranger Helicopter, Dornier 328JET, MD902, Cessna Citation XLS, etc.
Our crew members are trained and certified by leading hospitals and aviation authorities. They are also well versed with the latest techniques and technologies in critical care medicine.
We can handle almost every emergency, including cardiac arrest, stroke, trauma, pregnancy-related emergencies, heart failure, sepsis, organ transplantation, burn injuries, diabetic emergencies, etc.
Benefits of Choosing Air Ambulance Service:
1. Faster Emergency Response Time: The average response time of our air ambulance services is less than 30 minutes. Once you call us, we will send out our team within 30 minutes to pick up your loved one. A road ambulance generally takes more than 1 hour to reach, especially in the places where the road accessibility is low. It may take a much higher time.
2. Increased manoeuvrability: One of the significant advantages of using air ambulances is the increased speed and manoeuvrability. The ground ambulances are limited by several factors such as road conditions, traffic, and availability of roads, while the air ambulance has no such hindrances to tackle.
3. Seamless operations: Air ambulances can quickly transfer patients from one hospital to another irrespective of the patient's severe condition. Air ambulances have the same level of intensive care wards and advanced medical equipment to care for critical patients. It efficiently transports the patients abroad who do not have advanced medical facilities at their locations.
4. More Attention: From pilots to nurses and other staff, everyone is dedicated works on an air ambulance for the patient to serve them with the highest convenience. Blueheight Aviation offers a bed-to-bed transfer facility to ensure a safe and comfortable transfer.
5. Customized Flights: Many medical devices significant for safer transportation are not allowed on commercial flights. An Ambulance is well-equipped with advanced medical devices and trained doctors to handle critical patients on their way to transportation.
6. Flight arrangements: A commercial stretcher puts you at the discretion of airline services. An air ambulance gives you undivided attention and full-fledged control for boarding and deboarding. Your care is the prime concern of air ambulance services as this is the only reason for flight. A commercial flight has to tackle the needs of 100 people and your needs. In contrast, an air ambulance service caters to just one person.
What is the cost of an Air Ambulance in Jharkhand?

The cost of an air ambulance varies depending upon the destination, season, type of aircraft used, and the distance covered. We provide transparent pricing so that there are no hidden surcharges or charges. You can check the exact price quote before making any payment. The average air ambulance cost from Jharkhand to Delhi is 5 to 10 lacsapprox, depending on the aircraft availability, patient condition, and commercial stretcher.
How does Air Ambulance work?
BlueHeight Aviation provides world-class air ambulance services to all major cities across India. We use state-of-the-art technology and the latest medical equipment to transport patients safely. Our highly skilled and experienced professionals are always ready to assist you in any emergency.
Our Services Include:
• Bed to Bed Transfer (BTT)
• Intensive Care Unit (ICU) Transfer
• Medical Evacuation
• Patient Transport
• Pre &Post Operative Transfers
• Stroke Evacuation
• Trauma Evacuation
• Cardiac Arrest Management
• Pediatric Critical Care
• Neonatal ICU Transfers
• Disaster Relief
• Coronary Care etc.
Special Arrangements are made for COVID patients. We follow the COVID-19 protocols strictly to ensure the maximum safety of our patients. You can get the Blueheight Air Ambulance Service from Birsa Munda Airport, Ranchi, Deoghar International Airport, & Bokaro Airport
All international ambulances are operated from major cities such as Delhi, Chennai, Hyderabad, Bangalore, and other international airports in India.
To get the best quotes, call us now!
9999506969,9650578989
You May also like :
Your Private Charter Journey Starts Here
Subscribe and we'll send the best deals to you