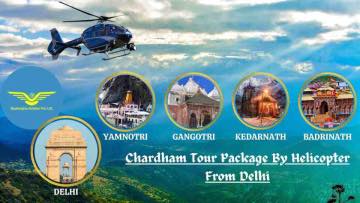 Taking a Chardham Yatra by helicopter is an exciting and convenient way to experience this religious tour from Delhi. Fly directly to the temple sites in Uttrakhand without any hassle or long travel times. Book your own helicopter journey today and explore the spiritual power of Chardham at your own pace and on your own schedule.
Chardham Yatra By Helicopter From Delhi

Chardham Yatra is a pilgrimage journey undertaken by Hindus across India. The Chardham Yatra is divided into four parts – Yamunotri (River Ganga), Gangotri (Gangotri Glacier), Badrinath (Badrinath Temple) and Kedarnath (Kedarnath Temple). Every year, the Chardham Yatra is held between May to November.
While road and helicopter are the two main ways to reach these holy places, Chardham Yatra by Helicopter from Delhi is the most popular. It takes the shortest time to reach these pilgrimage sites via helicopter.
Helicopters are becoming increasingly popular as they offer a unique experience. They also provide a great view of the landscape when reaching your destinations. It is the way to go if you want to get a bird's eye view of the Himalayas.
Learn About the Char Dham Yatra.
The Char Dham Yatra pilgrimage is one of the most revered Hindu pilgrimages in India. Every year, millions of devotees travel to these four cities to seek blessings from the Gods and Goddesses of the Hindu Trinity. The journey includes visiting temples located within each city, as well as several other sacred spots that stand as a testament to India's vibrant cultural and religious history. Join us on this incredible experience to truly understand and appreciate this famous Hindu tradition!
Get an Overview of Your Journey Plan.
Embark on the Char Dham Yatra from Delhi and fly over five famous cities that highlight India's cultural and spiritual heritage. Visit Yamunotri, Gangotri, Kedarnath and Badrinath while making stops to pay respects to sacred shrines. Take a break in Rishikesh to soak in spirituality before finally concluding your majestic journey with a visit to Delhi. With expert tour guides taking you through this journey, get an overview of the places involved in this iconic pilgrimage before beginning your experience.
Enjoy Sightseeing and Visit Temples.
Enjoy amazing sightseeing from the air as you fly to each destination. Take in scenic views of lush green mountain ranges, rivers and ancient villages created centuries ago! You will also be able to visit some of India's most sacred temples, giving you chances to pay respect to spiritual masters and idols. Take part in various rituals and gain blessings from the local temple priests. Along your journey through Char Dham Yatra get an unrivalled experience that comes with witnessing the astonishing views, dabbling in spirituality and cherishing the stories of India's cultural heritage!
Book Helicopter Tickets for Char Dham Yatra from Delhi.
Booking helicopter tickets for your Char Dham Yatra is the most convenient and hassle-free way to make your pilgrimage. With Delhi being the hub of India's aviation industry, you only have to book your flight from one location. We offer special group tariffs to make sure that all of our guests get the best possible deals when booking tickets for their Char Dham Yatra by helicopter. Come and join us on this ultimate journey and experience India like never before!
Choose from a Variety of Packages to Suit Your Budget and Requirements.
At Delhi to Char Dham Yatra By Helicopter, we offer a variety of packages to suit your budget and requirements. Whether you're looking for a quick one-day trip to the four holy cities or a more leisurely two-day tour, our team will be more than happy to accommodate your needs. We also provide special group packages for large groups, so everyone can save money on their tickets. With all the options available, you are sure to find the perfect package for you!
People on the internet frequently post a query on Chardham Yatra by Helicopter from Delhi. In this post, we are going to cover your perfect Chardham yatra itinerary from Delhi:
Terms & Conditions :- Blueheights Aviation Helicopter Services for chardham yatra
The passenger shouldn't carry baggage that weighs more than 2 kilograms. The excess weight of luggage will not be accepted on the helicopter.
All children over the age of 2 has a full ticket.
Don't confuse the reporting time and departure time. The reporting time is one hour earlier than the departure time.
Passengers are asked to come into our office wearing a CTT voucher.
The minimum wait time for a traveler is 2 hours, based on the conditions of the weather.
The temples are all in high altitudes, so travelers must carry a medical equipment with them.
There is no restriction or other concessions for children or older adults.
Any additional night of stay due to weather conditions will be the responsibility of the guest the hotel.
Our Services reserves the right delay the time of flight due to weather conditions that are not ideal.
Senior citizens and those with disabilities will be given preference
The duration for passenger darshan is 1hr 30 minutes.
In the helicopter ride, we do not take responsibility for your baggage.
If you take any shortcuts during your trek, we're not accountable for it.
Chardham Yatra Helicopter Packages 2023 would be designed to accommodate passengers in groups of their own. It is however not always feasible at all times to split passengers into groups to allow for weight adjustments.
Important Note:
In the event of a flight being was cancelled or changed due to weather conditions technical difficulties, lack of passengers, or other reasons the passengers will be required to travel on their own, based on the package you purchased, a complete refund will be given. If you have any issues with 4 Dham Yatra helicopter services contact us on our support number and our experts will resolve your issue immediately.
Once you book Char Dham helicopter services, we will provide the finest services to ensure you have a relaxing and luxurious experience. In line with the increasing demands of our clients, we have a forte in providing the best helicopter services. Our team of experts regularly communicate with our customers and offer an option to rent a helicopter in accordance with their requirements and purchase these services from us at an affordable price.
Our fleet includes 100+ aircrafts as well as helicopters to ensure that no matter your travel requirement, we have the perfect aircraft for you within the shortest time. To enjoy an unparalleled air charter experience, book on with BlueHeight Aviation.
Why Are Blueheight Aviation Services Best for Chardham yatra by helicopter?
Blueheight Aviation is one of the leading aviation company for air charter services and Air Ambulance services in delhi (India). with over 10 years of industry experience. Our exclusive Chardham Yatra By helicopter packages for 2023 are highly customizable to address our clients' specific needs and requirements. We facilitate our passengers with all the end-to-end arrangements to make their yatra an unforgettable experience.
For the ultimate pilgrimage experience, consider visiting the Char Dams of Uttarakhand, India. You will see four sacred places along the route: Yamunotri, Gangotri, Kedar Nath, and Badrinath. Travelling by helicopter from Delhi to the holy destinations, you will witness breathtaking views of snow-capped mountains and lush green valleys. Along the way, you will also visit towns like Rishikesh, Haridwar, Nainital, and Dehradun.
Get ready to embark on an unforgettable adventure!
FAQ
1) What is distance between Delhi to Kedarnath?
Air distance between delhi to Kedarnath is 296kms where as distance between delhi to kedarnath by road is 452kms .
2) What are place in 4 dham name ?
Yamnunotri , Gangotri, Kedarnath & Badrinath are 4 dham name .
3) What is kedarnath Temperature during summer ?
Kedarnath Temperature stays between 10-30 degrees Celsius during summer season May-June .Best time to visit.
4) How to reach delhi from different states of india ?
Delhi is capital of india and is well connected with different metro cities by road, train and air . Indira Gandhi International Airport is largest airport in india , Passengers can reach by domestic or international flights .

5) What are famous Railway station available in delhi ?
Followings are major railways station available in delhi -
New Delhi Railway station ( NDLS)
Old Delhi Railway Station
Nizamudin Railway Station
Anand Vihar Railway station
Delhi Cant Railway Station
6) What are famous historical Places To Visit in Delhi ?
Following are famous historical Places to visit in Delhi for tourist attractions-
7) Is it allowed to touch Kedarnath Shivling?
Yes , Pilgrim can pray and touch Kedarnath shivling inside Kedarnath Temple subject to Temple committee or Priest permission.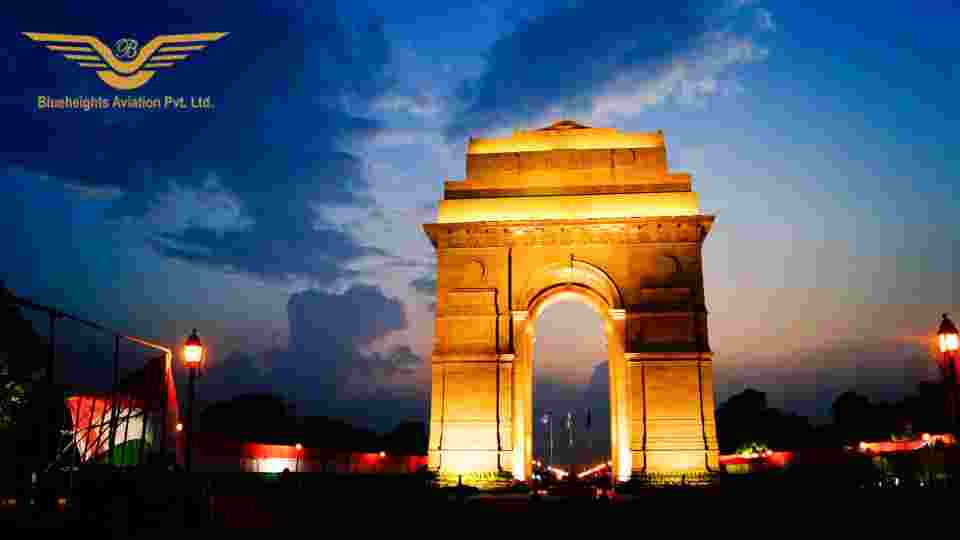 You Might Also Like
Day 1: Delhi to Dehradun
There are flights connecting the Delhi Airport to Dehradun Airport to take you in the fastest way in just 50 minutes. You can also consider boarding a train or cab from Delhi to Dehradun which takes more time and can be tiring too. We recommend boarding a flight from Delhi to Dehradun to save time.
Arrive at Dehradun to embark on a pleasant journey of Chardham. Blueheight offers a complimentary overnight stay at Dehradun. We will arrange your hotel transfer and also assist with check-in formalities. We also arrange a duffel bag so that you can carry along the most urgent belongings, keeping the rest of your luggage in the cloakroom.
Day 2: Dehradun to Kharsali
Our first visit among the four Dham is to Yamunotri. Once you wake up to a hearty breakfast, get ready to reach the Dehradun Helipad - Sahastradhara to board a helicopter. You will reach Kharsali in around 20 minutes and then be transferred to the hotel. After a delicious lunch, you will head to enjoy the hot springs of Yamunotri via trek, palki or pony. You can also pay a visit to the Shani temple and then return to the hotel to rest.
Day 3: Kharsali to Harsil
The next day, we will head to Gangotri Dham, known for the origin of the holy river Ganga. You will reach the Harshil to head to Gangotri temple for Dharshan. On your way, you will explore the extensive apple orchards and the most scenic beauty of nature. It roughly takes 50 minutes to reach the Gangotri Temple by road. You can also enjoy the Shiv temple in Harshil, Bagodi Village walks, a Nature walk to Jhala and a short trek to Chholmi village.
Day 4: Harsil to Sersi
The next day, you will head to the Harsil helipad to reach Sersi for Kedarnath Ji Darshan. There is a shuttle service flight available for Kedarnath Ji. It takes approximately 2 hours for darshan at Kedarnath Ji. Kali temple at Guptakashi is an excellent sightseeing option for devotees.
Day 5: Sersi to Badrinath
Devotees will leave for Badrinath after having breakfast at Sersi. After de-boarding the helicopter at Badrinath, the passengers will be taken by car from the hotel to the temple. Mana village is one of the prominent sightseeing options around Badrinath. It is known as the last village of India due to its proximity to the China border.
Day 6: Dehradun
After visiting all the four dhams, it's time to return after treasuring the memories. If you have pre-booked the Maha Abhishek Puja, you must reach from 4:30 to 6:30 hours in the morning. The estimated time of arrival at Shastradhara is around 9:30 AM. You will be taken to the Dehradun hotel to collect your luggage from the cloakroom. You will be dropped to the airport or railway station to board for Delhi. Blueheight aviation can also arrange flight tickets or helicopter charter service from Dehradun to Delhi at the client's discretion.
Your Private Charter Journey Starts Here
Subscribe and we'll send the best deals to you