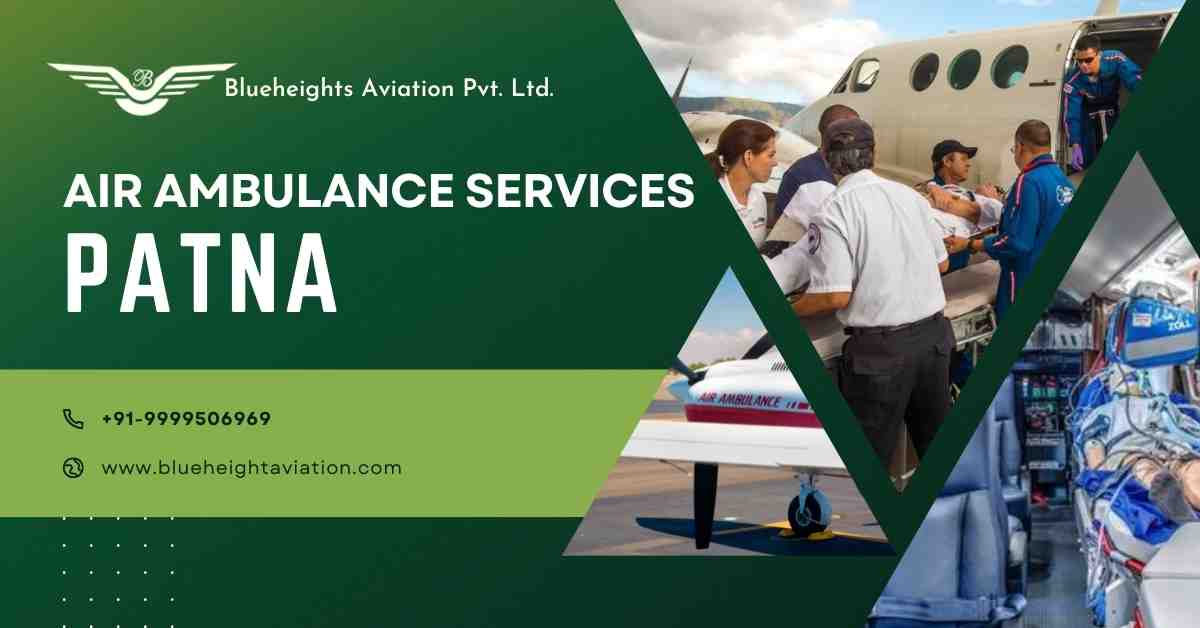 Air Ambulance Service in Patna
If you need an ambulance service in Patna, many options are available.
What is Air Ambulance? Air ambulance services provide medical transportation by air. It can be done with a helicopter or a small plane. Air ambulances are typically used in emergencies where time is of the essence.
Why Air Ambulance Services?
Air Ambulance Services are the fastest means of transportation for patients in critical condition.
They are used when time is of the essence and when other means of transportation are not feasible.
Air ambulance services provide the highest level of care possible, with trained medical personnel on board.
What to Look for in an Air Ambulance Service?
When looking for an air ambulance Service, always check for reliable and experienced providers.
Check for services with a proven track record and are accredited by the relevant authorities.
Also, check for services that offer a wide range of features and benefits, such as 24/7 availability, pick up and drop off services, etc.
Do not hesitate to compare the prices of different providers before deciding.
Benefits of Air Ambulance Services in Patna
There are many benefits of using air ambulance services, especially in emergencies. Some of the main benefits include:
Quick response times: Air ambulances can reach patients quickly, often within minutes.
Access to remote areas: Air ambulances can access remote areas that would be difficult or impossible to reach by road due to the non-accessibility of terrain.
Trained personnel: Air ambulance personnel are highly trained and experienced in dealing with various medical emergencies.
High-quality equipment: Air ambulances are equipped with the latest technology and equipment, which can make a big difference in the outcome of an emergency.
Comfort: Due to medical provisions being made to handle the critical situation of the patient, which provides some comfort to the patient and their family.
Quick Evacuation: IN case of medical emergencies, time is of the essence, and an air ambulance can provide quick evacuation to a hospital where the patient can receive appropriate treatment.
Air ambulance services are typically used in cases where time is of the essence, such as when a patient needs to be transported to a specialized facility or when transport by road is not possible due to the terrain. Air ambulances are the fastest means of transportation in such cases.
What is the cost of an Air Ambulance in Patna?
The cost of air ambulance services in Patna can vary depending on the provider and the type of service required. However, you can expect to pay anywhere from Rs. 1.6 lakhs to 18 lakhs depending on the distance traveled.

Cost of air ambulance from Patna to delhi is between 5 lac - 6.5lac . Cost of hiring air ambulance in Patna depend upon location of aircraft at time of booking .
| | |
| --- | --- |
| SECTOR | COST |
| PATNA- DELHI | 5.5 LAC -6.5LAC |
| PATNA- HYDERABAD | 9 LAC- 10 LAC |
| PATNA- MUMBAI | 8 LAC-10 LAC |
| PATNA- CHENNAI | 10 LAC-13 LAC |
Who needs Air Ambulance Services?
Patients who are critically ill and need to be evacuated urgently need Air Ambulance Services. These are useful for people with life-threatening medical emergencies. These situations include severe burns, stroke, pregnancy complications, traumatic injuries, respiratory diseases, spinal injury or severe head injury.
All such cases need immediate medical attention. Any delays can lead to the death of patients. Here, Air Ambulance Services can help quickly shift patients to hospitals for better and specialized treatment.
Cost-Effective Air Ambulance Solutions in Patna
Are you looking for an air ambulance in Patna? Our specialized team provides cost-effective solutions for air medical services with top-notch equipment and a dedicated staff ready to assist. Get the help you need and get your loved one the care they require.
Understand the Different Types of Air Ambulance Services.
When choosing an air ambulance, it is important to understand the different types of services that are available. All services include a medical team to provide care and transportation in specially equipped aircrafts, but there are variations depending on the type of care available and distance travelled. Be sure to ask what types of services are provided before making your decision.
Identify Your Requirements and Needs in Air Medical Transport.
There are a variety of factors you should consider before making your decision on an air ambulance service. For example, think about what type of medical care is needed, what level of staffing is required, and the distance that must be travelled. It is also important to understand the cost associated with an air ambulance and any potential insurance coverage available to offset those costs. Knowing exactly what you need will help identify the most cost-effective solution for your air medical transport needs.
Compare Air Ambulance Prices and Costs in Patna.
When finding the right air ambulance for you, it's important to compare the prices and costs of various companies. Make sure to factor in all additional costs associated with your trip, including crew and medical staff fees, helicopter rental, fuel and mileage costs, and pick-up/drop-off locations. Taking time to understand these details can help find an air ambulance that fits your needs while also keeping within your budget.
Check the Quality of Care and Services Provided by an Air Ambulance Provider.
Ensure you are receiving quality care when looking for an air ambulance in Patna. Ask questions about the capabilities of the crew and medical staff, as well as ask to see their certifications. Additionally, review the type of aircraft they have available. Equipped with advanced technology and life-saving patient monitoring equipment, modern helicopters provide a safe way to transport patients in emergency situations while providing excellent medical care during transport.
Evaluate Insurance Coverage for Air Medical Transportation in Patna India.
Understand your insurance coverage before you choose an air ambulance in Patna. Talk to a representative from your health insurance provider and ask questions about what costs may be covered for air medical transport services. They can also be helpful in navigating payment processes, such as providing pre-authorizations for air ambulance services. Additionally, find out the process for filing a claim if needed. Being informed and prepared will ensure you receive the most cost-effective air ambulance services for you or your loved one's needs.
Why is Blueheight Aviation Best for air ambulance services in Patna ?
Blueheight Aviation is one of the best air ambulance services in Patna. We offer a wide range of services at affordable rates. Our team of experienced and skilled professionals is dedicated to providing the best possible care to our patients. We offer our patients the bed to bed transfer facilities for convenient transportation.
Special arrangements are made for Covid and Non-Covid patient transfers. We strictly follow the Covid-19 protocols set by the government. We provide all the necessary medical equipment and facilities to our patients during the transportation process.
We have a team of experienced doctors and paramedics who are always available to provide the best possible care to our patients. We offer 24/7 assistance to our customers. You can contact us anytime for further queries.
International flights are available in major cities like Delhi, Bangalore, Chennai, Hyderabad, and other internal airports across India.
To get the best price quote for an air ambulance ,or Chardham yatra by helicopter from Patna or Private jet charter or charter helicopter from Jayprakash Narayan international Airport in Patna , call us now!
You May also like :
Your Private Charter Journey Starts Here
Subscribe and we'll send the best deals to you