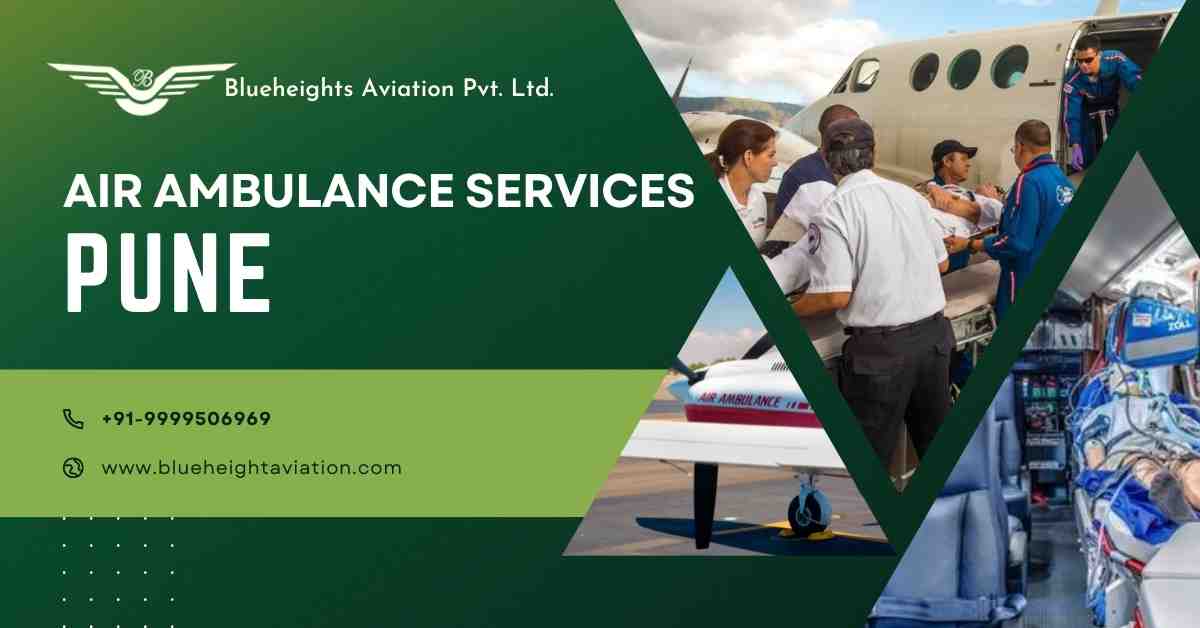 Air Ambulance Services in Pune
What would happen if you suddenly found yourself in a life-threatening situation? Would you be able to afford the air ambulance services? If yes, you need to look into the Air Ambulance Services.
An air ambulance is a lifesaving tool that allows doctors to treat patients immediately after arriving at the hospital. The cost of an air ambulance varies, the facilities required, and the distance between the patient's home and the nearest hospital.
What are Air Ambulance Services?
An air ambulance is an aircraft that provides emergency medical transport for critically ill or injured patients. It can be used as a primary means of transporting patients from one location to another, or it may also serve as a secondary means of transportation when other methods have failed.
A private or public entity usually operates an air ambulance service. It is designed to provide critical care to patients in remote areas where ground ambulances cannot reach them in time.
The primary purpose of using an air ambulance is to get the patient to a hospital quickly to receive proper treatment. It is essential if the patient has suffered a significant injury or trauma.
Benefits of Using Air Ambulance Services:
• Timely Medical Evacuation – A well-equipped air ambulance with qualified paramedics will ensure that you get the best possible medical attention at any time of the day or night. These are well-equipped aircraft with experienced doctors to deal with any medical emergency.
• Safe Transport – You don't have to worry about traffic congestion, road accidents, or other obstacles. Your journey will be smooth and hassle-free. You can ensure to reach your destination in the shortest possible time considering your medical emergency.
• Reliable Transportation – Highest safety standards are complied with the best ambulance service in Pune to ensure reliable transportation for critical patients.
• Operates everywhere - Many of us perceive that the flying zone for air ambulances is limited. Opposite to this myth, the fact is that the Air ambulance services are accessible in most places, including the far-flung areas where the public transportation is missing.
• An excellent option for severe patients - For critical patients that need intensive care and need to be rushed to the hospital in the shortest possible time, Air Ambulance is an excellent option. Air ambulance services in Pune are best to consider in times of crisis.
• Larger Capacity- Best Air Ambulance in Pune can cover long distances in the shortest possible time and comes with a larger capacity. Hence, there is enough space to install a lot of medical equipment to deal with any medical emergency that needs to be dealt with while flying from one place to another.
Why Choose Blueheight Aviation for air ambulance service?
• We have been operating since 2010. Our extensive experience for Air Ambulance assures you the best services comply with the highest industry standards.
• We have a well-established network of hospitals across India. You don't need to run over as we can help you with the best services to deal with your medical emergency.
• All our staff members are qualified paramedics with years of experience. They are equipped to handle serious medical emergencies to ensure safer transportation.
• We use state-of-the-art equipment and technology to ensure that you get the best possible care. All these air ambulances in Pune are equipped with the hi-tech instruments like a suction machines, nebulizer machines, portable ventilators, oxygen cylinders, cardiac monitors, and other advanced life supports that are required in case of a medical emergency,
• We have very competitive rates and flexible fares. While many believe that Air ambulance fares are exorbitant, Blue Height Aviation breaks the myth successfully by offering customized fares to make it an affordable deal for many.
• We have an excellent customer support system to assist you with your bookings and journey. Our dedicated executives take care of every aspect of your trip to make it a smooth experience.
What is the cost of Air Ambulance Services in Pune?
The average cost of Air Ambulance Services in Pune starts from 2.5 lakhs. Depending on the facilities and the distance traveled, it may go as high as 18 lakhs. Several considerations, such as inter-state flight or international flight, whether the medical emergency is severe or not, whether the patient needs an on-board medical specialist or not, etc., are taken into account to determine the cost of Air Ambulance in Pune.
How Can I Book My Air Ambulance service?
The process of booking air ambulance services is quick and easy. Call us now to get the best quotes!
If you are struggling with any medical emergency and looking for quick transportation, Air Ambulance Services are the best to consider.
Blueheights Aviation is one of the leading aviation services in Pune. We offer bed to bed transfer facilities to ease with patient transportation to hospitals. Separate arrangements are made for Covid and Non-Covid patients. We strictly follow the Covid-19 guidelines to ensure maximum safety of our patients. All the international air ambulance are available at the major cities like Delhi, Mumbai, Hyderabad, Chennai, Bangalore and other cities with international airports across India.
To book an air ambulance from Pune International airport in Pune, Call Us Now @ 9999506969, 9650578989
Cost-Effective Air Ambulance Services Available in Pune, India
Are you in need of safe and reliable air ambulance services in Pune? Look no further! Our professional and supportive team provides the highest quality care at an affordable rate, so that you can have a stress-free experience while receiving the medical attention you require.
What to Expect from Professional Air Ambulance Service.
When you choose an air ambulance service, you can expect everything from phone pre- assessment of your situation to arrival within 2 hours at the agreed location. Our conscientious and experienced medical team is always on stand-by, ready to provide outstanding service for any medical emergency. We understand that no two situations are alike, so our services are tailored as per individual need and experience. We strive to make this experience as stress free and affordable as possible.
Reasons You May Require An Air Ambulance Service.
Often times, time is of the essence when transporting a patient for emergency medical services. Air ambulance services are designed to provide fast and reliable transport of individuals in need transitioning to specialized facilities such as hospitals or other emergency care services. These type of services can be lifesaving in situations such as heart attacks, brain injuries, cancer treatments, accidents, and more. Our air ambulances are equipped with advanced medical systems and experienced health care professionals that ensure that you get quality service with minimum stress.
Benefits of Hiring an Air Ambulance in Pune, India.
Using an air ambulance service in Pune offers numerous benefits that you otherwise wouldn't be able to get with traditional medical transportation services. Some of these advantages include the ease of transfer, a stress-free experience, fast transport times due to eliminating airport and traffic delays, cost-effectiveness when compared to more conventional means of transporting patients, and access to advanced medical resources typically not found in traditional ambulances. With our experienced crew and state-of-the-art equipments, we ensure that you receive quality care while being transferred quickly and safely to your destination.
What Kind of Care and Equipment Does a Professional Air Ambulance Service Provide?
Our professional air ambulance service comes equipped with medical personnel, advanced medical and safety equipment, and plenty of resources to help ensure you receive the best care during your transfer. All flights include a medically-trained crew that is available to assist with any required medical treatments and to ensure the flight runs as smoothly as possible. Additionally, our aircrafts are equipped with advanced monitoring systems, medical oxygen units, incubators and stretchers – everything necessary for seamless medical transfers. You can rest assured that you receiving quality care when utilizing our services!
How to Choose the Right Air Ambulance Service for You or Your Loved One?
Choosing the right air ambulance service is essential for any medical transfer, and it's important to consider several different factors when making your selection. When looking for an air ambulance service, make sure to ask about their staff qualifications, experience with medical transfers and safety protocol. Additionally, make sure to inquire about their aircrafts and the medical equipment they carry on-board so you can be sure your safety is assured throughout the transfer. Finally, remember to request a quote ahead of time or ask if there are any financial assistance programs available in order to ensure you are getting a cost-effective rate for the services provided.
You May also like :
Your Private Charter Journey Starts Here
Subscribe and we'll send the best deals to you