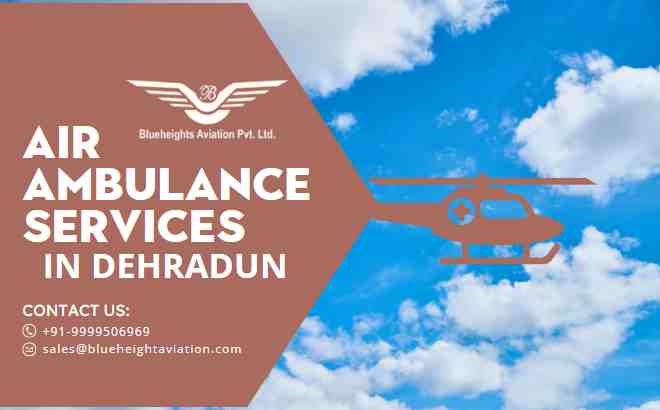 Air Ambulance Services in Dehradun
Referred as the most popular and most famous city of Uttarakhand, Dehradun attracts thousands of visitors every year. Although the city has a streamlined infrastructure with some good hospitals and medical networks, often critical patients are required to evacuate to the metro cities and other countries for better medical facilities. It often generates the need for air ambulance services that are considered the fastest way to transfer critically ill patients safely.
Air Ambulance Services in Dehradun are vital for saving lives during emergencies. They provide emergency medical care to patients who require immediate transport from remote locations or rural areas where other means of transportation are unavailable. The services are provided 24 hours a day, 7 days a week, 365 days a year.
What is an Air Ambulance?
Air Ambulances are specially equipped aircraft that rapidly transport critically ill or injured patients to hospitals. Highly trained paramedics and physicians usually staff these aircraft.
The air ambulance is the fastest way to get sick people to the hospital in an emergency. It can be used as a last resort when all other options have been exhausted.
A typical Air Ambulance will have at least one paramedic and a physician or surgeon. Some helicopters have two pilots and two crew members, while others only have one pilot and one crew member.
In addition to transporting patients, some Air Ambulances can perform aeromedical evacuations (AEVs), which involve flying patients to another location for further treatment.
What are the prime benefits of Air Ambulance?
Air ambulance Services in Dehradun come with incredible benefits as
No Geographical Limitations
An air ambulance's first and foremost benefit is its no geographical limitations. It can fly anywhere in the world without any restrictions. It becomes possible for the patient to receive treatment even in remote areas.
Many people think that air ambulances only work where the road condition worsens. But it is just not true. Air ambulances can operate in some of the most challenging terrains.
Immediate Medical Evacuation
Air Ambulances are used to transport seriously ill patients across the world. They provide the fastest way to transfer patients from one hospital to another. These ambulances come in different sizes and shapes depending upon the requirement. As it is not subject to any traffic jams and other challenges that any road ambulance encounters, it can evacuate severely ill patients quickly.
Spacious
The next benefit of air ambulances is that they have a higher capacity than road ambulances. These aircraft are large and equipped with a paramedic team on board.
Critical patients requiring advanced medical equipment to deal with emergencies on the way find air ambulance viable. It makes air ambulances different from regular flight services as they provide better care.
24/7 Availability
Another advantage of using an air ambulance service is its availability round-the-clock. There is no need to wait until the roads become apparent before reaching your destination. You can book an air ambulance whenever you want.
Safety
Air Ambulances use state-of-the-art technology to ensure safety. They are equipped with modern medical equipment and advanced life support systems. The aircraft is also fitted with specialized oxygen supply systems, defibrillators, ventilators, and monitors.
Saving lives
Reports suggest that more than 50% of deaths result from delayed medical evacuations. Using the air ambulance at the right time can shrink this number and helps in saving a lot of lives.
When are Air Ambulance Services Mandatory?
Air ambulance services in Dehradun transport patients to hospitals across different locations. These vehicles are advantageous when there is no road access or when it is difficult to reach the hospital due to terrain issues. Air ambulances are also used to transfer patients from one location to another quickly. In some cases, they are even used to evacuate people trapped under rubble.
The primary role of air ambulances should be to facilitate quick medical evacuation rather than transporting patients to hospitals. It is because emergency response teams are better equipped to handle cardiac arrest and stroke.
Researches show that nearly 20% of patients die from traffic jams. However, air ambulances can often not reach accident sites within the required timeframe. Hence, air ambulances are preferred over ground ambulances for longer distances and congested roads.
What is the Air Ambulance Price in Dehradun?
The Cost of booking an Air Ambulance in Dehradun varies according to the type of aircraft and the distance covered by the patient. It also depends on the number of passengers carried by aircraft, the requirement of the paramedic team and the type of medical equipment required on board.
On average, the Air Ambulance cost per hour in Dehradun is 110,000/-
Why Consider Blueheight Aviation?
Blueheights Aviation provides the most reliable and affordable solution for emergency medical evacuations. We use our fleet of state-of-the-art aircraft to ensure safe and swift transfers. Our highly trained pilots and paramedics ensure that every patient receives the highest level of care.
We understand how important it is to receive quality healthcare quickly. Therefore, we work hard to keep costs down while providing the best possible service.
Special arrangements are made for Covid and non- Covid transfers. We strictly adhere to all the covid guidelines. We also offer a bed-to-bed transfer facility for our patients for smooth transfers.
With ove 15. years of experience, we have successfully evacuated over 18500 patients.
If you are looking for air ambulance services in Dehradun or want to know air ambulance charges Dehradun, call us now
You May also like :
Your Private Charter Journey Starts Here
Subscribe and we'll send the best deals to you