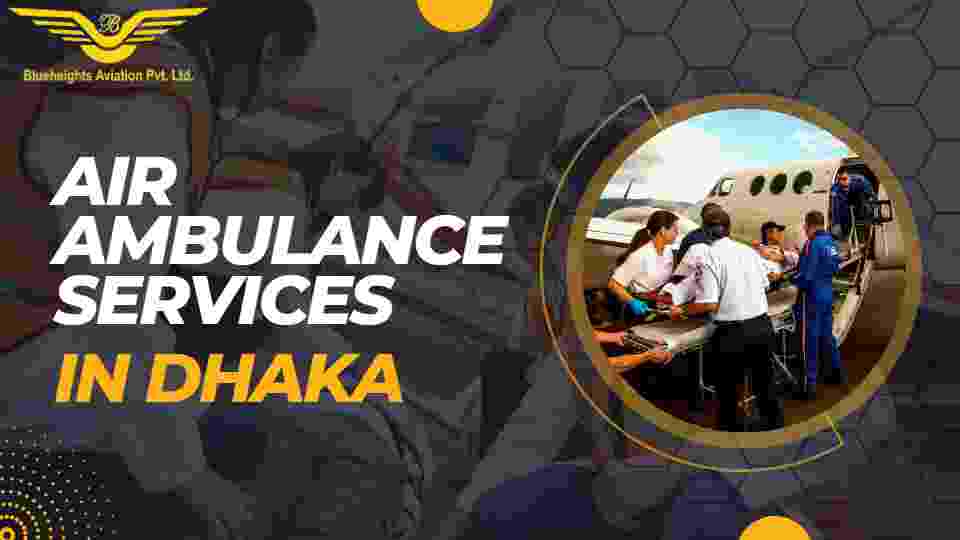 Air Ambulance Services in Dhaka
In a medical emergency, air ambulance services can be the lifesaving difference in Dhaka. As the capital of Bangladesh, Dhaka is data hub for medical transport and we provide timely, safe and effective air ambulance services to ensure the best possible outcome for your loved one.

Here's a guide to our services.
Our air ambulance teams have the experience and expertise to ensure the safest, most reliable service in Dhaka. We offer a range of different services, depending on your individual needs; these include patient transport, medical critical care flights, neonatal transfers and repatriation of deceased persons. All of our services are delivered with the highest level of care and professionalism.
We understand that getting the help you need in a medical emergency can be a stressful experience. That's why we strive to make your air ambulance experience as smooth as possible, providing a comprehensive service that includes management of patient paperwork and documentations, flight coordination, expedited transfer services, VIP Concierge Services, medical equipment rentals and more. Our teams are highly trained and experienced in dealing with the many variables associated with caring for patients in varying medical conditions during an air ambulance flight. We take immense pride in delivering exceptional care to those when they need it most.

Evaluation – Personalized Care and Attention
Our air ambulance services in Dhaka come with an attentive tertiary evaluation process, so that we are able to assess the patient's condition and needs before transfer. Our team of specialized medical staff provides personalized care and attention throughout the entire transport, ensuring the safety and comfort of our patients.
At our air ambulance services in Dhaka, we understand that not all medical transfers are the same. We therefore provide a personalized evaluation process for every patient before their transfer. During this process, our team of experienced physicians and healthcare personnel are able to assess the condition of the patient and decide what kind of support will be needed for safe and comfortable transport. We also go through all medical records to identify any existing health issues that could get aggravated during flight or be brought under control with appropriate interventions. This personalized service ensures maximum safety and comfort throughout the entire transfer procedure so that our patients can travel without worry.

Private Flights – Best Aircraft Options in Bangladesh to india
When it comes to air ambulance services, the right aircraft plays a crucial role in providing the best care for patients. We offer private flights for air ambulances using specific aircraft models according to the patient's requirements. Our multi-status approved aircraft provide safety, comfort, and maximum accessibility - making them the perfect choice for critical transportation situations in Bangladesh and India.
We use the most advanced emergency medical kits and equipment while onboarding aircraft appropriate for the patient's needs. Depending on the situation, we can choose from aircraft such as Beechcraft B200, Kings Air B300, or Citation xl or Lear jet 45 which specialize in transporting patients in critical conditions. We also use ground support for comfortable transfers and to make sure that our customers receive the best possible service. With our wide range of aircraft models and services available – private medical flights are a viable option for anyone needing emergency transport from Bangladesh to India.
Cost-Effective Services for Patients airlift from Dhaka to Delhi or Mumbai or Hyderabad or Chennai
We are committed to providing cost-effective services for critical patients who need air evacuation from Dhaka to Delhi, Mumbai, Hyderabad or Chennai. For time-sensitive matters like medical evacuations, cost is usually the biggest limiting factor. As such, we provide world-class air ambulance services with affordable prices and special discounts for international travel - helping ensure that getting your loved one the care they need is stress-free on both financial and safety perspectives.
Our experienced and dedicated team of experts have carried out countless medical evacuations from Dhaka to Mumbai, Delhi, Hyderabad or Chennai. We provide the best in-flight care for the patient with on-board doctors and nurses who are trained in the most advanced lifesaving techniques and modern technological equipment. With our years of experience, we have a proven track record of successful air evacuation services from Bangladesh to India. If you need urgent help relocating a loved one who is critically ill or injured - contact us as soon as possible.
We understand that timely access to cost-effective air ambulance services from Dhaka can be significantly beneficial in emergency medical cases. We work with experienced professionals and organizations that coordinate every aspect of arranging shuttle flights for patients, ensuring clients will receive the best care and most efficient service supported by world-class technology. When you need reliable flight services from Dhaka to other cities in India or around the world, you can rest assured that we will work diligently throughout your entire air evacuation journey to ensure everything is done professionally, safely, and quickly.
Why to book air ambulance services in Dhaka with Blueheights Aviation (India)?
When looking for an air ambulance transport in Dhaka, it is important to choose a reliable partner that prioritizes passenger safety and comfort. With Blueheights Aviation (India), you get both - our team of highly trained medical and aviation professionals are committed to providing the very best care to all passengers at all times. We provide a full suite of services for all our evacuations, ensuring maximum passenger comfort during the entire journey.
We also have an extensive network with several local hospitals and medical care providers, allowing us to coordinate all aspects of air ambulance evacuation. Our pilots have experience flying in the Dhaka airspace and are dedicated to providing the safest service possible. We use only the latest technology for our air ambulances, including avionic basics like GPS navigation, satellite communication and communication systems including voice communication. We even have a specialised medical equipment onboard to ensure passengers are safe during the journey. With Blueheights Aviation (India), you can trust that your loved ones will get the best care when travelling or being transported via air ambulance.
Our team of highly experienced and compassionate medical staff will be on hand to offer the required advice, care and comfort throughout the experience. Our air ambulances are equipped with wide range of medical supplies, advanced life support devices and trained personnel who can deliver specialised treatment while in flight. With the assistance of our partner hospitals in Dhaka, we can provide 24/7 assistance to ensure your loved one gets to their destination without delay. Booking an air ambulance service with Blueheights Aviation (India) means peace of mind that you are getting the best possible coverage for all levels of medical care needs. We understand how important it is for families to swiftly get a loved one to an ideal place quickly and safely so we strive to make sure all our operations are conducted using the highest safety standards.

Booking Air Ambulance in Dhaka or Bangladesh , Call us +91,
9999506969
,
+919650578989
or email us : sales@blueheightaviation.com
Your Private Charter Journey Starts Here
Subscribe and we'll send the best deals to you