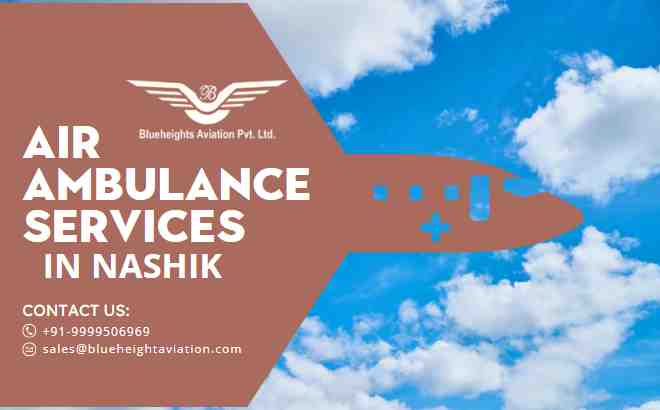 Air Ambulance Services in Nashik
The medical emergency service has evolved in Nashik. From being a luxury service to a necessity, Air Ambulance Services in Nashik are today considered a vital part of modern healthcare. They provide immediate access to expert care at no additional charge.
Nashik is the third largest city after Pune and Mumbai in Maharastra. The ancient charm of Nashik attracts visitors across the country, making it a hot spot for tourists. Although there are many multi-specialty hospitals in Nashik, people often need medical evacuation services to get advanced medical treatment for their critical illnesses.
Air ambulances are designed to transport patients from remote locations to hospitals or other facilities where specialized treatment is available. It means they are equipped with advanced life support equipment and trained personnel who can handle emergencies ranging from cardiac arrest to trauma.
What is an air ambulance?
Air Ambulance Service is a specialized mode of transport used to move critically ill or injured people from one place to another. In case of emergencies like heart attacks, strokes, accidents, etc., there is no time to wait for the patient to reach the hospital. An air ambulance is specially designed to provide immediate access to quality healthcare.
Why Consider Blueheights Aviation Air Ambulance?
Air ambulance transport is a fast way to get emergency care to hospitals. It usually takes about 30 minutes to fly from the scene of an accident to a hospital. Air ambulances can reach the patient in many cases faster than ground ambulances. The availability of an expert Paramedic team makes the Air Ambulance an exceptional choice for critically ill/severely injured patients.
What is a Bed-to-bed Transfer Facility?
Bed to Bed Service is one of the most effective solutions for transferring patients from one bed to another under the doctor's supervision. This process helps the patient avoid falling due to weakness and fatigue while shifting from one bed to another. It is beneficial for patients who require immediate attention and treatment.
Blueheights aviation is one of the leading air ambulance providers offering patient bed-to-bed transfer facilities.
We have separate arrangements for Covid and Non-Covid patients and follow the strict Covid-19 protocols to ensure the highest safety of our patients.
All the international air ambulance services are available from major cities like Delhi, Mumbai, Kolkata, Hyderabad, Chennai, and other leading international airports across India.
Why Blueheights Aviation offers the best Air Ambulance Services in Nashik?
Blueheights Air Ambulance Services provides the best quality ambulance services in India. We provide the best hospital transfer services, air ambulance services, train ambulance services, road ambulance services, etc. Our highly experienced doctors and paramedical staff ensure you receive the best possible care during every stage of your journey.
We provide 24 hours services round the clock. You can call us anytime, and we will send our well-trained paramedics immediately. We provide door-to-door services throughout India.
We have modern ambulances with all required facilities like oxygen cylinders, defibrillators, ventilators, stretchers, wheelchairs, ICU beds, etc.
The entire fleet of our vehicles is fully insured against damages caused by natural calamities and accidents.
Who Needs the Air Ambulance Services in Nashik?
Patients who are critically ill, on a ventilator or need a consistent oxygen supply (more than 4 litres per minute) need Air Ambulance Services urgently. Generally, paramedics and doctors board the Air ambulance with the patient. These two medical professionals will monitor the patient's condition for emergency treatment or care if needed.
The places with inaccessibility use helicopter services as an ambulance to reach easily. As air ambulances are used in short-haul and long-haul flights, patients can easily be transported anywhere in a fraction of the time a road ambulance takes.
Is it safe to use air ambulance services?
Yes! There is no doubt that the air ambulance service in Nashik is safe. All the necessary precautions are taken to ensure the patient reaches the destination safely. A qualified paramedic accompanies the patient all the time. He monitors the patient's vital signs continuously and ensures that the patient gets proper medical assistance when needed.
Intensive Care Air Ambulance Flight from Airport
Are you looking for urgent intensive care transportation in Nashik? Fully equipped Air Ambulance services by Blueheights Aviation give you a smooth and hassle-free medical evacuation from/to Nashik. You can expect the best-in-class medical facilities and expert and high-efficiency air ambulance services.
We assure safe and rapid patient transportation from Nashik in the shortest possible time.
Special arrangements are made for Covid-19 patients to ensure a safer dispersal. We also arrange bed-to-bed transfer facilities for our critically ill patients. We assist with pediatric transport in Nashik, where the children and babies must be transported with utmost diligence. Hence, it would help if you highly had highly specialized air medics with years of experience in pediatric transport to ensure reliable services.
How much does an air ambulance cost per hour in Nashik?
The cost of booking an air ambulance in Nashik depends on the location, type of aircraft, number of passengers, flight duration, distance covered, and urgency of the situation. The requirement of the paramedic team and the type of medical equipment required also play a decisive role in determining the price of an air ambulance in Nashik.

You May also like :
Your Private Charter Journey Starts Here
Subscribe and we'll send the best deals to you