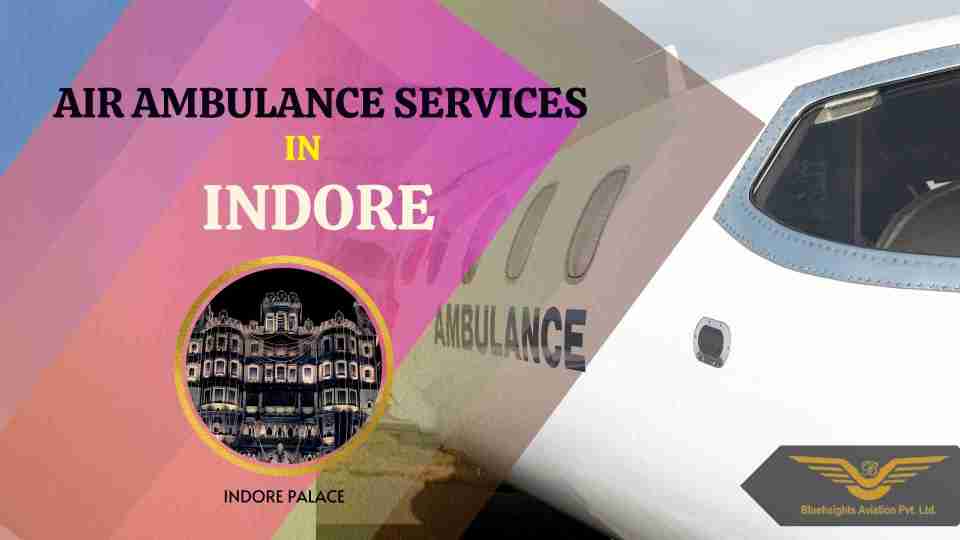 Air Ambulance Service in Indore
Located on the eastern coast of the Malwa plateau, Indore is one of the most populated cities in Madhya Pradesh. Indore has been a hub of trade for ages. Since the 16th Century, there have been traces of trade between Delhi and Indore. It is counted as one of the 100 smart cities under the Smart Cities mention. Coming to its medical infrastructure, Indore offers advanced medical facilities. It even allows you to avail of air ambulance service in Indore.
What Is Air Ambulance?
An air ambulance Indore is a helicopter or plane that provides emergency medical services to patients who need immediate transport to the hospital. The patient can be transported by air ambulance anywhere in India and abroad. Private companies and government agencies provide this service. There are many reasons why people opt for this service. Some of them include:
• Emergency cases like heart attack, stroke, trauma, etc.
• Transporting critically ill children to hospitals
• Medical evacuation during natural disasters like earthquakes, floods, cyclones, etc.
• Relocation of patients from remote areas to better healthcare facilities
• Transferring patients from rural areas to urban centers
• Patients with special needs such as those who have paralysis, epilepsy, multiple sclerosis, cerebral palsy, spinal cord injuries, etc.,
What are the advantages of Air Ambulance over Commercial Airlines?
There have been several aspects that give a lead to Air ambulance services in Indore over commercial airlines. Some of them are as follows:
Quick Transfers
Commercial airlines include a lot of boarding time and hassles. It would help if you got through several security checks before boarding. On the other hand, an Air ambulance takes you to the desired medical facility in the shortest possible time. It is quick with evacuation and transports critically ill patients to the required medical facility in no time.
Specialized Medical Equipment-
Most hi-tech Air Ambulances are equipped with advanced life-support systems that are critical in saving the patient's life on their way to the hospital. While road ambulances cannot accommodate such a large medical equipment setup due to space constraints, air ambulances have all the provisions to cater to patients with equipment like ventilators, defibrillators, oxygen cylinders, infusion pumps, etc.
Safety Measures
The safety measures taken by Air Ambulance are top-notch. They ensure that every aspect of the flight is safe and secure. They use state-of-the-art technology to make sure that the aircraft is well maintained and also that it is in perfect condition to provide the best experience to the passengers. Road ambulances are subject to road accidents.
Access to Far Flung areas
A road ambulance can manage access only to the areas with road connectivity. On the other hand, Air Ambulances provide connectivity to far-flung areas which are not connected by the road or railway network.
Availability of Para Medics
Paramedics are trained professionals who assist doctors in providing first aid care to patients. Most air ambulances are assisted by this para medics team equipped to handle any medical emergency on the way to the hospital.
What is the estimated Air Ambulance Cost in Indore?
The estimatedair ambulance price in Indore varies from 2.5 lakhs to 13 lakhs depending on the distance, type of aircraft, the requirement of medical assistance in terms of medical equipment, and para-medics team. Blueheight Aviation offers competitive Air Ambulances cost in Indore. Our affordable services cater to every budget.
Call us today to get the most competitive air ambulance cost per hour.
We strive to provide excellent services and rescue critically ill patients within minutes.
Why Consider Blueheight Aviation for Best Air Ambulance Services?
Blueheight Aviation is one of India's leading providers of Air Ambulance Services. We offer world-class services at affordable prices. Our fleet includes modern helicopters and fully equipped planes with an advanced life support system. We have a dedicated team of highly skilled paramedics who will take care of your loved ones while they are being evacuated. We understand the importance of saving lives, and we work hard to ensure that our customers receive the best service possible.
We are a leading Air aviation company with over ten years of experience.
We have assisted thousands of patients with our advanced medical evacuation process.
We offer a quick, comfortable, and easy booking process to ease your stress.
A Team of dedicated professionals is on board to assist the patient on their journey to the hospital.
We assure special assistance at the airport for faster and hassle-free boarding.
We have an arrangement for all hi-tech life equipment on board, such as defibrillators, infusion pumps, oxygen cylinders, pacemakers, ventilators, and system monitors to maintain the optimal health of critically ill patients.
Blueheight is a leading airline companythat provides safe and reliable air ambulance services to patients across India. We have separate arrangements for Covid and Non-Covid patients and follow the strict Covid-19 protocols to ensure the highest safety of our patients.
We provide a bed to bed transfer facilities for all our patients. All the international air ambulance services are available from major cities like Delhi, Mumbai, Kolkata, Hyderabad, Chennai, and other leading international airports across India.
To avail of the Air Ambulance Services from Devi Ahilyabai Holkar International Airport in Indore, Call us now! 9999506969,9650578989

Frequently Asked Question
Q1. How do I book an air ambulance?
Booking an air ambulance is very simple. You can book online or call us directly.
Q2. What is the difference between Air Ambulance and Helicopter Emergency Medical Service?
Air Ambulance is a specialized form of helicopter emergency medical service where a doctor and paramedic team accompany the patient during a flight. The patient is transferred to the nearest hospital by the crew members.
Q3. Is there any age limit for availing of Air Ambulance?
Yes, there is no upper age limit for availing of this service. However, if the patient is over 75 years old, they may require additional time to reach the destination.
Q4. Will the doctors and paramedics treat me free of charge?
Yes, the doctors and paramedics will treat you free of charge.
How to Book Air Ambulance?
For bookingCall us now! 9999506969,9650578989.
Alternatively, you can also send a mail sales@blueheightaviation.com
Although we will try to book your air ambulance immediately once we receive a booking confirmation, the unavailability of aircraft or any other circumstances beyond human control may lead to some delays in Booking.
We ensure to update our clients for any such delays as we are dedicated to offering the best services to all our esteemed clients.
If you have any queries or concerns, please feel free to connect here!
You May also like :
Your Private Charter Journey Starts Here
Subscribe and we'll send the best deals to you