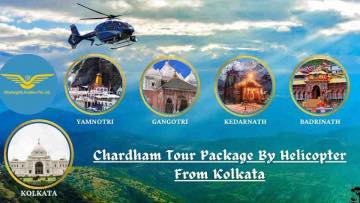 Chardham Tour Package By Helicopter from Kolkata (2023)
Are you looking for a Chardham tour package from Kolkata? If yes, then you should go through our article. In this article, we have shared some important tips and information regarding Chardham tours from Kolkata.
Chardham means the yatra to the four holy places that hold high significance in Hinduism. The four sacred sites are Yamunotri, Gangotri, Badrinath and Kedarnath in Uttarakhand.
Kolkata is the capital city of the West Bengal state of India. Tourists who want to experience the Char Dham Yatra can easily get to New Delhi by air. Blueheight Aviation will provide travellers with an unforgettable journey to Chardham Yatra. You will experience the beauty of breath taking valleys and stunning scenery.
Find the best itinerary for the Chardham Yatra tour package beginning in Kolkata; Destination covered Kolkata, Delhi, Dehradun, Yamunotri, Gangotri, Kedarnath, Guptkashi, and Badrinath,
DAY 1: Kolkata - Delhi - Dehradun
There is straightforward access between Kolkata and Delhi with various trains and flights at your preference. We suggest choosing an airway for your trip to be completed in a short time, with maximum ease. We can make reservations between Kolkata to Delhi departure on request. From Delhi, the journey will take you towards Dehradun, which serves as the base location to embark on the Char Dham Yatra.
Day 2: Dehradun to Kharsali
Our tour for Char Dham begins with Yamunotri. In the early morning, you will be served a fantastic breakfast. You'll be prepared for your journey towards Dehradun Helipad - Sahastradhara to fly in the helicopter. The helicopter will reach Kharsali in just 20 minutes. After that, you will be transferred into your accommodation. After lunch, visit Yamunotri temple by witnessing the hot springs in the afternoon by walking, palki or pony. You can also go to the Shani temple before returning to your hotel. After return, it time to rest and unwind.
Day 3: Kharsali to Harsil
The following day, we'll make an excursion to Gangotri Dham, a seat for the holy river Ganga. Harsil is the helipad for Gangotri Dham. We will head to Gangotri temple to commemorate Darshan after reaching harsil. On the way, you'll be observing the vast apple orchards and the breathtaking beauty of the nature in this Himalayan paradise. It'll take around 50 minutes to reach The Gangotri Temple by road.
Day 4: Harsil to Sersi
Your next day begins with a scrumptious breakfast and then heading toward Harsil Helipad to get to Sersi Helipad for the Kedarnath darshan. A shuttle flight will take you to Kedarnath Ji. It takes approximately 2 hours to go to Kedarnath Ji. Kedarnath ji is the heavenly abode of Lord Shiva and a crucial part of Chota Char Dham as well.
Day 5: Sersi to Badrinath
The devotees will leave for Badrinath following the breakfast meal in Sersi. Once the helicopter lands in Badrinath, devotees are transferred by vehicle from their accommodation to journey towards the Badrinath temple. Mana village is one of the most sought-after tourist destinations near Badrinath. Mana village can also be referred to as being India's last village India because of its proximity to the China border.
Day 6: Back To Dehradun
After visiting all four Dhams in the region, it's time to return with some beautiful memories. If you've booked tickets for an event like the Maha Abhishek Puja, you will be requrested be at the location between 4:30 and 6:30 am early morning. The time to arrive is Shastradhara is around 9 morning.
Then, you will arrive at Dehradun hotel via taxi, where you can collect your bags from the hotel. After that, one of our representative will drop you to the nearest train station or airport to commute to Delhi. Blueheight aviation can also arrange the tickets for flights and helicopter charter services from Dehradun to Delhi according to the customer's preferences.
Terms & Conditions For Blueheights Aviation Helicopter Services
The passenger shouldn't carry baggage that weighs more than 2 kilograms. The excess weight of luggage will not be accepted on the helicopter.
All children over the age of 2 has a full ticket.
Don't confuse the reporting time and departure time. The reporting time is one hour earlier than the departure time.
Passengers are asked to come into our office wearing a CTT voucher.
The minimum wait time for a traveler is 2 hours, based on the conditions of the weather.
The temples are all in high altitudes, so travelers must carry a medical equipment with them.
There is no restriction or other concessions for children or older adults.
Any additional night of stay due to weather conditions will be the responsibility of the guest the hotel.
Our Services reserves the right delay the time of flight due to weather conditions that are not ideal.
Senior citizens and those with disabilities will be given preference
The duration for passenger darshan is 1hr 30 minutes.
In the helicopter ride, we do not take responsibility for your baggage.
If you take any shortcuts during your trek, we're not accountable for it.
Chardham Yatra Packages 2022 would be designed to accommodate passengers in groups of their own. It is however not always feasible at all times to split passengers into groups to allow for weight adjustments.
Important Note:
In the event of a flight being was cancelled or changed due to weather conditions technical difficulties, lack of passengers, or other reasons the passengers will be required to travel on their own, based on the package you purchased, a complete refund will be given. If you have any issues with Char Dham Yatra helicopter services contact us on our support number and our experts will resolve your issue immediately.
Once you book Char Dham helicopter services, we will provide the finest services to ensure you have a relaxing and luxurious experience. In line with the increasing demands of our clients, we have a forte in providing the best helicopter services. Our team of experts regularly communicate with our customers and offer an option to rent a helicopter in accordance with their requirements and purchase these services from us at an affordable price.
Our fleet includes 100+ aircrafts as well as helicopters to ensure that no matter your travel requirement, we have the perfect aircraft for you within the shortest time. To enjoy an unparalleled air charter experience, book on with BlueHeight Aviation.
Why Blueheight Aviation is the Best Air Charter Company to Consider?
With an experience of over 10 years, we are industry-leading aviation services that assure 200% safe and secure Chardham yatra by helicopter. We offer customized plans for Chardham Tour Package 2022 from Kolkata to suit your preferences and budget. Our end-to-end Chardham yatra services are meant to provide the best experience to our passengers to render a smooth yatra experience.
For an ultimate Chardham Yatra experience, call us now!
You Might Also Like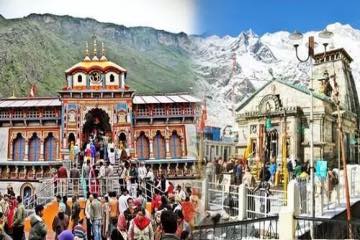 Chardham Yatra Helicopter Services


Kedarnath yatra helicopter services
Your Private Charter Journey Starts Here
Subscribe and we'll send the best deals to you