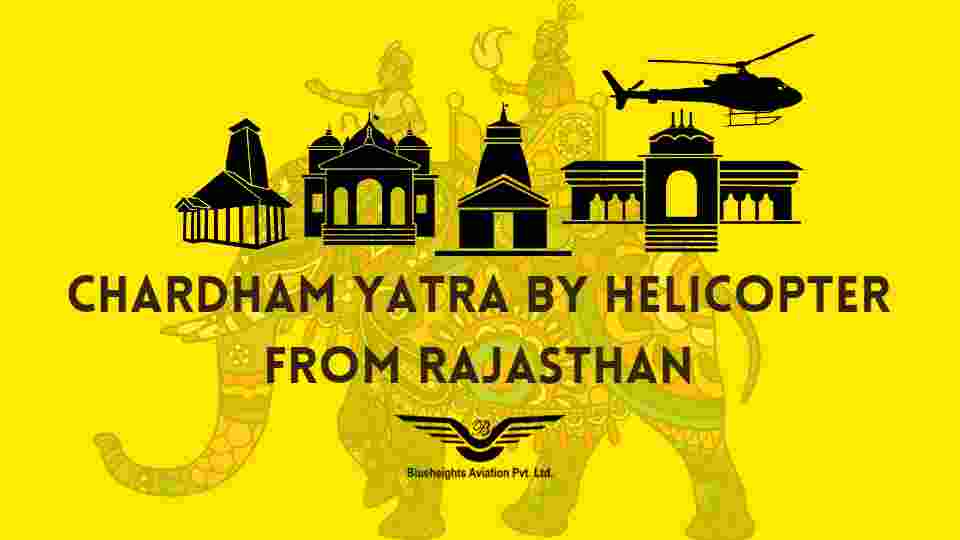 Chardham Yatra By Helicopter from Rajasthan
Are you looking for a heavenly experience? One of the most spiritual journeys in India, the Chardham Yatra is a fantastic pilgrimage trip to awaken your soul. But imagine if we told you that this life-changing journey could be even more special with a helicopter ride?
The Chardham Yatra- consisting of a visit to the four revered sites in Uttarakhand –Yamunotri, Gangotri, Badrinath and Kedarnath- is one of the holiest pilgrimages for adherents of the Hindu religion. Millions of Hindu pilgrims pay homage to Chardham every year.
Are you combining a serene spiritual journey with the luxury and convenience of a helicopter ride? It sounds like an unbeatable combination! Read on to find out how to make this itinerary come alive with a VIP Chardham Yatra By helicopter!
What is the significance of the Chardham Yatra?
The Chardham Circuit in Uttrakhand is considered one of the holiest journeys for Hindus; millions of pilgrims visit these sites every year. The journey is believed to bring spiritual enlightenment and peace of mind.
Each site in Chardham has its unique significance and is believed to be a gateway to spiritual liberation. Undertaking the Chardham Yatra is considered the religious duty of every Hindu. It is believed that Chardham Yatra washes away all your sins and takes you to the path of salvation.
The Chardham Yatra by helicopter from Rajasthan is a fantastic way to experience this holy journey in luxury and convenience.
Significance of four Dhams in Chardham Yatra:
'Char' means four, and 'Dham' means abodes. This holy yatra comprises the four Dhams: Yamunotri, Gangotri, Kedarnath and Badrinath.
Yamunotri:
The source of the sacred river Yamuna, Yamunotri is situated in the Garhwal Himalayas. It is believed that a dip in the holy waters of Yamuna will wash away all your sins and bring you closer to salvation.
Gangotri:
Gangotri is the source of the sacred Ganges and is located at an altitude of 3,048 m. It is believed that a dip in the holy waters of Gangas will bring you closer to salvation and purify your soul.
Badrinath:
Badrinath is one of the most important sites in the Chardham Yatra and is located at an altitude of 3,133 m. It is believed that a visit to Badrinath will bring you closer to salvation and enlightenment.
Kedarnath:
Kedarnath is the highest of all four sites in Chardham Yatra and is located at an altitude of 3,584 m. It is believed that a visit to Kedarnath will bring you closer to salvation and enlightenment.
Itinerary for Chardham Yatra by Blueheights Aviation
Here is the brief itinerary from Blueheights Aviation for Chardham Yatra by helicopter:
Day 1: Rajasthan To Dehradun
If you travel via road from Rajasthan to Dehradun, it takes 12 hours to complete the journey. It can be stressful and hectic; hence we do not suggest a road journey. You can also board a train from Rajasthan to Dehradun and complete the trip in 12 hours. However, the fastest train takes less than a day to reach.
The most convenient way to reach Dehradun is by airplane. There are 13 flights that fly from Rajasthan to Dehradun. There are only 2 direct flights, and the rest, 11 are connecting airplanes. It takes just 2 hours to reach Dehradun from Jaipur, hence the quickest and shortest way to complete the journey.
It is worth noting that Blueheights aviation also arranges private charter services from Rajasthan to Dehradun to make your Chardham Yatra- a memorable affair.
Hence, depending on your budget and preferences, you may choose the suitable mode of travel to reach Dehradun to embark on your Chardham Yatra.
Day 2: Dehradun to Yamunotri
After departure from your Dehradun accommodation, your first trip will be to the Shastradhara Helipad, where a Blueheights Aviation delegate will await you. From there, hop on the helicopter bound for Kharsali, Yamunotri. At Kharsali, you'll check into a hotel for rejuvenation before travelling to the Yamunotri Temple for veneration. Spend time exploring Kharsali in the evening, followed by night at the Kharsali hotel enforced by Blueheights Aviation. Enjoy an overnight stay in this comfortable abode.
Day 3: Yamunotri to Gangotri
The holy adventure of your Chardham journey will bring you to Gangotri, the home of the Goddess Ganges. Your day commences with a chopper ride from Kharsali Helipad, which takes you to the Harsil Helipad, and an hour's drive brings you to Gangotri Temple, where you can do poojas and prayers. After completing the darshan at the temple, why not take in some tranquil beauty around charming Harsil? Finish your day well by staying in a hotel at Harsil for the night.
Day 4: Gangotri to Kedarnath
Following that, you will have the privilege of visiting the revered city of Kedarnath, said to be Lord Shiva's kingdom. You can depart from Harsil Helipad at daylight and board a helicopter for Sersi Helipad. Afterwards, through a shuttle trip, you will go to Kedarnath Temple for prayer and worship. You can complete your ritual pooja and darshan in two hours. In the late afternoon, make an effort to take a tour around Sersi. We can plan a trip to Triyuginarayan Mandir, acclaimed for depicting Shiva and Parvati's immaculate bond.
Day 5: Kedarnath to Badrinath
Embark on an exhilarating helicopter ride from Sersi Helipad to the holy city of Badrinath. Visit the hot springs and sign up for a heritage walk in Mana Village. Your Chardham pilgrimage will come to a spiritual end at Badrinath, considered Lord Vishnu's abode.
Day 6: Return to Dehradun
After completing your Chardham excursion, it will be time to travel back to Dehradun. You can start from Badrinath and travel by helicopter to Sahastradhara Helipad at Dehradun. An associate of Blueheight Aviation will meet you there and take you to your hotel in Dehradun, where you can get your luggage. You can either return straight away to Rajasthan or stay back in Dehradun at your own expense.
Why Consider Blueheights Aviation for Chardham Yatra By Helicopter?
Blueheights Aviation is the perfect choice for your Chardham Yatra by helicopter from Rajasthan. We offer a comprehensive package that includes accommodation, meals, and transportation to all four holy sites. Our experienced pilots are well-versed in the terrain and will ensure a safe journey. Additionally, our team of experts will provide you with all the necessary information about the places you visit so that you can make the most of your pilgrimage.
We also provide 24/7 customer service to ensure that all your queries and concerns are addressed promptly. Our team of professionals will help you plan your trip most efficiently, considering all the necessary details. We understand that this is a once-in-a-lifetime experience for many, and we strive to make it as memorable as possible. With Blueheights Aviation, you can be sure that your Chardham Yatra will be safe and enjoyable.
Frequently Asked Questions
When does Chardham Yatra Starts & end?
The Chardham Yatra pilgrimage lasts from April/May to October/November, ending on Diwali. This Hindu festival marks the closure of all four temples - Badrinath, Kedarnath, Yamunotri and Gangotri. From November, the Himalayan Mountain area receives heavy snowfall and extreme cold temperatures and thus become inaccessible.
What to bring for Chardham Yatra Darshan?
Char Dham Yatra is a demanding pilgrimage in the Himalayas. One needs to be physically and mentally fit to embark on this journey. The weather can get unpredictable as temperatures fluctuate drastically from hot during the day to cold at night.
When planning a trip to this area, pack warm clothing such as jackets, coats, sweaters, gloves, and woollen socks. Comfortable walking shoes with good grip are also essential. Bring a first-aid kit, sunscreen, sunglasses, and a hat.
If you are dealing with allergies, diabetes, asthma or any other medical condition, remember to bring your medications when visiting the Char Dham Circuit and have a letter from your doctor in case of emergencies.
Is There Any Provision of A Wheelchair For Ill-Health Tourists?
Wheelchair access is available upon request for those with medical needs, although some helicopter service providers may require additional fees. It's important to let us know about your requirements at the time of booking, as this service is limited.
Is it possible for passengers over 70 years old to take a helicopter ride?
According to company policy, a physical fitness report must be submitted before the journey. If someone is deemed unfit, their trip will be cancelled. Kedarnath, Badrinath, Gangotri, and Yamunotri are all located at high altitudes and require good physical health for a successful pilgrimage.
Are you ready to embark on your journey to Chardham?
Your Private Charter Journey Starts Here
Subscribe and we'll send the best deals to you