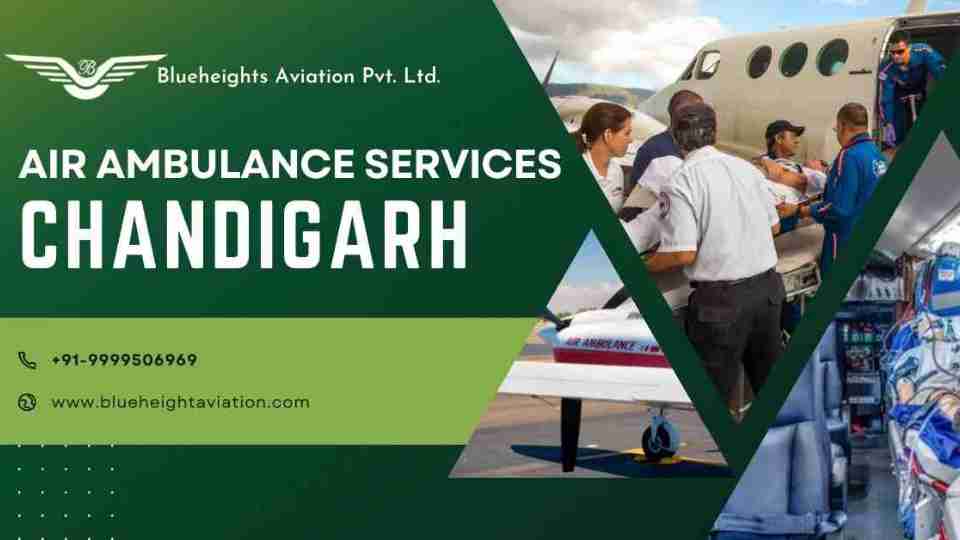 Air Ambulance Service in Chandigarh
What is the difference between Air Ambulance Services in Chandigarh and other cities?
Chandigarh has always been known for its medical facilities. The city boasts of some of the best hospitals in India. This makes it a hub for medical tourism. In addition to this, the city also offers various air ambulance services. These services offer emergency transport to patients who require immediate medical attention.
There are several reasons you should consider hiring an air ambulance service in Chandigarh. They provide a safe and reliable way to get to a hospital or clinic. Specialized air ambulances are also available that cater to specific conditions such as cardiac emergencies.
The most important thing about these services is that they are available 24/7. There are no restrictions on when you can hire one.
You can book them at any time of day or night.
Many companies offer air ambulance services in Chandigarh, but not all of them have the same level of experience and expertise. It is essential to choose a company with years of experience providing air ambulance services.
How to choose the best Air Ambulance Service?
There is nothing better than an air ambulance when you need to travel urgently. However, before you make your final decision, here are some things to keep in mind:
1. Make sure that the company you choose has experienced staff.
2. Check if the company provides insurance coverage for their clients.
3. Choose a reputable company that will be able to meet your needs.
4. Ask for references from previous customers.
5. Read reviews online and ask friends and family members about their experiences.
6. If possible, visit the company's office so that you can speak directly to the person responsible for handling your case.
What are the benefits of Air Ambulance?
There are numerous benefits associated with hiring an air ambulance service. Some of the main ones include:
• Safety – When traveling by road, you risk getting into accidents. It could lead to severe injuries. An air ambulance helps reduce the chances of getting injured while traveling.
• Reliability – Hiring an air ambulance means that you do not have to worry about finding a suitable place to stay. You can focus on recovering from your illness.
• Convenience – Travelling by road is inconvenient because of traffic jams and long queues. An air ambulance allows you to reach your destination quickly.
• Cost-effectiveness – Since air ambulances usually cost less than regular commercial flights, they are more affordable. Moreover, since they are equipped with state-of-the-art technology, they are more effective compared to conventional methods of transporting patients.
• Comfort: Air Ambulance offers a convenient and comfortable environment to the patients. These are generally well-equipped ambulances that are capable of treating seriously ill-patients in their way to hospital. These ambulances have due provision for accommodating the family member of patient to help them boarding with ease and comfort.
• Immediate medical evacuation: There are certain critical medical emergencies where the time is the essence. In such cases, Air ambulance can evacuate the patients and take them to the nearest medical facility in the shortest possible time.
How much does it cost to fly in an air ambulance?
Depending on which type of air ambulance you hire, the price varies. For example, a primary air ambulance costs approximately Rs 2 lakhs, whereas a VIP air ambulance costs around Rs 4 lakhs per hour. Depending on the distance the cost to fly air ambulance in Chandigarh varies. On an average, the pricing stands between Rs. 1.6 lakhs to 18 lakhs.
You may want to compare prices between different companies to find out the best deal.
If you are looking for cheap air ambulance services, you should look for companies that offer discounts. These companies often have lower overhead expenses.
If you plan to hire an air ambulance to transport your loved ones, you should ensure that the company offers 24/7 emergency medical assistance.
Why Choose Blueheight Aviation air Ambulance Service?

Blueheight Aviation Ambulance Services has provided world-class air ambulance services for over 10 years now. Our fleet consists of modern aircraft that allow us to travel anywhere in the world within minutes. We provide our customers with reliable and safe transportation solutions.
We also make sure that we only use experienced and qualified paramedics to handle your cases. They will take care of all your requirements and ensure that your journey is as comfortable as possible.
We offer bed-to-bed transfer facilities to ease our patients with convenience.
Separate Arrangements are made for Covid and Non-Covid patients. We strictly follow the Covid-19 protocols to ensure the maximum safety of our patients.
All the international transfer facility is available in the major cities like Delhi, Mumbai, Bangalore, Chennai and other cities with an international airport.
Our staff is always ready to answer any questions you might have regarding our services. So if you need to book an air ambulance service in Chandigarh from Chandigarh International airport, contact us today!
Get a Free Quote!
Call-9999506969,9650578989
You May also like :
Your Private Charter Journey Starts Here
Subscribe and we'll send the best deals to you