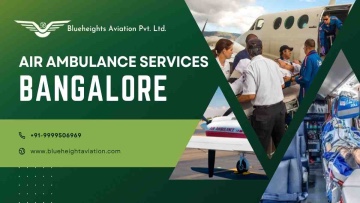 Best Air Aambulance Services in Bangalore | Air Ambulance in Bangalore
If you are looking for the best ambulance service in Bangalore, you have come to the right place. We are dedicated to providing our customers with the highest quality of care possible. Our team of experienced and certified professionals is available 24 hours a day, 7 days a week, to ensure that you receive the best possible care.
We offer various medical emergency services such as immediate medical evacuation services, bed-to-bed transfer facilities, and much more. We also offer a wide range of non-emergency services such as transportation to and from medical appointments, routine check-ups, etc.
What is Air Ambulance Service?
An Air Ambulance Service is a medical transport service that uses an aircraft to transport patients to and from healthcare facilities. Air ambulances are typically used in cases where time is of the essence, such as when a patient needs to be transported over long distances or when ground transportation is not possible due to road closures or other obstacles.
Benefits of using Air Ambulance Services in Bangalore
There are many benefits to using air ambulance services, especially in Bangalore. One of the most significant advantages is that it can save time. In some cases, patients need to be transported hundreds or even thousands of miles, and ground transportation can take days or even weeks. With an air ambulance, the journey can be completed in hours.
Comfort: Air Ambulance services offer the best comfort among all the medical evacuation services. The highly-trained crew and paramedics provide the best medical care and attention to the patient during travel.
Speed: Air ambulance is the quickest way to transport patients from one place to another. In a critical situation, every minute counts, and air ambulance services can help save lives by getting patients to the hospital as quickly as possible.
Personalized Attention: Unlike commercial airlines, the staff at air ambulance is dedicated to offering personalized attention to the patient and their family. The staff is highly trained to attend to all the patient's needs during travel.
On-Board Medical Equipment: Air ambulances come with state-of-the-art medical equipment and facilities, which help provide the best possible care to the patient during travel.
Global Access: Air ambulance services provide global access to patients, meaning they can be transported to any hospital in the world for treatment.
No waiting time: You don't have to wait for an ambulance to be available, as air ambulances are always on call.
So, if you or your loved one ever needs urgent medical attention and transport, don't hesitate to contact an air ambulance service. It will provide the best possible care and get you to the hospital as quickly as possible.
Several reputed companies provide Air Ambulance services in Bangalore. Blueheights Aviation Air Ambulance is one of the best Air Ambulance services in Bangalore, with a wide range of services.
What is the cost of ambulance service in Bangalore?
The cost of ambulance service in Bangalore will depend on the type of service you require and the distance you need to travel. Blueheights Aviation Air Ambulance provides both fixed-wing and rotor-wing air ambulances, so the cost will vary depending on which type of aircraft you need.
The cost also varies depending on the distance traveled. For local ambulance service in Bangalore, the cost starts at Rs. 10,000 and goes up to Rs. 100,000 for longer distances. For air ambulance service, the cost starts at Rs. 1.5 lakhs and goes up to Rs. 16 lakh for longer distances.
What is the difference between an air ambulance and a regular ambulance?
Air ambulance is a medical transport service provided by an aircraft. It can be a fixed-wing airplane or a helicopter. Air ambulance services are typically used when time is critical, and the patient needs to be transported over a long distance.
A regular ambulance is a ground transportation service that uses a vehicle, such as a van or truck to transport patients. These are regularly used for inter-city transfers or for patients who do not need to be transported long distances.
Why Choose Blueheights aviation for air ambulance in Bangalore?

There are many facilities and services we offer, which makes us one of the best ambulance service providers in Bangalore. A few reasons why you should choose us are:
- Fully equipped ambulances with all the latest medical equipment and technology
- Highly trained and experienced staff
- Wide range of services, including emergency and non-emergency transportation
- Affordable pricing as compared to other ambulance service providers
- Services are available 24/7 all year round
- Bed to Bed Transfer Facility
- Separate arrangements for Covid and Non-Covid Patients
- All the international air ambulance are available from the major cities like Delhi, Mumbai, Hyderabad, Chennai, Bangalore and other cities with international airports across India.
What do Blueheights Aviation offer?

We offer a wide range of ambulance services in Bangalore, which includes:
- Emergency transportation
- Non-emergency transportation
- Bed to a bed transfer facility
- Patient transfer
- Stretcher services
- Wheelchair services
So, if you or your loved ones are ever in need of an ambulance, don't hesitate to contact us. We will be more than happy to help you in any way possible.
Finding the Best Air Ambulance Services in Bengaluru
Are you looking for air ambulance services in Bengaluru? Look no further than Blueheights Aviation — the best and most trusted provider of air ambulance services currently operating in the area. From quick response times to qualified medical staff, get to your destination safely with our comprehensive air ambulance services.

Identifying Your Needs.
Before settling on an air ambulance service, it is important to consider your needs. Do you require a commercial or private jet? What type of medical equipment and personnel are necessary? Understanding the answers to these questions will help you determine the right choice for your transportation needs.

Understand the Range of Services Available
Blueheights Aviation offers a range of services, from commercial flights to private charter flights and air ambulance services. Their experienced and knowledgeable pilots have extensive experience in flying air ambulances, providing advanced medical care in the sky. They provide state-of-the-art medical equipment along with a team of experienced medical professionals who are trained to provide critical care during transport. Whether you require ground ambulance or air transport, they have the solutions to meet your needs.

Check Credibility, Licenses and Professionalism
When choosing air ambulance services in Bengaluru, it is critical to thoroughly check the credibility and license of the company.Find out how long they have been in business and research their past projects. Check their customer reviewsand ask other hospitals and health care providers for references. You should ensure that their pilots have the required training and certifications as well as a good safety record. Moreover, make sure that the medical staff accompanying you during transport is highly qualified to provide effective care in flight.

Compare Costs and Fees.
When selecting the best air ambulance services in Bengaluru, it's important to factor in all costs and fees— including insurance and medical coverage costs. Be sure to compare the different quotes provided by prospective vendors. Consider additional costs beyond just airfare, such as equipment rental, medical supplies, and personnel fees. Make sure that you are getting quality care at a price you can afford. Also, inquire about any possible discounts or payment plans that may be offered.

Inquire About Additional Charges and Insurance Coverage
You should always inquire about any additional charges that may be associated with your air ambulance ride. Ask for a full list of the fees, including any insurance coverage costs. Additionally, find out if the air ambulance provider carries liability insurance in case of medical or other emergencies. Be sure to also find out if there are any discounts available or if payment plans are offered. Make sure that you are getting the best value for your money and quality care for your needs.

To book an air ambulance services, Charter helicopter, Chardham yatra by helicopter from Bangalore and Private jet charter from HAL Airport & Kempegowda International Airport in Bangalore,
call us now!9999506969 ,9650578989
You May also like :
Your Private Charter Journey Starts Here
Subscribe and we'll send the best deals to you