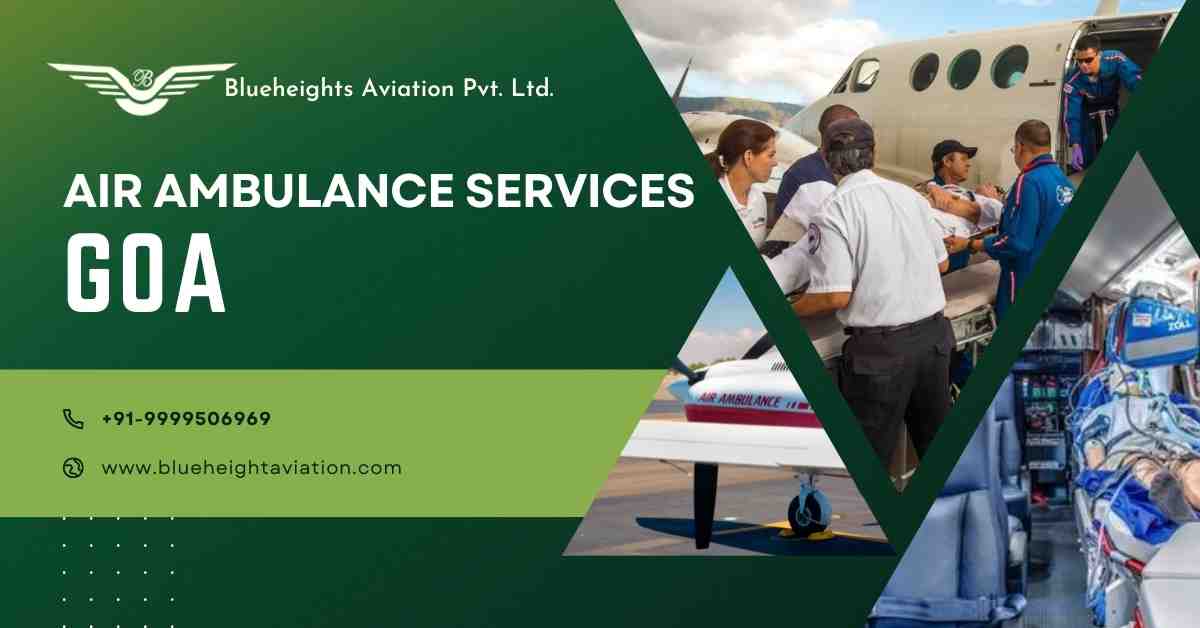 Air Ambulance Services in Goa
Are you looking for Air Ambulance services in Goa? If yes, then you are at the right place. In today's time, the air ambulance service has become essential because of its ability to provide immediate medical care to critically ill or injured patients.
An air ambulance is a helicopter equipped with emergency medical equipment that provides critical care to patients during flight. The patient is transferred from the ground to the aircraft, where they receive advanced life support treatment until they reach a hospital.
What are air ambulances?
An air ambulance is a private jet that has been specially adapted to enable medical support for patients while in transit. A highly-qualified doctor, paramedic, or team of medics travels with your patient to care for them until they reach the destination airport and are transferred safely to your home or local hospital. We take all the necessary equipment and medicines with us on the flight.
Why are Air Ambulance Services best?
There are many reasons you might choose to use an air ambulance service. Some of the most common include:
- Time constraints: If your patient needs to be transferred quickly, an air ambulance may be the best option.
- Distance: An air ambulance can cover long distances quickly and easily, making it ideal for patients who need to be transferred from one country to another.
- Access: An air ambulance can land in most places, even if there is no nearby airport. It means we can get to patients in remote or difficult-to-reach areas.
- Comfort: Air ambulances are comfortable and private, which can help reduce stress for both patients and their families.
How do air ambulances work?
Specially trained teams of medical staff operate air ambulances. We will work with you to tailor our care to your individual needs and requirements. Our team will constantly monitor your patient's condition during the flight and provide any necessary treatment. We will also keep you updated on their progress and let you know when we expect to arrive at the destination airport.
From anywhere to anywhere
Blueheights Air Ambulance uses one of the most advanced networks of private jets in the world for medical transport and repatriations. With hundreds of airplanes stationed in over 5,000 international airports, we can get you quickly and securely to almost any destination.
Advanced patient care with 5-star service
Our average air ambulance transfers are performed on top-of-the-line private planes. They provide a customized treatment room, five-star service and amenities, and room for up to eight passengers traveling with your patient and medical crew.
The average daily cost of an international hospitalization is $15,000 to $75,000. You will have to pay based on the length of stay and insurance benefits. They are available short, medium, or long-haul and are ideal for individuals who need reasonable medical assistance (the stage between general hospital and intensive care unit).
High-care airlifts are made possible by jets that have been modified explicitly for in-flight emergency care and treatment. Essentially mobile ICUs, the aircraft include a specialized medical crew, cutting-edge technology, and accommodation for one more passenger traveling with your patient.
Patients who are COVID-positive may also use them if they have to travel in complete isolation.
Which type of air transport do I need?
When you contact Blueheights, we'll assist you in determining which type of flight is best for your patient. It will be determined by their present condition, where they are now, and how far they need to go.
Medium-care transport services are for individuals who require specialized assistance after a sickness or surgery – for example, people flying to a different hospital for cancer, stroke treatment, or medical tourism.
An intensive-care transport is a mobile ICU with minute-by-minute monitoring of a patient's vital signs and emergency care if required — for example, those who are unconscious or have experienced a severe accident or critical illness.
What is the cost of an Air Ambulance in Goa?
The cost of an Air Ambulance in Goa starts from 1.9 lakhs, and it may vary depending on the distance covered. The Average cost of an Air Ambulance from Goa to Delhi varies between 5 lacs to 10 lacs depending on the patient's condition, aircraft availability, and commercial stretcher.
Contact Blueheights Air Ambulance for a free quote in Goa
Are you looking for an air ambulance service to transport a loved one back home? We can safely return your patient within 48 hours. Don't hesitate to get in touch with the Blueheight team, who will be able to help you choose the best option for your transportation. During repatriation from any nation globally, our multilingual medical staff may help you with support. The cost of an ambulance also depends on several factors like the type of plane, No. of passengers, medical crew, etc.
If you are looking for an air ambulance service to transport a loved one back home, Blueheights Air Ambulance can help. We offer safe and reliable repatriation services for patients all over the world. Our team of experienced medical professionals will work with you to ensure that your loved one receives the best possible care during their journey. We also offer a free quote so that you can get an idea of the cost of our services.
We offer a bed-to-bed transfer facility.
Separate arrangements are made for Covid and Non-Covid patients.
We follow the strict COVID-19 protocols to ensure the maximum safety of our passengers.
All the international air ambulance services are available from major cities like Delhi, Mumbai, Bangalore, Hyderabad, Chennai, and other international airports in India.
You can get the air ambulance service from/for Goa from Dabolim airport.
To obtain a fast estimate for your trip, call our knowledgeable specialists. Our medical coordinators strive to respond within one hour. Call us on the phone or send us an email. Blueheight Air Ambulance's medical experts are always ready to assist you.
To get the best price quote for an air ambulance or Private jet charter or charter helicopter services from Dabolim international Airport in Goa , call us now!
9999506969,9650578989 or email us - sales@blueheightaviation.com
You May also like :
Your Private Charter Journey Starts Here
Subscribe and we'll send the best deals to you