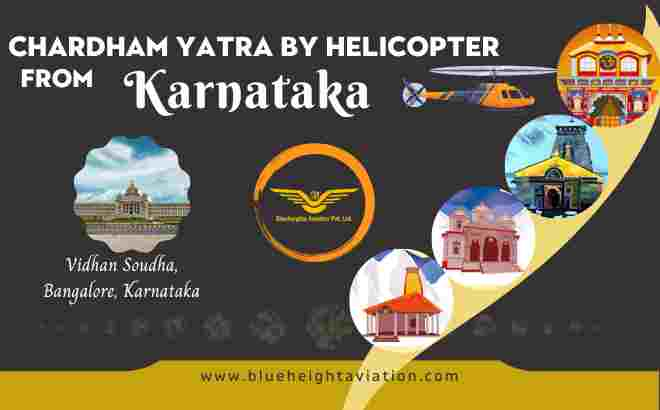 Chardham Tour Package By Helicopter from Karnataka (2023)
The Chardham yatra is a pilgrimage to India's four sacred Hindu shrines, namely Badrinath, Kedarnath, Gangotri, and Yamunotri. This trekking route passes through some of the most beautiful landscapes in the world. It is one of the most revered pilgrim yatras in India.
This trip starts from Dehradun and takes you through the lush green forests of the Garhwal Himalayas. You will visit famous temples like Badrinath Temple, Kedarnath Temple, Gangotri Glacier, and Yamunotri Lake.
The Chardham's spiritual vibes and mesmerizing beauty attract people from Karnataka to explore the opportunity. Karnataka is primarily a heritage destination with a plethora of historical secrets. The city's cultural diversity comprises a mix of the population belonging to different communities. Hinduism is a prominent one that often attracts significant visitors from Karnataka to Chardham in Uttrakhand.
If you are an enthusiast looking for Chardham Yatra By helicopter from Karnataka, you are at the right spot.
Relevance of Chardham Yatra by Helicopter:
The four great Hindu pilgrimage sites, known as "Char Dham," located in India - Badrinath, Gangotri, Kedarnath, and Yamunotri - are situated along the banks of the river Ganga. These holy places are visited by millions of pilgrims every year. Due to the high altitude and harsh weather conditions, people usually travel to Chardham via Helicopter. It is the easiest and quick way to reach Chardham.
Chardham Yatra is considered one of the most pious Yatra in Hinduism. It is believed that every Hindu must perform this Yatra at least once in their lifetime. Devotees believe that this Yatra takes them to the path of Moksha (breaking the vicious circle of life and death).
Chardham Yatra is not just a spiritual journey; it also takes you through the impeccable beauty of Uttrakhand.
You will be able to witness the magnificence of the Himalayas, lush green forests, snow-capped mountains, rivers flowing down from the mountains, waterfalls, and many other natural wonders during your journey.
Let's check out the detailed itinerary of the Chardham Yatra By Helicopter from Blueheight aviation:
Day 1: Karnataka to Dehradun
There are no direct flights from Karnataka to Dehradun. However, one may find many direct and indirect flights from Bangalore to Dehradun. The non-stop flight from Bangalore to Dehradun takes 3 hours to reach. You may also choose to travel via train. But there is no direct train from Karnataka or Bangalore to Dehradun.
Hence, the airway is the quickest and easiest way to reach Dehradun conveniently.
Program Summary
From Karnataka to Dehradun
Overnight Stay at Dehradun
Day 2: Dehradun to Yamunotri
The holy Char Dham Yatra will start from the Dehradun to the Kharsali Helipad (Yamunotri temple). The distance between Kharsali Helipad and the Yamunotri temple is about 6 kilometers. You can easily cover it by trekking. Palki (or pony) service is also accessible for an additional cost. After darshan, pilgrims head back to Kharsali.
Explore the scenic beauty of Kharsali after a soulful darshan at Yamunotri temple. Stay overnight to recharge yourself for the next day's Yatra.
Program Summary:
Traveling towards Kharsali Helipad from Shastradhara
Kharsali Helipad, to Yamunotri temple, via horses or Palki
Overnight stay at a hotel in Kharsali.
Day 3: Yamunotri to Gangotri
The next Dham to be addressed during Yatra is Yamunotri. It is believed to be the place of worship for Goddess Yamuna. The visitor will take the Helicopter from Kharsali Helipad to reach Harsil. Once you reach harsil, Blueheight aviation arranges a cab for the devotees to reach Yamunotri temple which is 25 kms away. It takes almost 50 minutes to reach the temple via cab.
After a delightful Darshan at Gangotri, return to Harsil to discover its tranquil beauty. Relax and unwind in the hotel to recharge yourself for the next day.
Program Summary:
Traveling from Kharsali to Harsil
Reaching Gangotri Temple Via Car
Overnight Stay at Harshil
Day 4: Gangotri to Kedarnath
Kedarnath is among the twelve important Jyotirlingas and one of the most famous Panch Kedar temples. You will leave early morning from Harsil to reach Kedarnath. Shuttle helicopter flights are available at Kedarnath.
You will be given 2 hours for Darshan and pooja at Kedarnath temple. Then you will proceed to Bhairo mandir, Adi Shankaracharya Samadhi, and the Blueheight aviation crew. These two places hold high historical significance, and several associated tales make them worth visiting.
The sightseeing experience at Triyuginarayan temple is truly a spiritual awakening. The legend says that it is where God Shiva, along with Goddess Parvati, is married.
Program Summary:
Harsil to Sersi the helipad
A shuttle flight from Kedarnath
Darshan at Kedarnath Temple
Visit Triyuginarayan Temple
Day 5: Kedarnath to Badrinath
The final Dham to be covered under the Char Dham Yatra Circuit is Badrinath. It is also known as the home of Lord Vishnu. You'll board the helicopter service at Sersi Helipad to reach Badrinath. After lunch, you'll travel towards the Badrinath temple for Darshan. It takes about two hours to finish the Darshan.
Head back to Sersi following the Darshan to discover Badrinath's surroundings. Mana Village is an exciting exploration that is located along the Indo-Tibetan Border.
Program Summary:
Sersi to Badrinath Temple
Returning to Sersi
Afternoon Sightseeing at Mana Village
Day 6: Back to Dehradun
It's time to pack your bags as the holy Chardham yatra ends. We'll depart the Sersi early in the morning to reach Sahastradhara Helipad. You may choose to stay in Dehradun at your own expense.
You can collect the luggage you left at the beginning of Yatra and choose to head back to Karnataka.
Tour ends with some unforgettable moments.
Program Summary
Badrinath to Dehradun
Dehradun to Karnataka
Why Consider Blueheight Aviation for Chardham yatra ?
Blueheight Aviation has been providing private helicopter services since.2018 .Our team comprises a highly experienced crew with years of experience in the industry. We have served 10000+ happy clients, and many more to go!
We offer the most competitive pricing for Chardham Yatra by Helicopter. We provide 24/7 customer support. Our packages include hotel stays and transfers to deliver an impeccable Yatra experience.
Frequently Asked Questions
What Should I Bring along for Chardham Yatra?
Counted among the toughest Yatra in the Himalayan Region, one must be physically and mentally prepared to get through it. As the temperature in the region is unpredictable, the best time to visit is April and May. You should be prepared with a warm cloth such as jackets, shawls, gloves, etc., to deal with any climatic adversity.
Carry the essentials like lotion, insect repellent, medicine, cash, handy food, and a water bottle to ensure a pleasant yatra experience.
What is VIP darshan? Is it included in my Package?
VIP Darshan at Badrinath lets you escape the long queues. Yes! VIP Darshan is included in your Chardham Yatra By Helicopter packages from blue heights aviation.
Can you Opt for Do Dham Yatra by helicopter?
Yes! If you are running short on time or planning a weekend yatra, DO Dham Yatra by Helicopter from BlueHeight Aviation is an excellent opportunity to consider. Badrinath and Kedarnath are the two prime dams covered under DO Dham Yatra.
If you are all set to explore a luxurious experience for the Chardham yatra, Call us Now!
Your Private Charter Journey Starts Here
Subscribe and we'll send the best deals to you