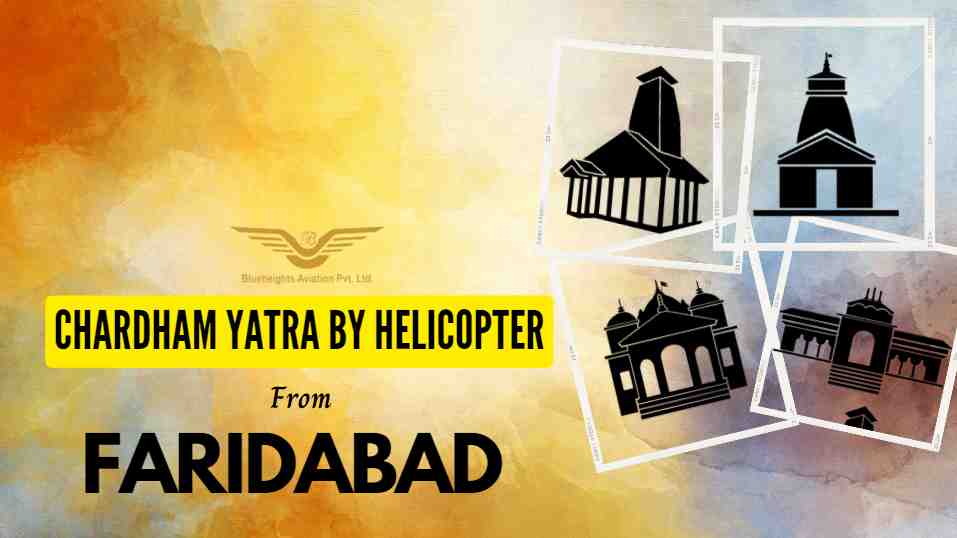 Char Dham Yatra By Helicopter Packages from Faridabad for the Best Price
Embark on an unforgettable journey with our Chardham Yatra package from Faridabad! Our exclusive helicopter charter packages offer you the opportunity to experience the sacred sites of India, including Badrinath, Kedarnath, Gangotri and Yamunotri in a convenient way at unbeatable prices.
Check Out Our Chardham Helicopter Packages and Prices from Faridabad.
Our packages will take you to each of the major pilgrimage sites in four days, from Faridabad. You will also get personal assistance and support from experienced professionals during your Chardham Yatra. Book your Chardham tours now at the best prices with our exclusive helicopter charter packages and experience one of life's greatest journeys in a safe, comfortable and cost-effective way.
From the blissful experience of taking off from Faridabad to traversing the clouds and seeing snow-capped heights in the lovely Garhwal region, our Chardham Yatra packages offer you safety, comfort and cost savings all at once. With a dedicated team of professionals onboard your chopper, you will be taken on a journey of heavenly bliss - right in the lap of Nature's beauty. From religious sites to great trekking spots, simply take your seat and prepare to witness many stunning views throughout the entire journey. Hurry now and book your package to make sure that you don't miss out on this amazing opportunity!
| | |
| --- | --- |
| CHARDHAM YATRA PACKAGES | COST PER PERSON |
| Char dham yatra by helicopter ex dehradun | 190,000 |
| Chardham Yatra by helicopter ex Faridabad | 190,000 + flight |
| Do dham yatra by helicopter Ex dehradun / Haridwar | 95,000- 130,000 |
Our chardham Yatra by Helicopter Itienary
Day 1: Faridabad to Dehradun
Fly from Delhi Airport to Dehradun Airport in 50 minutes. A train from Faridabad to Dehradun is also an option. However, this takes longer and can be tiring. To save time, we recommend flying from Faridabad to Dehradun.
To embark on a pleasant journey in Chardham, arrive at Dehradun. Blueheight provides a complimentary overnight stay in Dehradun. We can arrange for your hotel transfer and assist you with the check-in process. We can also provide a duffel bag to allow you to carry the essential items while keeping the rest in the cloakroom.
Day 2: Dehradun to Kharsali
Yamunotri is our first stop among the four Dhams. After a hearty breakfast, you will be ready to take off for the Dehradun Helipad to land at Sahastradhara helipad. In approximately 20 minutes, you will reach Kharsali and be transferred to your hotel. Enjoy a delicious lunch before heading to Yamunotri's hot springs via pony, palki, or trek. The Shani temple can be visited, and you will return to your hotel for some rest.
Day 3: Kharsali to Harsil
We will then head to Gangotri Dham the next day, which is known for its origins of the holy Ganga. To reach the Gangotri temple for Dharshan, you must cross the Harshil. You will pass the beautiful apple orchards along the way. The Gangotri Temple can be reached by road in approximately 50 minutes. The Shiv Temple in Harshil and Bagodi Village Walks, a Nature Walk to Jhala, and a short trek up to Chholmi village are all available.
Day 4: Harsil to Sersi
You will fly to Harsil Helipad to reach Sersi Ji Darshan the next day. Kedarnath Ji is accessible by a shuttle flight. Darshan at Kedarnath Ji takes approximately two hours. Devotees will find Kali temple in Guptakashi a great sightseeing choice.
Day 5: Sersi to Badrinath
After a wholesome breakfast at Sersi, devotees will depart for Badrinath. The passengers will then be transferred by car to the temple from the hotel. Mana village is a popular sightseeing option around Badrinath. Because of its proximity to China, it is often called the "last village in India."
Day 6: Dehradun
It's time for you to leave after visiting the four dams. Pre-booked Maha Abhishek Pujas requires you to arrive between 4:30 and 6:30 in the morning. Shastradhara will be open at 9:30 am. You will be taken to the hotel to collect your luggage from Dehradun's cloakroom. You will be taken to the railway station or airport to board your flight to Faridabad Via Delhi airport .
At the client's discretion, Blueheight aviation can arrange flight tickets or Private jet charter services from Dehradun to Varanasi.
| | |
| --- | --- |
| DESTINATION | HOTEL |
| Dehardun | Fair field by Marriot / Hyaat regency |
| Kharshali | Yamuna Kriti or Kalindi Hill top |
| Harshil | Himalayan Nature Resort / similar |
| Guptkashi or Kedarnath Top | Kedar kantha resort or char machan or Punjab sind house at kedarnath |
| Badrinath | Lords palace |
Faridabad history, geographical location and Char dham Yatra route from Faridabad
Faridabad is located in the south-western part of Haryana and is India's largest industrial city. It serves as a port of entry to the holy pilgrimage sites of Char Dham Yatra – Yamunotri, Gangotri, Kedarnath, and Badrinath. The Yatra touring starts from Delhi and Faridabad followed by visiting Tirthans – Tehri & Uttarkashi district of Garhwal and culminating at Badrinath via Joshimath.
Faridabad lies on the Delhi-Agra highway and offers a wide range of convenient Char Dham Yatra packages from the city. Travelling by road to Faridabad (a 275 km drive), tourists can visit Lakshman jhoola, Raghunath ji mandir & temple, Rudraprayag temple, Surkhanda Devi temple, Panch Prayag, Madmaheshwar Temple, Kedarnath Temple and much more. They can also shop at local markets in Faridabad before taking a bus or car to their final destination. The yatra route goes through some of the most spectacular locations in India including Dehradun, Kalsi Bridge and finally Badrinath. These beautiful destinations will surely make the journey memorable for tourists opting for a Char Dham Yatra package from Faridabad.
Must Ask Packages for Do Dham Yatra By Helicopter from Faridabad
We also offer Do Dham Yatra packages by helicopter from Faridabad. The most popular Do Dham combination is Kedarnath and Badrinath, which begins with a visit to the sacred shrine of Kedarnath (altitude 13,200 ft) followed by a short trek. Then move on to Badrinath, (altitude 10,000 ft). Book our unbeatable helicopter packages and fly away on a holy Yatra from Faridabad.
Our Do Dham Yatra helicopter packages offer a hassle-free experience with well-maintained helicopters, advanced flying technology and highly experienced pilots. You will get to experience the religiousness of these two holy sites of Uttarakhand in just one day. So book now and enjoy a peaceful spiritual journey with us! Our goal is to provide you the best helicopter service so that you can start your journey with ease and head back happily after visiting the revered shrines of Yamunotri and Gangotri or Kedarnath and Badrinath.
Enjoy Luxury Amenities with Local sightseeing at Yamunotri, Gangotri, Kedarnath & Badrinath , During Your Trip.
Our Chardham Yatra packages provide luxurious accommodations and amenities at Yamunotri, Gangotri, Kedarnath, and Badrinath. We also provide other sightseeing options for these holy places to maximize your experience. Enjoy the beautiful local architecture and fall in love with the quaint little villages that present the perfect backdrop for a spiritual journey of self-discovery. All of this comes at an unbeatable price!
Our experienced staff will ensure that all necessary arrangements are taken care of. Accommodations are quite varied according to the package, with luxury and economy options to choose from. In addition, special excursions like river rafting, paragliding, motor biking and jeep safari can be arranged. We also offer Ek dham Yatra packages which focus on either Gangotri or Yamunotri along with Kedarnath or Badrinath depending on the route chosen. Our team is available to answer any queries you might have pertaining to the packages we offer. So get ready for your Chardham Yatra experience with us!
Make Seamless Payments with Easy Payment Options Available with Blueheights Aviation
With Blueheights Aviation, you don't need to break the bank to go on your Chardham Yatra from Faridabad. Enjoy seamless payment options with our easy payment modes, including debit and credit cards, digital wallets, UPI payments, and bank transfers. Book your packages today and start your holy journey without breaking the bank!
Your Private Charter Journey Starts Here
Subscribe and we'll send the best deals to you