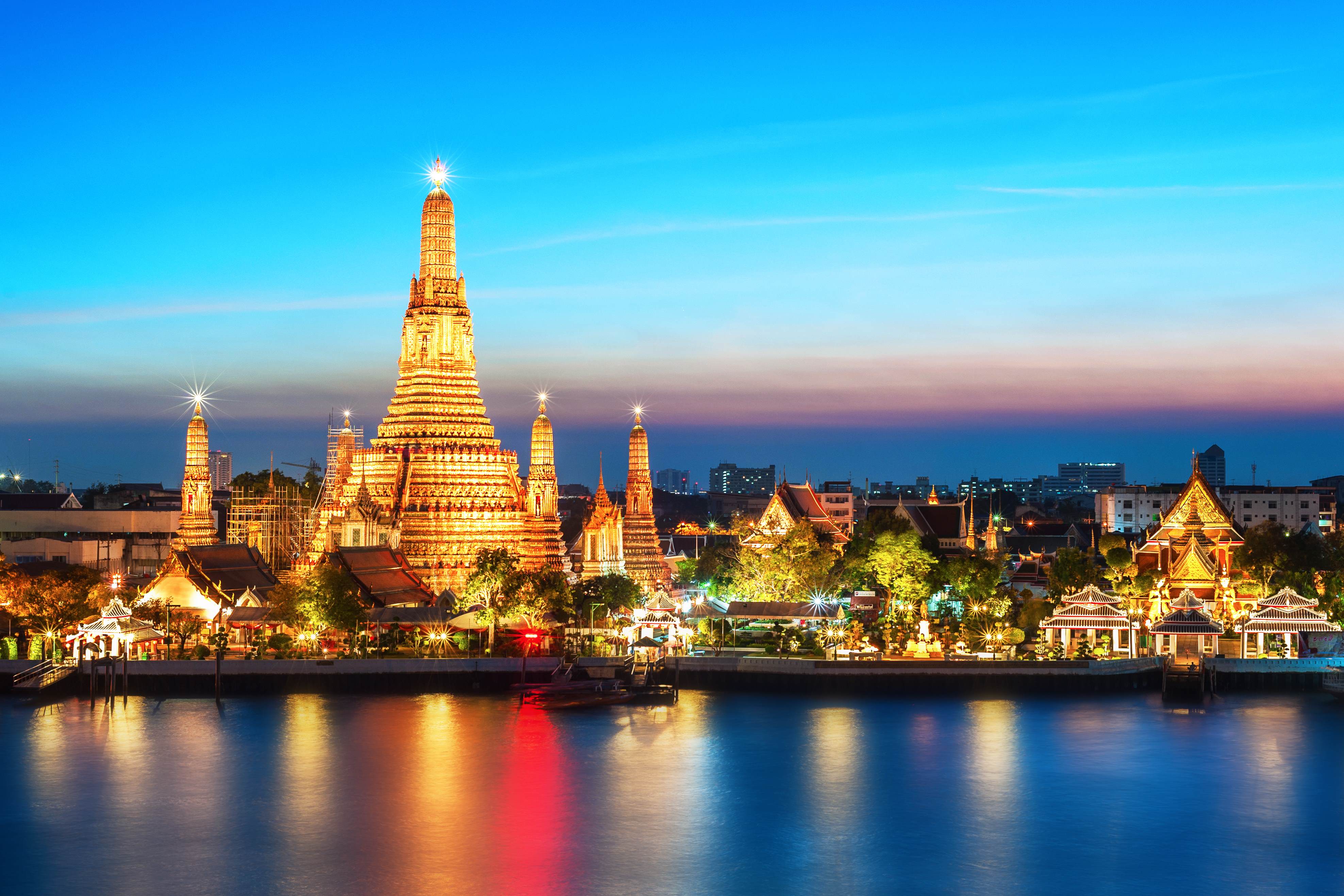 Destination Private Jet Charter from/to Thailand

BlueHeight Aviations offers private jet charters to and from Bangkok, Thailand. Thailand is one the most visited exotic countries of Southeast Asia, which has drawn many tourists from around the world for many years due to its beautiful nature, amazing beaches, and vibrant culture.
There are over 1,430 islands, hundreds of stunning white sand beaches, crystal clear water, and a colorful coral reefs. This is an ideal destination for people who want to relax and enjoy themselves away from the busy city life and the hustle and bustle of the modern world.
Geographical Location of Thailand
Thailand is an Asian country located in Southeast Asia. It is bordered by Myanmar, Laos, Cambodia, and Malaysia. Its capital is Bangkok. The area of ??the country is approximately 513,120 square miles. It is divided into 6 main geographic areas, which are further divided into 77 provinces.
Why To Visit Thialand?
Thailand offers many opportunities for those who love adventure. You can surf in the Andaman Sea, sail along the coast, fish in the rivers, or dive in the crystal clear waters. If you prefer water sports, you can go kayaking on rough rivers or even try scuba diving. For adrenaline junkies, you can go hiking in the mountains or trekking through the jungle. Or if you like elephants, you can visit the Elephant Conservation Center in Chiang Mai.
Thailand is an amazing country full of culture, history, and natural beauty. One of the most interesting places to visit is Chiang Mai, a city in the north of Thailand. There you will find many different types of people living side by side, including hill tribes, farmers, and urbanites.
You can also see the beautiful temples and mountains that surround the city. Another great place to visit is the Mae Hong Son region. Here you will find a small town called Pai. It is located at the base of the Doi Suthep mountain range. The area is very remote, and you can hike through the jungle and experience the local life.
Thailand has many beautiful islands, but not all of them have hotel rooms for overnight stays. Some great Thailand destinations for private jet charters include: Koh Phi Phi, Phuket, Chiang Mai, and Chiang Rai.
Thailand Private Jet Destinations
Destination Private Air charter services are available throughout Asia and around the globe. When you need to travel quickly and efficiently, private jet charter is the best option. You will enjoy the convenience of your own personal plane, complete privacy, and the ability to customize your trip exactly the way you want.
Why Fly with Blueheight Aviations?
Traveling to Thailand is becoming easier and cheaper than ever before. Private jet charter services offer travelers a chance to bypass the hassle of long lines at crowded airports and instead enjoy a smooth and luxurious trip.
Team at Blueheight aviation will help you plan your next journey to Thailand, whether you're traveling for business or pleasure.
We'll ensure that your every need is addresses including customized accommodations, special dietary requirements, and even assistance with any special needs you may have.

Super Midsized Jets
If you're looking for intercontinental or domestic flights, then consider the Challenger 300 Hawker 1000. These planes are perfect for short hops within Europe, Asia, Australia or North America.
Their typical passenger capacity is 9 people. If you need something larger, then consider the Challenger 350 Hawker 1200XP. These planes are great for long distance flights, with a typical passenger load of 10 passengers with a maximum weight of 18,416 kg.
Large Jets
If you're looking to fly internationally, there are two types of aircraft that will get you there quickly and comfortably. First, a light cabin jet or ultra-long-range jet is ideal for shorter trips within Asia. Second, a heavy cabin jet or ultra-long range jet is best for longer international flights. Both types of aircraft offer great comfort and luxury.
If you need to travel in a large group for your business, then it is recommended that you look at the larger aircrafts like the Boeing 747 or Airbus A330. These are the largest planes available today. You will also consider Bombardier CRJ700 or Embraer E190.
For Heavy and Ultra Long Range charter jets, you should consider the destination private jet charters like Falcon 7X, Falcon 2000, Challenger 604/605 and Gulfstream G550.
What Makes Blue height Destination Private Jet Charter Services Best?
Being an industry leader, we offer the best service in the industry with our expertise in the field of aviation for over 10 years. . We also provide a safe and easy payment method for our customers. Our team has years of experience and we use that knowledge to ensure a smooth travel experience for all our clients.
We provide luxury private jet charters to all major cities around the globe, complying your specifications and requirements. . Our fleet includes both small and large jets, ensuring we can accommodate every traveller.
When you book with us, you get access to our exclusive airport lounges, VIP treatment, and first class service. You also benefit from our 24/7 customer care team, dedicated to making sure your trip runs smoothly.
How Much Does it Cost to Destination Private Jet to or from Thailand?
There are several factors that determines the cost of travelling to/from Thailand using Destination Jet Charter Services. Some of the important considerations are the type of Jet you choose, distance between the travel destinations and the amenities you choose.
Chartering a private jet is an excellent way to travel around Thailand. Private jets offer you the opportunity to travel at your own pace, while enjoying the comforts of a luxury vehicle. You can choose to fly direct, or stop along the way to enjoy the local sights.
The best thing about chartering a private jet is that you get to pick the plane! There are many different types of planes available, ranging from small executive jets to large corporate jets. Some of them even come equipped with entertainment systems, allowing you to watch movies, play games, or listen to music during your flight.
The busiest airports in Thailand are
Bangkok Suvarnabhumi Airport
Phuket Airport
Chiang Mai Airport
Bangkok Don Muang Airport
Hat Yai Airport
Samui Airport
Udon Thani Airport
Krabi Airport
Mae Fah Luang Chiang Rai Airport
Surat Thani Airport
Blueheights charter gives you a wider choice and can help save time, allowing you to take-off or arrive closer to your destination and as well as the airports above there are over 30 airports in Switzerland that can cater Blueheights clients including:
Ubon Ratchathani Airport
Khon Kaen Airport
Trang Airport
Narathiwat Airport
Trat Airport
Mae Hong Son Airport
Sukhothai Airport
Chumphon Airport
Chiang Rai Airport
Khon Kaen Airport
Airfields in Thailand

BANGKOK DON MUANG (VTBD/DMK)
BANGKOK SUVARNABHUMI INTL (VTBS/BKK)
BURI RAM (VTUO/BFV)
CHIANG MAI INTL (VTCC/CNX)
CHIANG RAI (VTCR/)
CHIANG RAI INTL (VTCT/CEI)
CHUMPHON (VTSE/CJM)
KHON KAEN (VTUK/KKC)
KOH SAMUI ISL (VTSM/USM)
KRABI INTL (VTSG/KBV)
LAMPANG (VTCL/LPT)
LOEI (VTUL/LOE)
LOP BURI KHOK KATHIAM (VTBL/KKM)
LOP BURI SA PRAN NAK (VTBH/)
MAE HONG SON (VTCH/HGN)
NAKHON PATHOM KAMPHAENG SAEN (VTBK/KDT)
NAKHON PHANOM (VTUW/KOP)
NAKHON RATCHASI KHORAT (VTUN/)
NAKHON RATCHASIMA (VTUQ/NAK)
NAKHON SAWAN (VTPN/)
NAKHON SAWAN TAKHLI (VTPI/TKH)
NAKHON SI THAMM CHA IAN (VTSN/)
NAKHON SI THAMMARAT (VTSF/NST)
NAN (VTCN/NNT)
NARATHIWAT (VTSC/NAW)
PATTANI (VTSK/PAN)
PHETCHABUN (VTPB/PHY)
PHITSANULOK (VTPP/PHS)
PHRAE (VTCP/PRH)
PHUKET INTL (VTSP/HKT)
PRACHIN BURI WATTHANA NAKHON (VTBW/)
PRACHUAP KHIRIK HUA HIN (VTPH/HHQ)
PRACHUAP PRACHUAP (VTBP/)
RANONG (VTSR/UNN)
RAYONG U TAPHAO INTL (VTBU/UTP)
ROI ET (VTUV/ROI)
SAKON NAKHON (VTUS/)
SAKON NAKHON AB (VTUI/SNO)
SATUN KHOUN KHAN (VTSA/)
SONGKHLA (VTSH/SGZ)
SONGKHLA HAT YAI INTL (VTSS/HDY)
SUKHOTHAI (VTPO/THS)
SURAT THANI (VTSB/URT)
SURIN (VTUJ/)
TAK (VTPT/TKT)
TAK KHUAN PHUMIPHON (VTPY/)
TAK MAE SOT (VTPM/MAQ)
TRANG (VTST/TST)
TRAT KO CHANG (VTBO/TDX)
UBON RATCHATHAN (VTUU/UBP)
UDON THANI (VTUD/UTH)
UTTARADIT (VTPU/UTR)

Your Private Charter Journey Starts Here
Subscribe and we'll send the best deals to you