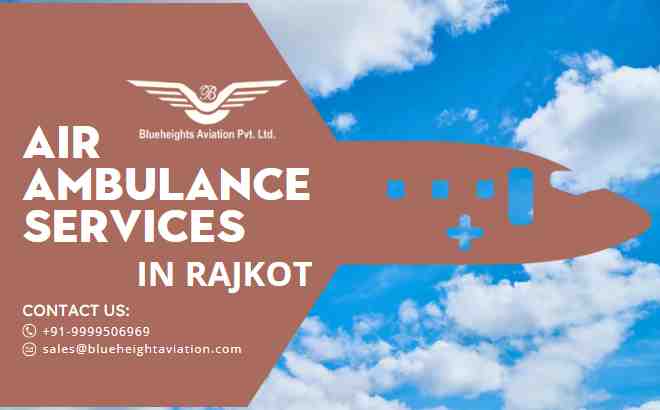 Air Ambulance Services in Rajkot
Air ambulance services are becoming increasingly common across the globe. They provide emergency medical care to patients who cannot reach hospitals or other healthcare facilities due to time constraints.
The small cities like Rajkot in India, where the medical facilities are not-so-advanced, patients often seek Air ambulance services in Rajkot to travel to the hospitals in the nearby metro cities or states to seek advanced treatments.
An air ambulance service is a type of helicopter transport that provides emergency medical care to patients. These helicopters are equipped with advanced life support equipment and trained paramedics. The patient is then transported to a nearby hospital and receives further treatment.
There are several reasons why air ambulances are better than ground ambulances. For example, they are faster, safer, and viable for remote areas.
Why are Air Ambulance Services in Rajkot essential?
There are many instances where patients suffer injuries, accidents or diseases that require immediate medical attention. There are certain situations where the patient needs to be transported immediately to the nearest hospital for treatment.
In such cases, the best option is to contact a reliable air ambulance service provider. These services promptly transport injured people to hospitals within hours of receiving the call. They also help save lives and reduce the risk of death. Air ambulances are used in cases like heart attacks, stroke, cardiac arrest, trauma, severe road accidents etc.
In contrast, ground ambulance services take several hours to reach the destination. Due to traffic jams, weather conditions, road construction and other reasons, ground ambulance services cannot always arrive on time. Moreover, the roads are usually congested and narrow, making it difficult for the vehicle to maneuver. Also, the vehicles lack the proper equipment and facilities to handle critical situations. As a result, the chances of dying while waiting for the ground ambulance to arrive are much more significant.
Moreover, air ambulances can carry many people at once depending on the aircraft size, unlike ground ambulances which usually take 1-2 people at most. Air ambulances are safer than ground ambulances since they do not involve massive traffic.
What are the different types of Air Ambulances?
Various types of planes used as air ambulances have different features and capabilities. They include:
Jet Aircraft:
A small jet aircraft, usually a single-engine turbofan, is a fixed-wing aircraft used for transporting people. These aircraft are more significant than helicopters and petite than large commercial airplanes. They are often used for emergency medical evacuations because of their speed, range and ability to land safely on unprepared runways.
Helicopter:
A chopper is a rotorcraft, meaning it uses rotors to generate lift. This aircraft is typically used for short-distance flights and is much faster than a jet airplane. However, helicopters are less stable than jet aircraft and require special training to fly.
Moreover, helicopters are expensive due to high fuel costs and maintenance expenses.
What are the Benefits of Air Ambulances?
Air ambulances are used extensively worldwide for transferring patients from remote locations to hospitals. They are preferred over ground ambulances due to their ability to reach places without road access. In addition, they offer faster transfer times compared to ground ambulances.
1. Connectivity:
Air ambulances have the highest connectivity, even in remote areas without road accessibility. When the ground ambulance is non-reachable, an Air ambulance is the best rescue, especially in the hilly terrains.
2. Quick Transfers:
One of the most significant advantages of hiring an Air Ambulance is its transfer speed. While a road ambulance may take up to a day for patient transfers depending on the road conditions., an Air ambulance can complete the task in just 1-2 hours. Considering patients' critical health, Air ambulances become essential to save lives in an emergency.
3.Convenience:
While roads are prone to massive traffic jams and bumps, there is no such hassle with Air Ambulances. There is always a smooth experience when the patient travels via Air ambulance. Moreover, experienced doctors who efficiently handle the most critical cases are on board.
Why Consider Blueheight Aviation for Best Air Ambulance Service?
Blueheight Aviation provides reliable and safe transportation solutions for all your needs. We provide 24/7 service 365 days a year. Our highly trained professionals will ensure you get the best care possible. We understand how stressful it can be to travel during an emergency. That's why we provide our staff is well-equipped to handle any situation. We use state-of-the-art equipment and technology to deliver the safest and fastest transport services.
We also offer customized packages for each client based on their specific requirements. The paramedic team on board has years of experience in handling emergencies. The crew is fully equipped with the latest life support systems. All these factors help us to provide the best air ambulance services.
We are committed to providing the best customer service and quality products. We strive to exceed expectations by delivering exceptional results every time.
Our goal is to provide excellent customer service and value for money. We believe in building long-term relationships with our clients.
Our mission is to provide the best air medical evacuation services at affordable rates.
We have separate arrangements for Covid and Non-Covid patients and follow the strict Covid-19 protocols to ensure the highest safety of our patients.
We provide a bed to bed transfer facilities for all our patients. All the international air ambulance services are available from major cities like Delhi, Mumbai, Kolkata, Hyderabad, Chennai, and other leading international airports across India.
What is the cost of Booking an Air Ambulance Price in Rajkot?
The price of an Air Ambulance in Rajkot depends on many factors, including the type of aircraft used, number of passengers, destination airport, duration of the flight, condition of the patient, requirement of paramedic team etc.
However, the average air ambulance cost per hour in Rajkot is 110,000/-
Call us Now if you are looking for the best Air Ambulance Services in Rajkot
Call us @.09999506969 or drop a mail @.. sales@blueheightaviation.com
You May also like :
Your Private Charter Journey Starts Here
Subscribe and we'll send the best deals to you