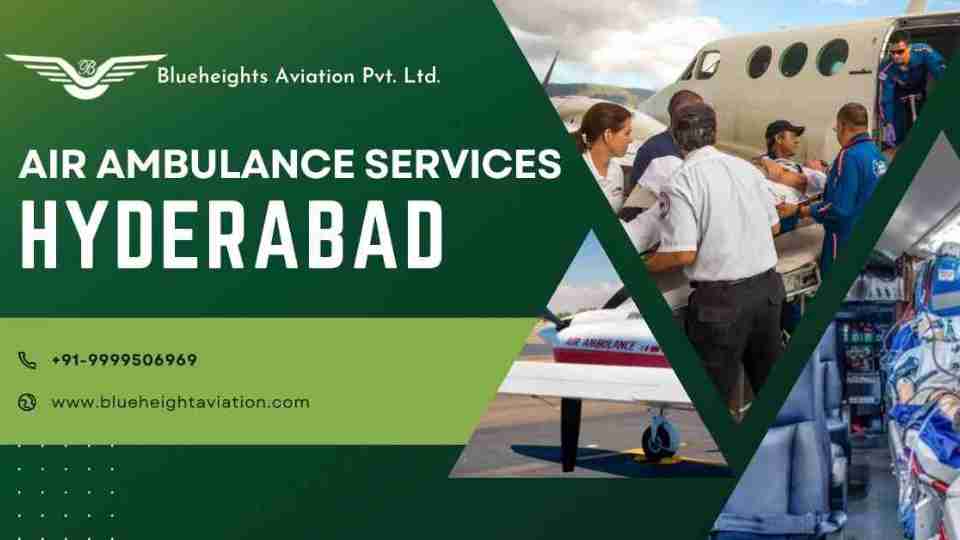 Air Ambulance Services in Hyderabad
Are you looking for Air Ambulance Services in Hyderabad? If yes, then you are in the right place. We provide 24/7 services for Air Ambulances from Hyderabad. Our team of experts provides quality service to our clients. We have well-equipped aircraft and highly experienced pilots. You can board Blueheights Air Ambulance Service in Hyderabad from Begumpet or Rajiv Gandhi international Airport.
We have been providing air ambulance services for the last 10 years. We have acess to fleet of modern aircrafts such as Ciation Xl/ Lear jet 45,C-90, B200, B250, Pilatus. All these aircrat ft are maintained regularly. Our staff consists of highly qualified professionals trained to handle any type of medical emergencies.
Our mission is to provide safe and reliable air ambulance services to patients across India. We strive to achieve this goal by maintaining high standards of safety and professionalism. With advanced technologies, we ensure that all the procedures are carried out safely and efficiently.
Our main objective is to provide the best possible care to patients during their transfers to hospital. We have a dedicated team of doctors, nurses, paramedics, and other support staff qualified to handle medical emergencies. We have a state-of-the-art facility to treat patients on-board sucessfully. The entire process is monitored continuously to ensure no delay in treatment.
If you are looking for an affordable and reliable air ambulance service provider in Hyderabad, contact us today!
Why are Air Ambulance Services best?
There are many reasons people prefer getting air ambulance services over road ambulance services. Some of them are mentioned below:
• Safety:
An Ambulance is highly equipped with all the medical equipments, life support system and other para medical facilities to deal with the any kind of medical emergency on-board. An ambulance is also consist of medical equipped but these are not as hi-tech and advanced as any air ambulance has on board.
• Speed:
Air ambulance services are much faster compared to road ambulance services. A plane can travel up to 300 km/h, whereas a road ambulance travels at a maximum speed of 60 km/h.
• Timely Evacuation:
Air ambulance services are very quick, reaching the destination quickly. Since planes fly higher than cars, they can easily get to their destination within few minutes to few hours depending on the distance.
• Comfort:
Air ambulance services are much better than road ambulance services. Planes are designed keeping in mind the comfort of passengers. There are seats, blankets, pillows, etc. On the other hand, road ambulance services do not have such facilities.
• Availability:
Air ambulance services are available 24×7. Even if you need an ambulance during the night or weekend, you can still avail of the services. However, this may not be true in case of Road ambulance sometimes
• Reliability:
Air ambulance services are reliable. They never miss flights. They arrive on time every single time. However, there are chances that you get stuck in a traffic jam on-road, and there can be infinite delays to your road journey to the hospital.
• Convenience:
Air ambulance services are convenient. They come whenever you call them. You don't have to wait for days to avail of their services.
• Flexibility:
Air ambulance services are flexible. You can book the services anytime as per your convenience.
• Privacy:
Air ambulance services ensure complete privacy. The patients are kept completely isolated from others. No one knows about the patient's condition until he reaches the hospital.
• Security:
Air ambulance services are safe. They use advanced technology to keep track of the location of the aircraft. They also have security guards who ensure that no unauthorized person enters the cockpit.
About Blueheights Aviation air ambulance services in Hyderabad
We are committed to providing world-class medical care through high-quality and timely service. Our goal is to provide the highest level of customer satisfaction by maintaining a friendly environment where our employees feel comfortable and appreciated.


Our Services
We offer comprehensive emergency medical evacuation (medevac) services, including pre-hospital care, emergency transport, and post-emergency rehabilitation.
Pre-Hospital Care
We provide critical care services for critically ill patients before they arrive at the hospital.

Emergency Transport
We provide ground transportation services for all types of emergencies.

Medical Evacuation
We specialize in transporting patients requiring specialized treatment or surgery.
Specialized Medical Transportation
We specialize in transporting special needs children, pregnant women, and people with disabilities.

COVID Patients
Special assistance for Covid Pateints. We adhere to all the COVID protocols sincerely and all our air ambulance are duly sanitized.
Bed To Bed Transfer
We understand every patient need critical care. Hence we offer bed-to-bed transfer facilities.
All our international Air Ambulance Services are operated from the major cities like Delhi, Mumbai, Chennai, Bangalore, Hyderabad, and other international airports in India.
To book an air ambulance service from Begumpet Airport for domestic patient and Rajiv Gandhi Inetrnational airport in Hyderabad for inetrnational , Call Us now @ 9999506969,9650578989
How much does it cost to hire air ambulance in Hyderabad ?
Air ambulance cost depends upon several factors like aircraft location, flying time , patient conditions, medical support required during flight, ground handling services at airports and road ambulance transfer.
However , air ambulance flying cost per hour is 110,000/- so minimum air ambulance price start from 350,000 onwards


How to book air ambulance services in Hyderabad?
Simple way to book an ambulance in Hyderabad is making phone call or even can reach us by email sales@blueheightaviation.com. Our team will check availability of aircraft, medical team and airport status then will provide instant quote.
Blueheights aviation can receive payment through IMPS, UPI, RTGS or Payment gateway. We have air ambulance services and charter plane services available at all airports of india .Private jet charter services available from Hyderabad along with Chardham yatra helicopter tour package from Hyderabad available with Blueheights aviation.
Finding The Best Air Ambulance Service in Hyderabad

In emergencies, time is of the essence - and air ambulances in Hyderabad can help you get medical attention fast. Here you can find information on top-rated providers to compare prices and ratings so that you can quickly make the best decision for yourself or a loved one.
Research Reviews and Ratings for Air Ambulance Providers in Hyderabad

.

Before selecting an air ambulance service, it's important to conduct a thorough research. Read reviews and ratings to learn more about the provider's quality of service, reputation, and patient satisfaction levels. It's also a good idea to speak with friends or family members who have had experience with the company and can share their experiences and insights. Doing so will allow you to make an informed decision on which one is best suited for your individual needs.

Compare Services Offered by Different Providers.
When looking for an air ambulance service, it's important to compare the services offered by each provider. Does the company offer a low cost option? Do they have access to specialised medical equipment or personnel? Are they willing to coordinate with other health care providers to ensure continuity of care? These are all questions you'll want answered before making your decision. Taking time to carefully asses the services offered by each provider will ensure you get the best possible care for your loved one.

Check Safety Records of Air Ambulance Companies in Hyderabad.
When selecting an air ambulance service, it's important to check the safety record of each company. Have there been any reported incidents involving that company? Are they complying with the applicable laws and regulations? How many years of experience do they have? Gathering this information can help you choose the best air ambulance service in Hyderabad for your needs.

Ask About Reputation and Experience of the Provider's Pilots and Medical Staff.
Make sure to ask the air ambulance provider about their staff's experience and qualifications. Are the medical professionals certified in emergency care? Are they familiar with the region they'll be flying over? Are their pilots licensed to fly in Hyderabad or do they have experience with handling emergency medical transport? Answers to these questions can help reassure you that you are getting quality service for your needs.

Make Sure Your Insurance Covers Air Ambulance Expenses.
Before booking an air ambulance, determine if your health insurance will cover the costs. Many insurance plans include some form of emergency air transport coverage, but others may not. It's important to understand what you are and aren't covered for so that you can make informed decisions about your care and manage any potential costs. Don't hesitate to ask questions from your health insurers prior to making any reservations with an air ambulance provider.
You May also like :
Your Private Charter Journey Starts Here
Subscribe and we'll send the best deals to you