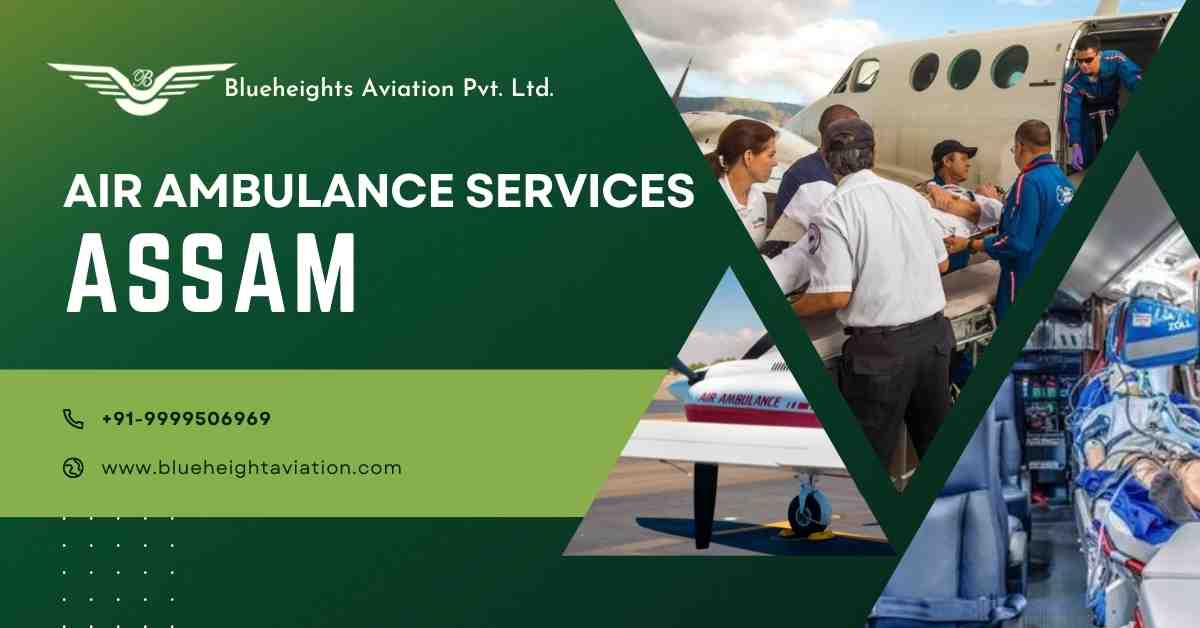 Air Ambulance services in Assam
From Guwahati airport, Silcher airport ,Dibrugarh Airport ( Assam )
Although we hope that you never need to experience an air ambulance or Medvac charter service….

We do want you to rest assured that if the emergency occurs, Blueheights aviation will be there for you every step of the way with the most reliable and cost-effective air ambulance charter service.

Blueheights aviation is experienced in providing top quality travel services for medically ill individuals. Our network of certified Medevac aircraft are state-of-the-art and are fully equipped with the latest Intensive Care Unit equipment.

The Blueheights aviation air ambulance service at Assam is ideal for:
Standard medical transfers
Appointments
Evacuations
Our air ambulance transport options comprise of helicopters, jets, and turboprops, which are all fully equipped to handle most medical needs.

And we go above and beyond to make your journey as comfortable as possible. Here's what you can count on:

Medical equipment modifications - we can arrange for ramps or cargo doors to facilitate stretchers and bulky medical equipment.

Secure and discrete service - Blueheightaviation will liaise with your security provider to ensure that you have a relaxing, private and hassle-free flight.

Tailored schedules - we will 100% work around you and your itinerary. We will create a schedule that meets your exact needs.

Increased airport access - unlike a commercial flight, we can provide you with access to even the most remote airports. And we will ensure that you land as close to your destination as possible.

Private terminal - you can board the aircraft discreetly, just minutes before take-off.

What is the Average Air Ambulance Cost from Guwahati to Chennai?
In certain medical situations, an air ambulance from Guwahati to Chennai may be the best option for your health care needs. However, the cost of this type of transportation can be expensive if you don't know what to look out for. Learn more about the factors that determine air ambulance costs and how you can reduce them.

What is the Cost of Air Ambulance Services?
The cost of an air ambulance from Guwahati to Chennai can vary depending on several factors, including the type of aircraft used and the length of the flight. Generally, the price of an air ambulance trip will include takeoff and landing fees, pilot salaries and taxes, fuel charges and other related costs. It's also important to factor in any medical equipment and personnel needed during your transport.
Thankfully, most of the time there are options available to make air transportation an option for those who require it but don't have access to their own money. Reputable air ambulance companies can provide financing options, such as rental reimbursement plans to help cover the cost. Additionally, many insurance providers offer some coverage for aeromedical transport services as well. If you're facing an emergency situation and need assistance with air transport, be sure to ask about all your available options so that you can select the best one for your needs and budget.

| | |
| --- | --- |
| | |
| Guwahati- Chennai | 12 lac |
| Guwahati - Delhi | 8-10 lac |
| Guwahati- Hyderabad | 8-10 lac |
| Guwahati- Bangalore | 10-12 lac |
What Factors Affect Air Ambulance Costs?
The cost of an air ambulance flight can be affected by a variety of factors, ranging from the distance travelled to the type of aircraft used. For instance, if you need specialized medical equipment during your flight, it could increase the cost. Additionally, fees for takeoffs and landings are often related to plane size – larger planes tend to incur higher costs. It's also important to factor in personnel needed during your transport, such as medical staff or paramedics.

How to Reduce Your Overall Cost?
One way to reduce your overall air ambulance cost is to shop around for the best deal. Different air ambulance companies can offer different prices, so make sure you compare a few before settling on one. Additionally, you may be able to save money by booking off-peak times or taking advantage of other special deals offered by some providers. You should also explore if your insurance provider covers any portion of the expense, as this could significantly reduce your total sum.

Does Insurance Cover Air Ambulance Transportation Costs?

It depends on your insurance coverage—some types of insurance will cover a portion, if not all, of the cost of an air ambulance. Before you book your air ambulance, be sure to check with your insurance provider to see whether you're eligible for coverage. For instance, many employer-provided healthcare plans provide some coverage for air ambulance transportation. However, it's important to note that most insurance plans will only cover what is deemed medically necessary; this means that if the flight were purely for convenience purposes and not medically necessary, it could be excluded from coverage.

What to Look for in an Air Ambulance Service Provider Like Blueheights Aviation?

At Blueheights Aviation , everything is designed to make your journey as safe, relaxing and comfortable as possible. This is paramount when assisting in the transportation of injured and unwell individuals.

When picking an air ambulance service provider like Blueheights Aviation, there are a few important factors to consider. First and foremost, you'll want to make sure the provider is certified and licensed for providing medical services in India. Additionally, inquire about their experience in providing air ambulance services from Guwahati to Chennai—ask them to explain the process in detail and provide any additional materials that could help inform your decision. Finally, ask them about any available discounts and payment plans so you can make the most financially conscious decision possible.

When you need support, we're here for you 24x7
All the best,
Your Private Charter Journey Starts Here
Subscribe and we'll send the best deals to you