Char Dham Tour Package By Helicopter from Chennai (2023)
The rich cultural Heritage of Chennai is visible in its traditional dance forms and exquisite temples. The city is known for its natural wonders, vibrant arts, and ancient temples. Being one of the most popular tourist destinations, hundreds of people plan their holy Chardham yatra from Chennai every year. If you are wondering how to prepare Chardham Yatra from Chennai, this blog post is an excellent rescue.
Char Dham Yatra is one of India's most famous religious tourism destinations. This circuit comprises four sacred sites: Yamunotri, Gangotri, Kedarnath & Badrinath.
Popularly known as the 'Chota Char Dham Yatra,' it is one of the most revered Yatra in Hinduism. Every year hundreds of devotees visit this famous circuit in Uttrakhand. Starting from Yamunotri, they proceed to Gangotri, Kedarnath, and finally, Badrinath to complete their holy yatra.
Chardham Yatra by Helicopter is the most popular way for devotees to cover the circuit. Many premium Aviation companies like Blueheight Aviation provide the Best Chardham Yatra By Helicopter Packages from Chennai.
The Char Dham Yatra packages include everything required to make your trip memorable. Their team of experienced tour guides will take care of every aspect of your travel arrangements. They do everything from booking flight tickets to arranging accommodation and meals.
They provide complete assistance during your entire stay with our dedicated customer representatives. They will help you plan your itinerary and book train tickets, hotels, sightseeing tours, etc.
Significance of Char Dham Yatra in Hinduism:
Chardham Yatra is believed to open the path of Salvation by washing away all your sins. It is strongly believed that every Hindu must visit Chardham at least once in their lifetime. The formation of Chardham belongs to the great 8th-century philosopher and reformer Adi Shankaracharya Ji. In Hinduism, it is considered the religious duty to embark on the Holy Char Dham Yatra to break the chain of death and rebirth.
Chardham Yatra By Helicopter from Chennai: Itinerary
Day 1: Chennai/Delhi
You can travel to Delhi by rail or airplane at your convenience. The aerial distance between Delhi and Chennai is 1756 km, and it takes around 2 hours and 50 minutes to reach Delhi Airport from Chennai Airport.
It is worth noting that there is no direct flight from Chennai to Dehradun. Hence you have to opt for a connecting flight. Once you reach Dehradun, a representative from Blueheight aviation will escort you to check into the hotel for an overnight stay. Relax, rewind yourself after a long haul, and be ready to embark on your holy Char Dham Yatra the next day.
Day 2: Dehradun to Kharsali
Yamunotri, the first of the four Dhams to begin the holy Yatra. You will reach the Sahastradhara Helipad in the morning to head to Kharsali. Kharsali helipad is nearest to Yamunotri temple. There is a trek of around 6 kms from Kharsali to Yamunotri Temple. You may choose to walk or hire a palki or pony to complete the trek. The rest of the day will be at leisure.
Itinerary at Glance
From Shastradhara to Kharsali Helipad
Kharsali to Yamunotri temple
Overnight stay at hotel
Day 3 - Kharsali to Harsil
We will be heading to Gangotri Dham the next day, which is well-known for its origins of holy Ganga. From the Kharsali helipad, you will fly to Harsil Helipad near Gangotri. Check-in at the hotel and head to Gangotri temple for the Darshan of Goddess Ganga. Harsil is a hidden gem of Uttrakhand, known for its serenity and tranquillity. Head back to the hotel to relax and rewind for the next day.
Day 4 - Harsil to Sersi
The following day, wake up in the lap of nature and get ready to fly from Harsil Helipad to reach Sersi for Kedarnath Ji Darshan. Kedarnath is a heavenly abode to Lord Shiva and is counted among the 12 jyotirlingas established by Adi Guru Shankaracharya Ji. It is believed that Bhairon Baba protects the Kedarnath Ji. It is one of the reasons why the devastating flood in 2014 has not touched the Kedarnath temple, although the surrounding region was damaged.
Temple is plushly located in Garwal Region near Mandakini River in Uttarakhand and known for its mesmerizing views. Vasuki Tal Lake, Chopta, Triyuginarayan Temple, Kalimat Almore, and Ukhimath are some places in the vicinity of Kedarnath known for their spiritual blessings.
Day 5 - Sersi and Badrinath
The last Dham to visit under Char Dham is Badrinath. It is the holy abode of Lord Vishnu. Situated in the town of Badrinath in Uttarakhand, it is one of the 108 Divya Desams dedicated to Vishnu's sacred shrines. You will head to Sersi Helipad to reach Badrinath helipad after morning breakfast. Participate in the divine Puja at Badrinath to seek the almighty's blessings.
Tapta Kund, Mana Village, Pandukeshwar, and Vasundhara falls are some prominent places worth visiting.
Day 6: Dehradun
It's time to conclude the Char Dham journey and take along the beautiful memories. From Badrinath, you will fly down to Jolly Grand Airport, Dehradun, and then depart for Chennai. As there is no direct flight to Chennai available, you may stop at Dehradun or Delhi before you proceed to Chennai.
Why Consider Blueheight Aviation?
Blueheight aviation offers the premier Char Dham Yatra By Helicopter tour packages to make your trip a wonderful experience. Our experienced and dedicated staff takes good care of every aspect of your journey to make it blissful.
So what are you waiting for? Book your Char Dham Yatra By Helicopter Now!
Frequently Asked Questions
What is the Sequence of Char Dham Yatra?
Chardham Yatra is believed to be completed in a circular motion starting from Yamunotri. After that, the devotees will head to Gangotri, Kedarnath, and Badrinath to complete the Chardham Yatra circuit.
How Many Days are required for Char Dham Yatra?
The quickest and easiest way to complete Char Dham Yatra is by Helicopter. It takes 5 days and 6 nights to complete the circuit. It is the most convenient way to visit Char Dham.
What Should I Bring for Char Dham Yatra?
Essentials like woolen clothes, medicines, mosquito repellants, packed food, dry fruits, etc., should be carried by the devotees during the yatra. If visiting in July or August, remember to pack your raincoat, umbrella, and rain boots to safeguard yourself from the drain. Maintain enough cash balance as ATMs are not readily available.
Which Dham is Most Difficult in Char Dham Yatra?
Among all the Dhams, Kedarnath is considered to be the most difficult in Char Dham. High altitude and high atmospheric pressure make it troublesome for the pilgrims. The trek beings at 6500 feet, and the devotees have to climb up to 12500 feet in 3 days. It would help if you avoided the yatra in harsh winters and monsoons. May, June, and October are considered best for Kedarnath Yatra. To breathe in Kedarnath, one needs to have 87% of oxygen.
You Might Also Like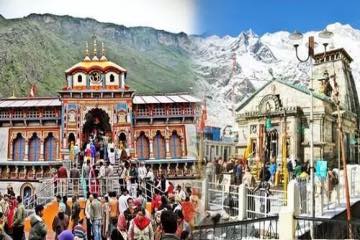 Your Private Charter Journey Starts Here
Subscribe and we'll send the best deals to you