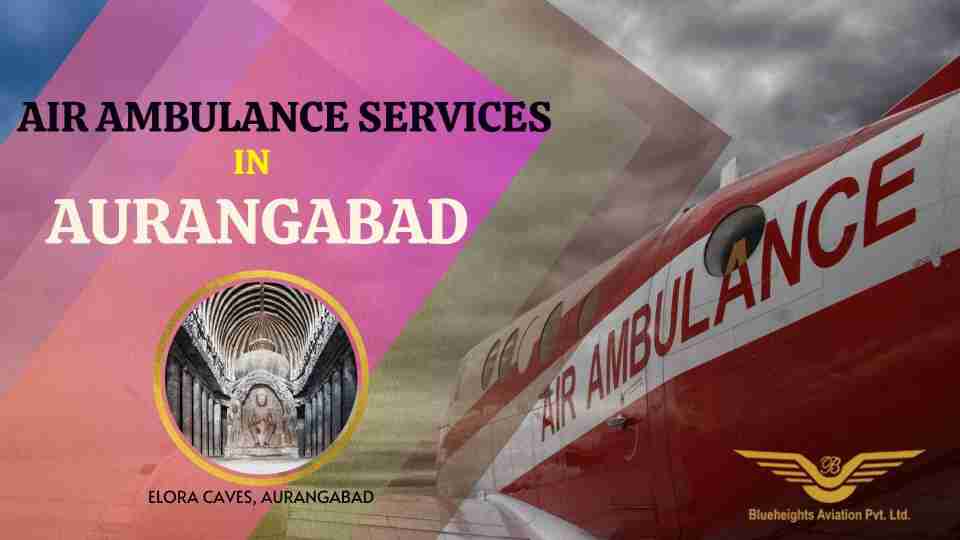 Air Ambulance Services In Aurangabad
Are you looking for an air ambulance service in Aurangabad?
An air ambulance in Aurangabad is a specially equipped aircraft to transport critically ill or injured patients between hospitals. They provide immediate access to advanced care facilities and ensure the timely transfer of critical patients.
Book the Low-Cost Air Ambulance Services in Aurangabad
Aurangabad is one of the most popular cities in Maharashtra. The city is situated in the central part of Maharashtra. Aurangabad is well known for its historical monuments, temples, palaces, gardens, museums, parks, etc. The city is rich in culture and heritage and thus attracts the people around the country. With around 16.45 lakh of population, the town offers mediocre medical infrastructure.
An air ambulance in Aurangabad is a life-saving tool. In case of an accident, it helps save lives by immediately transporting patients to the hospital. The air ambulancecharges varies depending upon the location of the patient, condition of the patient and many other factors.
Blueheight Air Ambulance provides emergency air ambulance service in Aurangabad affordable prices. We are a team of highly trained professionals ensuring the safe transportation of patients from anywhere in the country. Available across India, our exclusive air charter services are 24/7 available to help our clients.
What is an Air Ambulance Service?
Air Ambulance is a team of paramedical using a helicopter or airplane to move patients from one place to another. It is significant when the timing is an important constraint, and the patient needs to be transferred to another hospital across the city, state, or country without delay.
Most Air Ambulance flights are equipped with all the advanced medical equipment and a team of paramedical staff to deal with any medical emergency on board. Air Ambulance is the quickest and one of the most reliable ways to transfer a patient.
Premium companies like BlueHeight aviation provide end-to-end support to their esteemed customers for an unparalleled experience.
What are the benefits of chartering a Private Air Ambulance?

Benefits of Air Ambulance Services in Aurangabad
• Quickest way to get to a hospital
• No waiting time
• Safe and comfortable journey
• High-quality medical equipment
• Professional doctors and nurses
• Best possible treatment
• Affordable rates
• Emergency response
Hire the best air ambulance services in Aurangabad
How is Air Ambulance better than Road ambulance?
While road ambulance is the most frequent service used by the people across the city to have access to emergency medical services, the Air ambulance in Aurangabad is the most reliable ambulance service that comes with the following benefits over road/train ambulance:
Shortest Time
As we already know, Air travel comes in the shortest possible time, and seeking air ambulance service is of utmost importance when the patient's condition is critical. There are fair chances you encounter road traffic or delays with railway services, which is not the case with the air ambulance.
Para Medical Team
Air ambulance services come with the most sophisticated medical team on board that is capable of handling the medical emergencies on board. Most Air Ambulances are equipped with all the necessary equipment to aid life-saving.
Operates Everywhere
The most highlighting advantage of air ambulance is its operation accessibility everywhere. When the road conditions are terrible, air ambulance gives you accessibility to far-flung areas.
Larger capacity
Compared to regular charter flights, Air ambulances offer more spacious travel with the ability to cover longer distances in a shorter time. It is because of all the advanced medical equipment required to transport critical patients safely.
Undisputed Choice for Serious Patients
Air ambulance is a lifesaver for critical patients where the transfer time is of the highest significance, and even the slightest delay can cost a life. It transfers the patients in the shortest travel time so they will have access to advanced medical facilities in time.
What is the Cost of Booking an Air Ambulance in Aurangabad?
The air ambulance cost per hour in Aurangabad begins at 1.10 lakhs in. Several factors, such as the condition of the patient, type of aircraft, the requirement of medical equipment, distance traveled, etc., play a decisive role in deciding air ambulance price in Aurangabad.
Why Choose Blueheight Aviation?
Blueheight Aviation has provided quality air ambulance services in Aurangabad for the last few years. Our expert team has experience handling various types of emergencies, including cardiac arrest, stroke, trauma, heart attack, brain injury, burns, road accidents, organ failure, pregnancy-related problems, etc.
Blueheight is a premier air charter company with over ten years of experience. We have successfully transferred thousands of patients across the world with utmost care.
What Makes Blueheights Aviation a Pioneer In Air Ambulance?
Quality: Blueheight believes in offering the best services, complying with all the guidelines and parameters provided by the best air ambulance services in Aurangabad.
Cost: Blueheight aviation offers the most competitive pricing to their clients to ensure the right mix of value and money.
Experience: It is a significant concern when choosing reliable medical services. Blueheight aviation is a pioneer air ambulance service provider with over ten years of industry experience. As Blueheights, we ensure the best of Air Ambulance services that make your air travel unforgettable and hassle-free
Bed–to–Bed Transfer Facility: Our fleet of sophisticated wheelchairs and scoop stretchers ensure end-to-end bed transfer facilities for critical patients.
24X7 Air Ambulance Service: Blueheight Air Ambulance caters to 24X7 air ambulance services. We are just a call away as we understand that the emergency is not to any specific timings.
We follow strict protocols for the Covid- 19 patients. We ensure separate arrangements for the Non-Covid and Covid patients to provide the highest safety for all the patients. All the international air ambulance services are available r the major cities like Mumbai, Hyderabad, Delhi, Chennai, Kolkata, Hyderabad, and other leading international airports across India.
To avail of the Air Ambulance Services from Terminal 4 (T4) at Indira Gandhi international airport in Delhi, Call us now! 9999506969,9650578989
How To Book Air Ambulance Service With BlueHeight Aviation?
To book an air ambulance service with blue heightaviations for a hassle free experience:
Call us @ 9999506969 to book an air ambulance service
Or
You can send us a mail sales@blueheightaviation.com
If you are looking for the best deals and discounts on air ambulance services, call us now!
.
You May also like :
Your Private Charter Journey Starts Here
Subscribe and we'll send the best deals to you