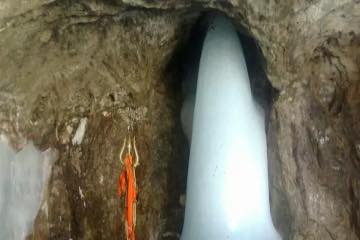 Amarnath by Charter Helicopter Package
Amarnath cave is a Hindu shrine located in Jammu and Kashmir, India. The cave is situated at an altitude of 3,888 m, about 141 km from Srinagar, the summer capital of Jammu and Kashmir and reached through Pahalgam town. Considered to be a sacred Hindu pilgrimage, Amarnath is famed for the natural formation of Shiva Linga from the snow. A large number of devotees throng Amarnath during the months of June and August. This pious journey, which is also dubbed the holy Amarnath Yatra, begins from Chandanwadi (16kms from Pahalgam) and via Pissu, Sheshnag and Panchtarni, it concludes at Amarnath Cave situated on the Amarnath mountain.
FAQS
Frequently Asked Questions
Once the snow is cleared from Himalayas in Mid-april, it is considered the best time for Chardham Yatra According to Hindu mythology, Chardham Yatra wash away the sins of the pilgrims and release them from the cycle of rebirth. You can choose from several Chardham Yatra tour packages by Helicopter
The word Char means four and the & dham means the holy places. It follows the famous believe that wherever the Lord Vishnu resides, Lord Shiva resides near to that place. Kedarnath, Badrinath, Gangotri and Yamunotri are the four prominent places which are covered under the Char Dham yatra by Helicopter
The chardham yatra by helicopter cost depends on the inclusion of facilities in your package. For indicative itinerary as above, the average cost per person is about Rs. 1,90,000 which is inclusive of all the pick and drop arrangements, helicopter transfers to all the dhams, leisure accommodation and sight seeing. There are several other facilities which are available in customized packages depending on the client needs.
The opening date for Char Dham Yatra 2023 is 24h april to 28th October/November. These are tentative dates which are subject to change as well.
Minumum 5 days and in maximum 6 days, you can cover the Char Cham Yatra by Helicopter from Dehradun.
It is recommended to visit Yamunotri as the first Dham, followed by Gangotri, Kedarnath dham and Badrinath dham
Yes, you can avail the VIP darshan at all char dham complimentary . Where as Maha Puja, Maha Abhishek and Rudr Abhishek at the Badrinath temple and <strong>Kedarnath temples</strong>. It will cost you additionally and not included in the indicative packages.
The helicopter flight ticket is the most important thing that your should carry while your helicopter ride. You are recommended to carry the following things to make your journey comfortable: <ul> <li>Raincoat poly</li> <li>Woolen light weight</li> <li>Cash</li> <li>Socks</li> <li>First-aid kit</li> <li>Cap<</li> </ul>
As these remote locations do not have luxury hotels at all dham,  hence it is not recommended to not to have high expectations from accommodations here. However, our tour packages include best of hotels to make your stay plush.
Reliance jio, Airtel and BSNL offer the great internet connectivity during your Char Dham Yatra
During monsoon, there are higher chances of land slides and road blocks. Hence the monsoon season varying between July and September needs to take weather forecast in consideration to have a better idea about the climatic conditions.
Depending on your arrival and departure, the breakfast, lunch and dinner shall be provided.Only veg meals are served to our guest (including jain meal) . Any additional meal apart from itineary shall be chargeable extra.
yes, online registration is mandatory for all passengers coming for chardham yatra via road,train or helicopter
No, as per government gudeline for passenger during 2022, E-pass was not required . Only Online Registartion of all passengers are required.
Yamunotri dham temple is located 6.5 km from Kharshali Base.Which is a non motorable road . Passenegrs will be provided Palki or Pony in our chardham helicopter tour package.
Harshil helipad is base for Ganotri dham .<strong>Gangotri Temple</strong> is 25 km away from helipad. It take approx 45 minutes to reach temple from helipad in Innova taxi, provided by Blueheights Aviation.
Kedarnath treck is approx 17Km from <strong>Gauri Kund</strong>&nbsp;&nbsp;base. However kedarnath temple is 500 mtr from <strong>Kedarnath&nbsp;Helipad&nbsp;</strong> Lower and 200 mtr from Kedarnath helipad upper (VIP)
Yes, Guest house with basic facility are available near Kedarnath temple.
Yes, Pick and Drop facilities are inclusive from hotel to helipad and vice versa during chardham trip.
Wheelchair with assitance will be available at all dham ,where as Kandi is available at Kedarnath Dham Helipad.
No, Hemkund sahib yatra is not part of this chardham yatra helicopter package. But passengers can book Seperate helicopter tour packge for <strong>Hemkunt sahib</strong> or <strong>Valley of flowers</strong> from Dehradun.
Yamunotri , Gangotri, Kedarnath and Badrinath are four main <strong>places in chardham yatra</strong> of Uttarakhand.
<strong>Kedarnath Temple</strong> is located in Gadhwal Himalyan region ,on bank of river Mandakini in Rudraprayag district of Uttarakhand.
Kedarnath temperature during summer will be Avg. from 30° high and  up to 15° low
Badrinath temple door is going to open on 27th April 2023.
There are various other religious sights to be seen, some of which include the tapovan temple, siddha cave and many other famous amphitheatres such as Auli or Valley of Flowers. You can also witness the mighty Tungnath Mandir and visit Chopta and Hariyali meadows with picturesque views. All these places have the potential to make your journey truly surreal!
हेलीकॉप्टर से चारधाम यात्रा का खर्च कई कारकों पर निर्भर करता है, जैसे कि हेलीकॉप्टर का प्रकार, पैकेज में शामिल सेवाएँ, और यात्रा आयोजक। औसतन, आपको प्रति व्यक्ति ₹150,000 से ₹200,000 या इससे अधिक की रेंज में खर्च करने की उम्मीद हो सकती है। विभिन्न प्राथमिकताओं और बजट के हिसाब से बजट, मध्यम रेंज, और लक्जरी पैकेज उपलब्ध होते हैं। अपनी विशेष आवश्यकताओं के आधार पर सबसे सटीक और नवीनतम मूल्यों के लिए यात्रा आयोजकों से संपर्क करने की सलाह दी जाती है।
Your Private Charter Journey Starts Here
Subscribe and we'll send the best deals to you