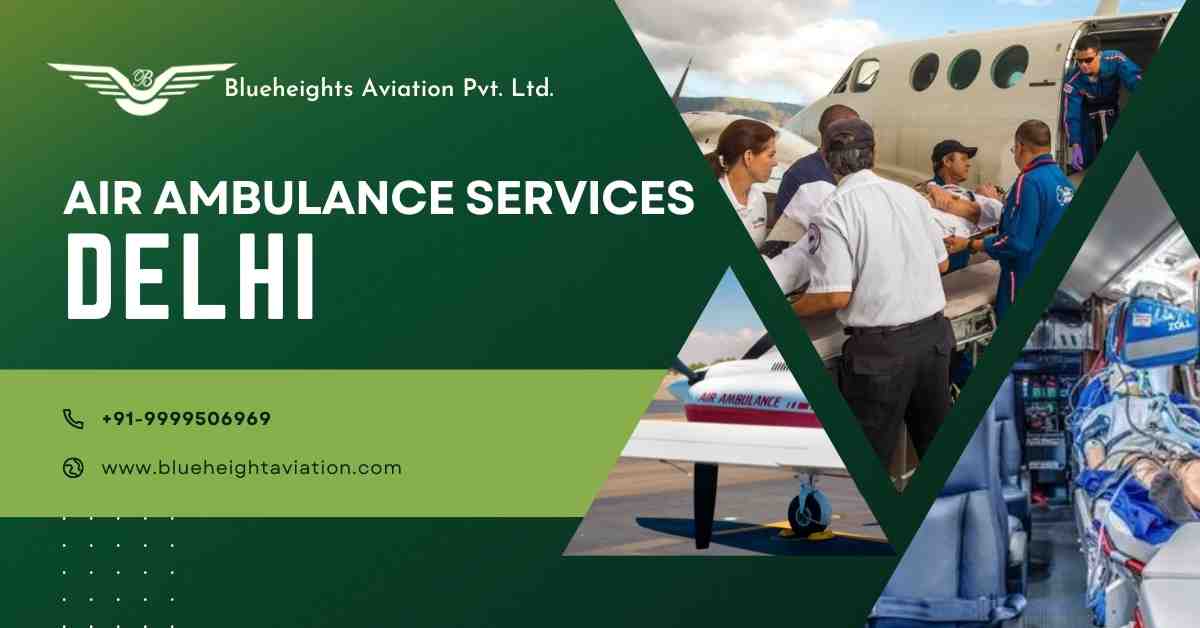 Air Ambulance Services in Delhi
Air ambulance services have become increasingly common in recent years, as advances in medical technology have made it possible to provide more sophisticated care in flight. Air ambulances are now used to transport patients with a wide range of conditions, from heart attacks and strokes to accidents and injuries.
Air ambulances in Delhi are operated by various organizations, including hospitals, private companies, and government agencies. In some cases, air ambulances are used by the military. So, what exactly Air Ambulance Services are?


What is an Air ambulance service?

An air ambulance in Delhi is specially meant for providing the transfer services of patients with emergency medical care in flight. It is generally equipped to deal with all kinds of medical emergencies.

There are several reasons why someone might need to be transported by air ambulance. In some cases, the patient's condition is too severe to be treated by ground transportation, and an air ambulance is the only option. In other cases, an air ambulance may be the most efficient way to get the patient to the appropriate medical facility quickly.
There are several different air ambulances in Delhi, each with its strengths and weaknesses.
Benefits of Air Ambulance in Delhi during Emergency
Air ambulance Delhi has several advantages in emergencies. First, air ambulances can reach patients in remote or difficult-to-reach locations quickly and easily. It is often crucial in cases where time is of the essence, such as when a patient is suffering from a heart attack or stroke.
Second, air ambulances are equipped with the latest in medical technology, which can be used to provide life-saving care in flight. It includes everything from defibrillators and ventilators to sophisticated monitoring equipment.
Third, air ambulance staff are highly trained and experienced in providing emergency medical care. Air ambulances can offer patients a high level of care in various situations.
Fourth, air ambulances provide patients with a degree of comfort and privacy that is not possible with ground transportation. It can be important for both physical and psychological reasons.
Finally, air ambulance services are often covered by insurance, which can be an affordable option for many people.
Air ambulance services are entirely hassle-free. It is excellent transportation for patients to move from one location to another without discomfort. Although road trips and transportation by ordinary ambulances aren't very harsh, they can be lengthy and inconvenient.
Longer distances, higher elevations, and more dangerous roads make air ambulance services more critical. Many patients cannot handle the discomfort of medical transfers, and their problems may worsen during the trip. It's not unusual for a patient's medical emergency to go fatally wrong due to delays on the road or discomfort, or unavailability of sufficient medical provisions.
Air Ambulance Services are equipped with all such provisions to deal with medical emergencies.
An air ambulance can transport complicated medical equipment and supplies as well as a wide range of patients, in contrast to traditional ambulances, which can only carry specific medical equipment and goods, and are severely restricted when it comes to family presence; An air ambulance would feature an aeromedical staff that have considerably more expertise than other ground ambulance services personnel and could also contain
All modern medical equipment would be included in a cabin of an air ambulance, including pressure, humidity, ambience controls, and all necessary regulatory standards. When air ambulance services are this advanced in medical emergency care and treatment facilities, life will likely be saved, and the deteriorating patient's health can be stabilized.
What is the Cost of Air Ambulance in India?
The average cost of an air ambulance varies from 2.5 lakhs to 18 lakhs for power patients. The air ambulance cost per hour varies depending on the distance. Several factors affect the cost of an Air ambulance, such as the type of medical emergency, patient condition, nature of the aircraft, presence of a para-medic team or not, etc.
The minimum Air Ambulance cost in Delhi stands at Rs 75000, but it usually runs into several lakhs in most cases.
How can I book an air ambulance in India?
To book an air ambulance in India, you can either contact the air ambulance service provider directly or get in touch with a medical assistance company to facilitate the booking on your behalf.
What is the Process of Booking an Air Ambulance in India?
Booking an air ambulance in India is relatively straightforward. You need to contact the service provider and give them the required details. Once the booking is confirmed, the air ambulance will be dispatched to your location.
How long does it take to book an Air Ambulance in India?
The time taken to book an air ambulance in India depends on the company you are dealing with. Some companies might take a few hours to confirm the booking, while some might do it within minutes.
Blueheight aviation is a leading aviation company that provide safe and reliable air ambulance services to the patients across India. We have separate arrangements for Covid and Non Covid patients and follow the strict Covid-19 protocols to ensure the highest safety of our patients.
We provide bed to bed transfer facilities for all our patients. All the international air ambulance services are available from the major cities like Delhi, Mumbai, Kolkata, Hyderabad, Chennai and other leading international airports across India.
To avail the Air Ambulance Services , Private jet charter Delhi, Chardham yatra by helicopter from delhi & Charter helicopter services from Terminal 4 (T4) Indira Gandhi international airport in Delhi, Call us now! 9999506969,9650578989
You May also like :
Your Private Charter Journey Starts Here
Subscribe and we'll send the best deals to you