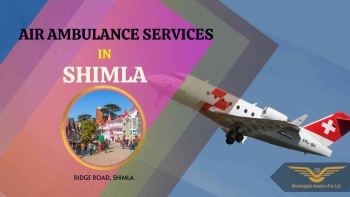 Air Ambulance Services in Shimla
Shimla has always been on the radar of tourists across India for its immaculate offerings. Referred to as the capital of Himachal Pradesh and the largest city, Britishers declared Shimla as the summer capital of British India in 1864. The city has grown leaps and bounds over the decades regarding infrastructure.
The growing technical advancements have also paved their way in Shimla. Today, you can easily book an Air Ambulance as many operators provide their esteemed services here. However, choosing the best Air Ambulance Service in Shimla is worth its effort.
What is Air Ambulance Service?
An air ambulance in Shimla is a medical transport service that provides emergency medical care to patients who cannot travel by other means. It is usually used when there is no access to ground transportation or if it is not safe to drive due to weather conditions or road conditions.
Who Needs an Air Ambulance Service?
There are several reasons why one may need an air ambulance service. Some of them include:
1. Patients with severe injuries or illnesses that require immediate attention.
2. People who are too weak to walk or stand up.
3. older people who cannot be transported safely by car.
4. Those who suffer from heart problems and other serious ailments.
5. Patients suffering from a chronic obstructive pulmonary disease (COPD).
How To Choose Best Air Ambulance Services in Shimla?
Here are some factors that will help you choose the right one:
1) Reputation:
Reputation plays a vital role when it comes to choosing any service provider. You must check out the reviews given by previous customers about the company before hiring them. Check out if they have good ratings from other users or not. It is advisable to go through the feedback provided by the clients who have availed of their services earlier.
2) Experience:
Experience matters a lot when choosing the best Air Ambulance Service in Shimla. If the company has been operating for a long, then there is no doubt that they would be able to offer you the best services. They should have enough experience to handle emergencies efficiently.
3) Cost:
Cost is another essential factor you must consider while booking an air ambulance. Various companies are offering their services at different rates. So, make sure you compare all available offers and pick up the best deal.
4) Availability:
Availability is another essential aspect you must consider while selecting the best Air Ambulances in Shimla. Ensure that the company provides 24/7 availability, so you do not face any inconvenience.
5) Insurance Coverage:
Insurance coverage is yet another essential aspect. Most of the time, people tend to overlook this, but it is essential. When hiring an air ambulance, you need to ensure that they cover your medical expenses in case anything goes wrong during the flight.
6) Emergency Response Time:
Emergency response time is another essential factor you should consider while choosing the best air ambulance in Shimla. In case any emergency arises, you need to know how quickly the company responds.
So, these were some of the most critical aspects you need to remember while choosing the best air ambulances in Shimla.
Why Consider Blueheights Aviation for air ambulance services?
Blueheight is a leading air aviation service with over 10 years of experience. We provide world-class air ambulance services across India. Our highly trained professionals ensure that we deliver the best possible care to our patients. We understand the importance of providing quality healthcare and strive to meet our client's expectations.

Our fleet consists of modern aircraft that make your travel comfortable and hassle-free. These aircraft are well maintained and equipped with the latest technology equipment. All our pilots are highly qualified and hold valid licenses.

We also have a dedicated team of paramedics and nurses who are experienced and skilled in handling critical cases. The doctors on board are highly qualified and certified. Moreover, we have a team of customer support executives who are always ready to assist you round the clock.
Our services include:
• Medical Evacuation
• Paramedic Evacuation
• Patient Transport
• Flight Management
• Travel Medicine
Blueheight is a leading airline company that provides safe and reliable air ambulance services to patients across India. We have separate arrangements for Covid and Non-Covid patients and follow the strict Covid-19 protocols to ensure the highest safety of our patients.
We have an excellent track record of delivering quality services at affordable prices. We understand the importance of the timely evacuation of patients and their family members during times of crisis.
We provide a bed to bed transfer facilities for all our patients. All the international air ambulance services are available from major cities like Delhi, Mumbai, Kolkata, Hyderabad, Chennai, and other leading international airports across India.
What is the Air Ambulance Cost in Shimla?
The air ambulances price in Shimla varies depending upon the type of service provided by the company. Some companies charge higher rates than others. However, certain factors determine the air ambulance charges in Shimla

Factors such as the distance between the airport and destination city, type of helicopter required, the condition of patients, and type of medical equipment required to play a vital role in determining the final cost of the service. The average air ambulance cost per hour in Shimla is 110,000 rupees.
For Quick Transportation to the Treatment Centre, Ambulance Services in Shimla are the Best to Go For!
Ambulance services have the responsibility of providing prompt responses to medical emergencies. They provide transport services to the patient and their relatives to the nearest health facility. The ambulance takes the injured person directly to the hospital with critical injuries.
These ambulances are different from the regular ones because they are specially designed for transporting sick and injured persons. There are different types of ambulances like pre-hospital emergency vehicles, air ambulances, ground ambulances, etc., but the quickest way to reach the hospital is using an air ambulance.
Air ambulance is also reliable as it is free from traffic jams and road bumps. It also provides accessibility to the areas which are not connected via road and railway networks. These ambulances are equipped with all the necessary equipment such as oxygen delivery devices, life support systems, defibrillators, stretchers, wheelchairs, etc.
As Air ambulances are spacious, they can cater even the entire ICU set up for critically ill patients. This is typically not the case with road ambulances as they are not spacious. The distance you cover with road ambulances over a few hours, with an air ambulance, you can cover the same distance in a few minutes.
If you or your loved ones want to book an Air Ambulance, Blueheight aviation is just a call away!
Call us now or Send us a mail. We will get back to you with the best Air Ambulance Service Packages in Shimla.
You May also like :
Your Private Charter Journey Starts Here
Subscribe and we'll send the best deals to you