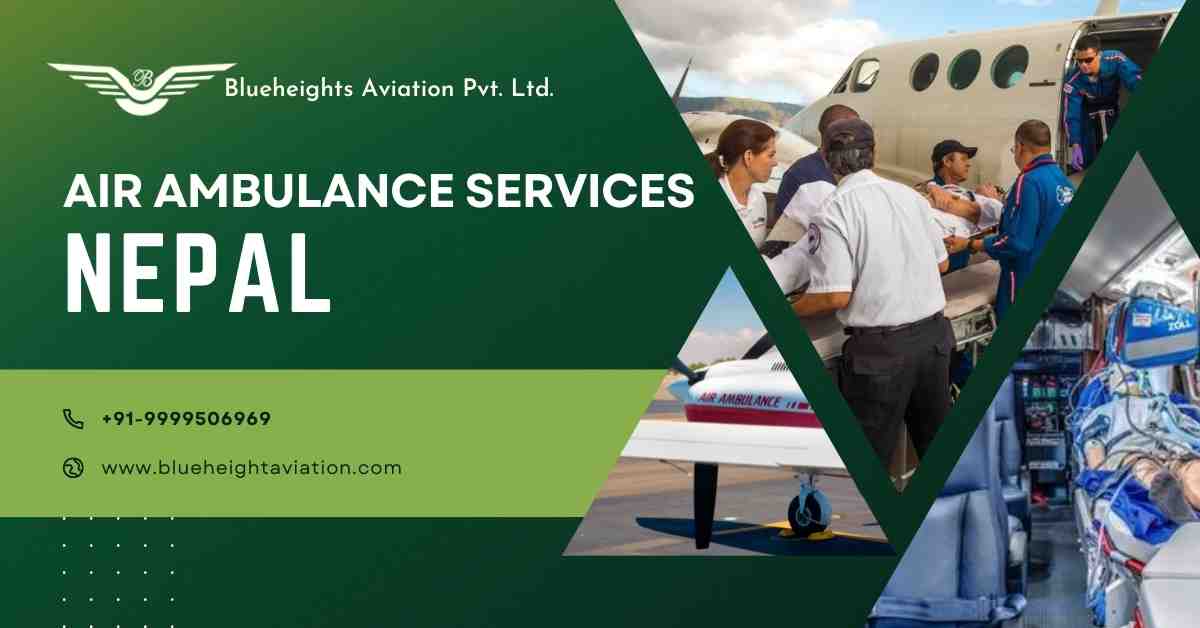 Air Ambulance Services in Nepal
What is an air ambulance service? What does it mean? How much does it cost? Is it safe? These questions are common when someone wants to book an air ambulance service.
An air ambulance is a medical aircraft that provides emergency medical services to patients who require immediate transport from remote locations or areas where ground ambulances cannot reach them. Air ambulances are equipped with sophisticated medical equipment and trained personnel to provide advanced life support. They are also capable of transporting critically ill patients to hospitals.
Blueheight Air Ambulance Services in Nepal
We provide three alternatives for the national and worldwide transportation of patients receiving medical treatment or care:
When a patient requires medical care in Nepal but wants to be transported FROM Nepal to their home country, they can use our medical repatriation service.
We can transport a patient anywhere in the world to Nepal using an air ambulance (ambulance jet or ambulance helicopter) and return them to medical personnel. TO NEPAL: We can collect a patient at any time, regardless of where they are, and fly them back to Nepal while accompanied by medical personnel.
As part of the national air ambulance service, we fly patients from Nepal to wherever they need to go.
Medical repatriation from Nepal
There are various reasons why traveling to Nepal may necessitate the need for a medical evacuation or medevac. They might become unwell suddenly, have an accident, suffer an injury, or have their condition flare up.
If required, our staff will arrange a medevac from Nepal to the patient's home in Nepal and organize ambulance transport from and to the aircraft for maximum security and care. We are happy to provide free, no-obligation medical repatriation advice.
Medical repatriation to Nepal - we'll get you back home.
Have you been taken seriously ill or injured while traveling abroad? Do you require medical transportation to Nepal for treatment in your home country? Medical Air Service's medevac service will collect you from wherever you are and return you to Nepal. You may reach out to us at any time of day or night, as our control center is open 24 hours and 7 days to contact us anytime.
Air ambulance from Nepal to India
We also provide modern, fully medically equipped air ambulances throughout Nepal for domestic medical flights and patient transfers. We can arrange intensive care transport in a Learjet or patient transfer by helicopter based on the patient's condition. In addition, we may use an appropriate ambulance to reduce journey time as much as possible by arranging ground transportation to the closest airport.
If you have any more queries or want to book an air medical evacuation in Nepal, please get in touch with us or send us an email.
Patient transport with coronavirus
We use modern isolation equipment to transport patients with the coronavirus. The pressure within this device is lowered, preventing the virus from escaping.
As a result, the other passengers on board and any possible companions will not be infected. Simultaneously, the isolation device allows for all medical procedures that may be required while transporting a patient. As a result, the health of the patient is also protected.
Why pick Medical Air Service for your medical repatriation?
We at Medical Air Service take pleasure in providing complete and honest transparency. We are committed to delivering the most excellent possible medical care in the air and providing affordable air ambulance services.
We provide a complete range of services and transport options to help you get around more easily. Our fleet of aircraft is well-equipped, and our skilled medical staff is ready to treat you with care. Tie-ups to significant airports and smaller airfields allow us to deliver top-notch service across the world.
We can also assist you with your travel and arrange ground transport to ensure that you arrive at the right place. Medical Air Service is ISO 9001, has a global presence, and serves customers in more than 150 countries worldwide. Beyond being ISO 9001 and having a global reach, some of our previous clients said the following about us.
What is the cost of Air Ambulance in Nepal?
The estimated price of Air Ambulance in Nepal varies from 2-5 lakhs per hour. It depends on the patient's condition, aircraft availability, distance travelled and stretcher cost.
Why Blueheight Services?
With over 20 years of expertise in the field, Blueheight has the highest-quality ambulance services in Nepal, with a team of internationally renowned Emergency Medical Services skilled in aviation and expedition medicine, and high-altitude treatment.
During the rescue operation, the department is accompanied by an ACLS Ambulance driven by doctors who are committed to assisting throughout the procedure. The team has received training on Heli Air AMbulances.
The Department is outfitted with a Class A Ambulance that includes the following special features:
Central Oxygen Supply
Ventilator
Uninterrupted Supply of Power
Defibrillator
Fully Air Conditioner
Monitor
We offer bed-to-bed transfer facility to our patients. Separate arrangements are made for COVID and Non-COVID patients. We follow the COVID-19 guidelines strictly to ensure the highest safety of all our passengers. All the international Air Ambulance services are aviabale from the major cities like Delhi, Mumbai, Bangalore, Hyderabad, Chennai and other international airports.
You can get the air ambulance service in Nepal from Kathmandu international Airport.
The hospital has two Heli Pads that may be used simultaneously, making it one of the finest in Nepal. The Emergency Area has been equipped with a Decontamination Chamber and IO Access facilities for the first time in Nepal. Furthermore, an Emergency Physician and a Dedicated Operation Theatre are on hand 24 hours a day, every day.
Working in both air and high-altitude medicine, We have vast experience handling medical emergencies. Blueheights Aviation is pleased to have a seasoned group that has handled significant emergencies within the Golden Hour, which is critical.
Contact Us: +919999506969,9650578989 Email Us: sales@blueheightaviation.com |
Website: www.blueheightaviation.com
You May also like :
Your Private Charter Journey Starts Here
Subscribe and we'll send the best deals to you