Blueheights Helicopter Charter Services in India , Helicopter Price India : We make your air travelling joyful
With our specialized helicopter services in India, we hold expertise in delivering professional Helicopter Charter Services. We offer 24X7 helicopter services in India charter customized services which are best suited to your requirements and preferences.
Our affordable and convenient helicopter services are available for short personal trips, remote business trips or any other trip where a direct air-transport facility is not available. If you are wondering how much does it cost to rent a helicopter , explore our customized helicopter rental plans. We even contribute to making your D-days like wedding, receptions, and other ceremonies by adding a glamour of charter helicopter entry by bride/groom.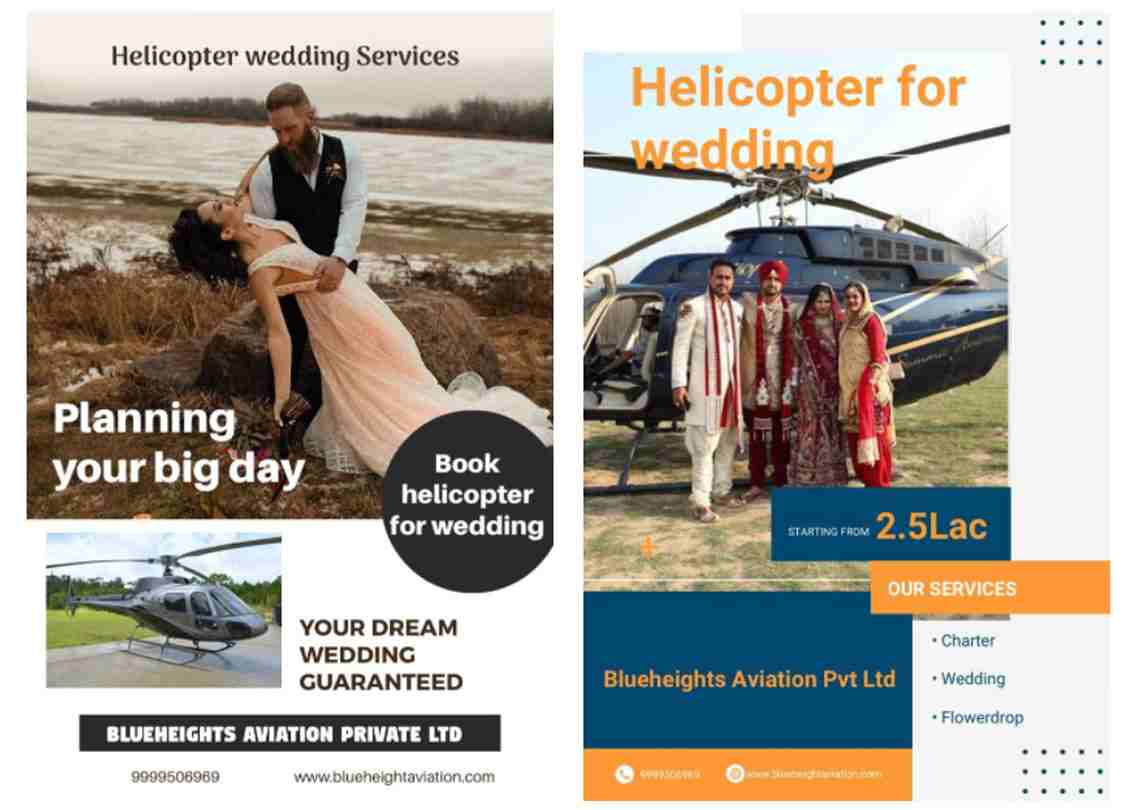 Blueheights Helicopter Charter India: Easiest way to Fly To any Remote Destination In India
There are still many parts of India which are not connected with airlines. But with Blue Heights Aviation, travel to any part of the country with/without airlines facility is secure. Be it a helicopter on rent in Delhi or Helicopter on rent in Mumbai, air travel saves you lots of time and makes your travelling convenient and hassle-free. We offer the best of Helicopter services in India to our clients to make their trips worthwhile. All you need to choose the destination where you want to go, and we are here to serve you with the best of our Helicopter Charter services.
As helicopter on rent are feasible for the places where large runways are not possible, Helicopter Services in India is one of the sought after services which is looked up by the clients for its great convenience and flexibility. The places which are not connected via airlines face two significant issues – either there are no provisions for the runways to take-offs due to steep terrain or the passengers from/to this destination is very low. To overcome the issue, Charter Helicopter comes with viable solutions.
So, if you wish to visit Ranthambore, Kanha or Bandhavgarh to enjoy fervent nature and Tiger reserves, or to enjoy the serene environment in the lap of Amanbagh/Ananda, Blueheights Charter Helicopter is just one click away to serve you.
BLUEHEIGHTS: We make your Travel Easy & Hassle Free with Helicopter Services in India
With our successful track record of delivering customized Helicopter Charter India Services, we cater to various events like leisure travels, Chardham Yatra by Helicopter, Do Dham Yatra by Helicopter, Kedarnath Yatra by Helicopter, Business travels and even special wedding Helicopter services. We also deal in election campaigning, local sight-seeing, Flower dropping at occasion etc. Our network of comprehensive aviation services broadly covers private and corporate helicopter services in India.
Are you Looking for Travel Convenience: We Will Serve you with Best Charter in India
Chartering your helicopter for a day would be a mesmerizing experience. It gives you the flexibility to choose your itinerary and gives you the flexibility to enjoy VIP services. The helicopter is an efficient means of transportation which saves considerable time on travelling and facilitates attending special events and short breaks. From a one day visit to friends and family living in the far-flung areas or making your special occasions with flower showers for weddings, receptions or any other event. Say goodbye to ground traffics, long departure waiting periods, and different geographical constraints with a reliable Blueheights Charter Helicopter Services.
What makes BLUEHEIGHT as best charter Helicopter Company?
Our customized, personalized services ensure a comfortable journey to your destinations. We have a wide range of Charter Helicopter services to choose from. All you need is to pick up the one, and we will customize it further to meet your expectations. Some of the popular services availed by our valued customers so far are:
Election Flying
For political rallies, Charter Helicopter has become an indispensable tool which saves time on travelling to the far-flung areas. Especially in outlying rural areas where politicians intent to meet the large gathering to explain their agendas, Charter Helicopter is the most convenient way to consider. Referring to other means of transport will be not only time-consuming but also exhausting.
Pilgrimage Charter
Chardham Yatra by Helicopter is incredibly famous nowadays. People also look for Do Dham Yatra by Helicopter or Kedarnath Yatra by Helicopter to address their spiritual vibes. Reaching out to the destinations like Katra Vaishno Devi, Shiv Khori, Amarnath is comfortable with Blueheight Helicopter Services in India
Heli-Skiing
Tickle your enthusiastic bone with Heli-Skiing experience. Enjoy the serene beauty of remote areas like vibrant Kullu valley or unexplored beauty of Ladakh with a convenient Heli-Skiing ride.
VIP Charter
Charter a helicopter for a day and live life king size. Mark some memorable moments in life with your loved ones by enjoyed VIP charter services with us. Get the comfort and luxury at its best.
Aerial Survey
From Ariel surveys to aerial photography, reaching remote areas is no more a big deal with our experienced Helicopter Services in India.
Corporate Charter
We offer customized services for the corporate groups, tour operators and other agencies as well as individuals who are looking for convenient travel with broader flexibility.
To know more about the private helicopter booking charges, click here:
What makes Blueheights as Best Charter
Helicopter Company in India ?
Our customized, personalized services ensure a comfortable journey to your destinations. We have a wide range of Charter Helicopter services to choose from. All you need is to pick up the one, and we will customize it further to meet your expectations. Some of the popular services availed by our valued customers so far are:
OUR SERVICES
What We Provide
FAQS
Frequently Asked Questions
The chardham yatra by helicopter cost depends on the inclusion of facilities in your package. For indicative itinerary as above, the average cost per person is about Rs. 1,70,000 which is inclusive of all the pick and drop arrangements, helicopter transfers to all the dhams, leisure accommodation and sight seeing. There are several other facilities which are available in customized packages depending on the client's needs.
One the snow is cleared from Himalayas in Mid-april, it is considered the best time for Chardham Yatra. According to Hindu mythology, Chardham Yatra wash away the sins of the pilgrims and release them from the cycle of rebirth. You can choose from several Chardham Yatra tour packages
Helicopter prices can vary widely based on factors such as the type and size of the helicopter, the duration of the flight, the distance to be covered, fuel costs, operational expenses, and any additional services or amenities included in the flight experience.
Yes, helicopters come in various categories, including light, medium, and heavy helicopters. Prices can differ significantly between these categories, with larger and more luxurious helicopters generally commanding higher rates.
Your Private Charter Journey Starts Here
Subscribe and we'll send the best deals to you