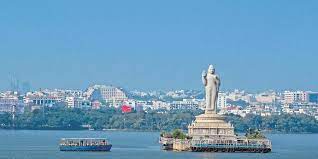 Private Jet Charter Hyderabad
Are you looking to experience the height of luxury while on your next business trip or holiday?
Private jet charters are increasingly popular, providing convenience and comfort with the added bonus of arriving in style. One of the most picturesque cities to arrive at by private jet is Hyderabad, offering an abundance of cultural experiences and gorgeous scenery.
Hyderabad is a vibrant city infused with centuries-old beautiful architecture, luxurious hotels, and resorts, delectable local cuisine, scenic mountain views and canals alike. That coupled with its rich culture makes it a desirable choice when looking to travel by private jet charter from anywhere in India.
For those wishing to enjoy its stunning sunsets from above or arrive in exclusive luxury for their business meeting, a private jet charter to Hyderabad can make it possible.
In this article we'll explore how one can benefit from this unique service!
Why Consider Private Jet Charter?
Private jet charter offers a level of convenience and luxury that can't be matched by commercial flights. With private jet charters, you have the freedom to choose your own departure time, destination, and aircraft type. You also don't have to worry about long security lines or cramped seating arrangements.
Private jet charters India are also more cost-effective than many people think. Depending on the size of your group, you can often save money by chartering a private jet or considering empty leg.
Additionally, private jet charters offer a more personalized experience. You can customize your flight with amenities such as in-flight catering, entertainment options, and even Wi-Fi access.
How to Book a Private Jet Charter to Hyderabad?
Booking a private jet charter to Hyderabad is easy and straightforward. All you need to do is contact a reputable private jet charter company like Blueheight's Aviation and provide them with your travel details. They will then be able to provide you with a quote and arrange the necessary paperwork.
Once you have chosen your preferred aircraft, we will take care of all the details, including arranging ground transportation, catering services, and any other special requests you may have.
Once your booking is confirmed, you can sit back and relax knowing that your private jet charter to Hyderabad will be a stress-free experience. On the day of your flight, you will be met at the airport by our experienced staff who will take care of all the necessary paperwork and ensure that your journey is as smooth as possible.
When you arrive in Hyderabad, you can enjoy its many attractions and experiences without having to worry about the hassle of commercial flights.
How much does it cost to charter a private jet to or from Hyderabad?
Chartering a private jet to or from Hyderabad, India is an enticing endeavor. Private jet price in India will depend on several factors, such as the type of aircraft, the distance traveled, and the number of passengers and luggage. Blueheights Aviation Private jet Charter is an aviation expert that can help you find the ideal aircraft for your trip. They take into account all aspects of your journey, including non-stop range and other considerations.
Empty Leg: Save Incredibly on Your next Private Jet Charter with Blueheights
Thinking about Charter a plane? Empty leg flights are a great way to save money on your next private jet India. Empty legs occur when an aircraft has been booked for a one-way trip and is returning empty to its home base. These flights can be offered at a discounted rate, allowing you to take advantage of the savings.
Blueheights Aviation offers empty leg flights to and from Hyderabad, making it easy for you to save on your next private jet charter. With their experienced team of aviation professionals, they can help you find the perfect aircraft for your trip and provide you with the best possible price.
Whether you're traveling for business or pleasure, a private jet charter to Hyderabad is an excellent way to get there in style and comfort. With Blueheights Aviation, you can enjoy a stress-free journey with all the amenities you need.
Contact Us today to learn more about their services and to get started on your next private jet charter India.
Why Blueheights Aviation is Best in the industry?
Blueheights Aviation is one of the leading private jet charter companies in India. They offer a wide range of aircrafts, from small jets to large airliners, and their experienced team will help you find the perfect aircraft for your needs.
Blueheights Aviation also offers competitive rates and excellent customer service. Their staff is knowledgeable and friendly, and they are always available to answer any questions or concerns you may have. They also provide 24/7 customer support, so you can be sure that your trip will be as smooth and stress-free as possible.
In addition to providing private jet charters, Blueheights Aviation also offers a variety of other services, such as ground transportation, catering services, and more. With their 10 years of experience in air charter, Blueheights aviation offers an array of services such as air ambulance in Hyderabad, chardham yatra by helicopter from Hyderabad, private jet charter and helicopter charter services as well. They are committed to providing the highest level of customer service and satisfaction.
Whether you're looking for a luxurious way to travel or need an efficient way, Blueheights Aviation is the perfect choice for all your private jet charter needs.
Conclusion
Private jet charters offer an unparalleled level of convenience and luxury for travelers looking to arrive in style at their destination. Hyderabad is one of India' s most beautiful cities and a great choice for those looking to experience its culture and scenery. With the help of a reputable private jet charter company, you can make your trip to Hyderabad an unforgettable one.
Your Private Charter Journey Starts Here
Subscribe and we'll send the best deals to you