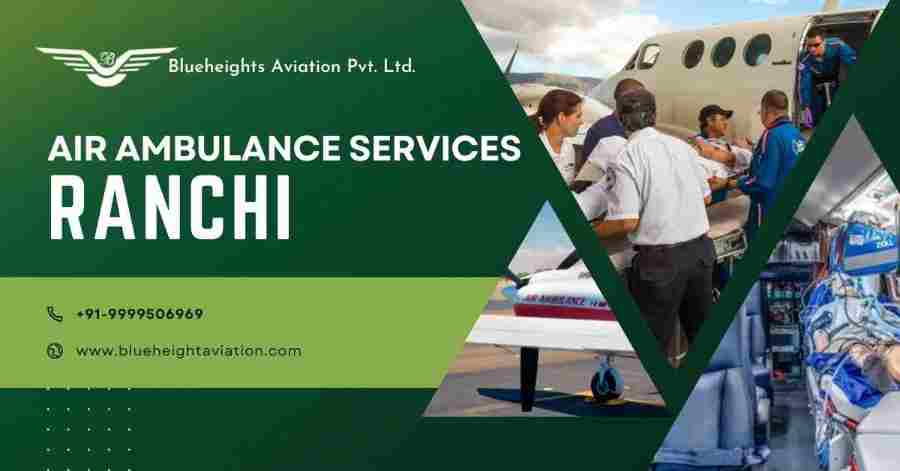 Best Air Ambulance Service in Ranchi
An Air ambulance is a medical service that transports patients from one place to another, using an aircraft as a mode of transport. It is used to transport critically ill or injured people who cannot travel by other means. Most of these Air Ambulance have a connected network of hospitals to transport the patients in the least possible time.
Why should you consider Air Ambulance Service In Ranchi?
There are many reasons why you need air ambulance services:
If you have been diagnosed with a serious illness such as heart disease or cancer and require immediate treatment in another city. Your deteriorating health may not allow you to travel other state through a long train journey or a hectic road ambulance. In this case, air ambulance services are the excellent rescue that can take you to the other state in shortest possible time.
Air ambulances are usually equipped with advanced medical equipment. They carry everything needed to provide first aid and stabilize the patient before landing. The crew will monitor vital signs throughout the flight and administer medication. Once the patient has landed safely, they will transfer them to a waiting vehicle for further treatment.
Air Ambulance services are quick and evacuate the patients in the shortest possible time.
We offer bed to bed transfer facilities to our patients for an easy and comfortable transportation to hospitals.
Separate Arrangements are made for Covid and Non Covid patient transfers. We strictly follow the COVID-19 guidelines to ensure the highest safety of all out patients.
All the international air ambulance services are available from the major cities like Delhi, Mumbai, Bangalore, Chennai, Hyderabad and other international airports across India.
What is the cost of an Air Ambulance in Ranchi?
The cost of air ambulance services varies depending on the type of aircraft used, and the distance traveled. There are also additional charges for any medicines required during the flight. You should always check these costs before booking.
As most of the advanced medical facilities are available in the metros, most of the patients in Ranchi fly down to cities like Delhi to avail of medical emergencies. On average, the cost of flying from Ranchi to Delhi varies between 5 lac to 10 lac. Depending on the type of aircraft, patient condition, and commercial stretcher, the cost of an air ambulance in Ranchi varies.
How air ambulance services are better than another mode of the ambulance?
An air ambulance is a safe way to travel. Unlike other modes of transportation, it does not involve driving through traffic and navigating busy roads. It makes it safer for both the patient and the paramedic. Additionally, helicopters allow the paramedics to land close to the patient's destination, saving time and money.
An air ambulance provides faster access to hospitals, clinics, and medical centers. Patients do not have to wait around while being transferred to their final destination. Instead, they can arrive at their destination immediately after leaving the airport.
Aircraft ambulance are more comfortable than car ambulances. Unlike a car, an air ambulance is spacious enough to accommodate multiple people, including the patient and paramedic. It also offers a much wider range of views than a typical car.
Helicopters are more accessible than cars. They have a higher accessibility to the far flung areas where road transport is not available.
Why choose Blueheight Aviation Air Ambulance Service?
Blueheight Aviation Air Ambulances offer world-class service at affordable prices. We understand how important your health is to you, and we strive to make sure that you get the best possible care. Our highly trained professionals will take good care of you until you reach your desired location.
We offer a 24-hour emergency response. If you experience a medical emergency, our team will respond quickly and efficiently. We provide the latest technology to ensure that you receive the best possible care. We use state-of-the-art equipment, such as pulse oximeters, defibrillators, and blood pressure monitors. These devices allow us to monitor your vitals during the entire journey.
Our staff is well trained and experienced. All of our pilots and paramedics undergo a rigorous training before working with us. They are all licensed by the DGCA (Directorate General of Civil Aviation) and hold valid licenses to operate aircraft.
Our fleet includes modern ambulances and high-quality stretchers. The stretchers used are designed to be lightweight and easy to carry. You will feel no discomfort when using them.
We have been operating since 2010. We have developed a strong reputation among clients and have earned positive feedback from many satisfied customers during this period.
Air ambulance services in Ranchi are one of the safest ways to travel. It is safer for the patient, but it also saves a lot of time.
Contact us today to find out more about our services or book an air ambulance service from Birsa Munda Airport in Ranchi!
You May also like :
Your Private Charter Journey Starts Here
Subscribe and we'll send the best deals to you