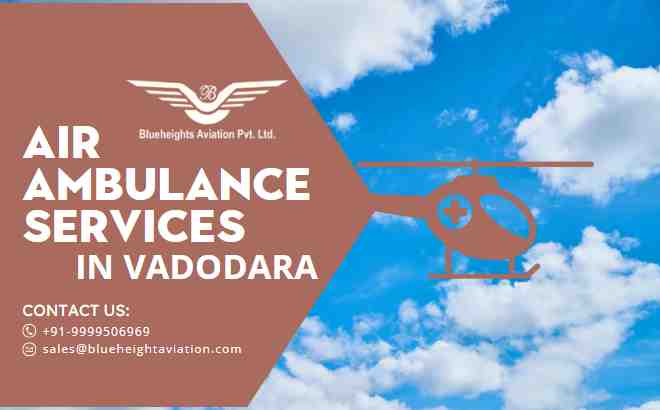 Air Ambulance Services from Vadodara
Air ambulance has becoming more common these days. They provide emergency medical care to patients who cannot get to hospitals or clinics for various reasons. Private companies usually offer these services.
Choosing the right air ambulance services from Vadodara depends on the patient's condition, location, and time. Choosing the wrong company can cost lives. Therefore, it is essential to choose the right air ambulance service provider.
Blueheight Aviation is a pioneer Air Ambulance Service Provider to/from Vadodara to ensure quality medical evacuation for your loved ones in time.
What does an air ambulance do?
An air ambulance provides emergency medical care to people needing immediate attention. It is used for transporting patients from one place to another. These ambulances are available with advanced medical equipment and a paramedic team on board (at request) to handle the most critical cases efficiently on board.
With higher flexibilities and their ability to reach remote and far-flung areas that are not well-connected by road, Air Ambulance plays a pivotal role in transferring patients to metropolitan areas such as Delhi, Mumbai, Bangalore, Chennai etc., with advanced medical facilities.
Book Affordable Air Ambulance Services in Vadodara
Popularly known as Baroda, Vadodara is the second largest city in Gujrat that is on tourists' radar for its impeccable cultural offerings. The city offers plush amenities and has a good network of multi-specialty hospitals to deliver 24X7 healthcare services. However, there are frequent requirements for transferring critical patients to other cities and sometimes to other countries for advanced medical treatments.
If you are looking for affordable emergency air ambulance, you are in the right spot.
Which air ambulance services should I consider?
Many providers are offering this service for Air ambulance services in Vadodara. To ensure that you receive quality care, comparing the air ambulance charges offered by each company before making your final choice is essential. Ask friends and family members about the quality of the services from a specific provider if they have ever availed. Check online reviews to gain insight into their customers' experience who have already availed of their services.
Blueheight Aviation is a leading name in the Air Ambulance industry that has years of experience in providing Air Ambulance Services.
Why should I hire an air ambulance service?
Air ambulance services in Vadodara is essential to saves lives. You must be transported immediately to a hospital if you are injured or severely sick. An air ambulance service can transport you to a nearby hospital within minutes. In addition, some air ambulance service, like Blueheights Aviation Private Limited, provide 24-hour coverage. It means that they will always be ready to respond to emergencies.
What questions should I Ask from the Air Ambulance Provider?
Finding a reliable air ambulance service in Vadodara is crucial when struggling with a medical emergency. Here are some of the questions which you should ask your Air Ambulance Provider:
What is the company's safety track record?
Has it ever been involved in an accident?
How many accidents does it have?
Does it comply with industry standards?
How long has the company been operating?
Is the company insured?
What kind of training does its staff receive?
After all, the quality of the Air ambulance service directly affects the life of your loved ones. Hence, you must make the right decision even if you are in haste.
What are the Benefits of Air Ambulance Services?
Air ambulance services have always been in question due to their higher pricing. Here are some of the benefits of Air Ambulance Services in Vadodara:
• Quickest way to reach patients.
• Transport of critically ill patients.
• Treatment of life-threatening conditions.
• Emergency services for rural areas.
• Accessibility of quality healthcare.
• Availability of specialized services.
• Safety and security of patients.
• Efficient use of resources.
• Cost-effectiveness.
• High level of customer satisfaction.
Blueheights Aviation Air ambulance services have been providing emergency care since.2018 They offer a range of services, including prehospital critical care transport, trauma management, neonatal intensive care, pediatric critical care, maternal vehicles, obstetric emergencies, cardiac arrest response, stroke care, neurocritical care, pediatric critical care and adult critical care. These services are offered 24/7 and 365 days a year.
Blueheights Aviation provide immediate transport to hospitals and clinics worldwide. They take care of patients, ensuring they receive the best possible treatment. It includes transporting critically ill patients, those suffering from trauma, pregnant women, children, elderly people, and others who require specialized care.
Blueheights Aviation's Air Ambulance services are often used for emergencies such as heart attacks, strokes, accidents, burns, cardiac arrest and many other life-threatening conditions. In addition to providing critical care, air ambulances allow doctors to perform procedures like defibrillation, CPR and surgery.
Why Consider Blueheights Aviation?
Here are some of the advantages that you get with Blueheight Aviation Air Ambulance making it the perfect choice for emergency evacuation:
A dedicated team of doctors, nurses, and paramedics is ready to help you 24×7. You can choose to fly with a doctor onboard.
Our air crafts are fully equipped with state-of-the-art facilities, including an oxygen supply, defibrillator, stretcher, wheelchairs etc.
We provide door-to-door transfer service.
We have emergency evacuation plans in place.
All flights are covered under the insurance policy.
We provide round-the-clock assistance.
We have a fleet of modern aircraft.
We operate daily flights to major cities across India.
How much does an air ambulance price in Vadodara?
The cost of booking an air ambulance in Vadodara varies based on the aircraft used, the number of passengers, the patient's condition, the type of medical equipment required, and the destination to reach. The air ambulance cost per hour in Vadodara begins at 110,000/-
On Final Note:
We have separate arrangements for Covid and Non-Covid patients and follow the strict Covid-19 protocols to ensure the highest safety of our patients.
We provide a bed to bed transfer facilities for all our patients. All the international air ambulance services are available from major cities like Delhi, Mumbai, Kolkata, Hyderabad, Chennai, and other leading international airports across India.
You May also like :
Your Private Charter Journey Starts Here
Subscribe and we'll send the best deals to you