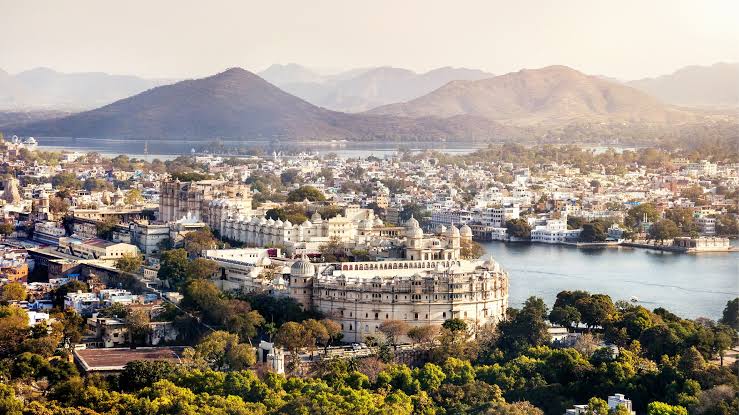 Hire a Private Jet to and From Udaipur Maharana Pratap Airport Now!

Travel to Udaipur Maharana Pratap Airport in utmost comfort with the help of a private jet charter and hire. Enjoy all the conveniences of a personalized travel experience, from leisurely flights to secure transportation, at an optimal cost. With our experienced staff taking care of all your needs, you are sure to have an unforgettable flight every time.
Udaipur history and geographical location
Udaipur, the city of lakes, is one of the most romantic destinations in India. Located in the southern part of Rajasthan, Udaipur is known for its architectural wonders and breathtaking views. With its royal palaces, forts, and heritage mansions, it is often referred to as the 'Venice of the East'. The city's location also makes it an ideal point from which to explore surrounding areas such as Chittorgarh and Mount Abu.

Why You Should Choose Private Jet Hire to Fly Into Udaipur Maharana Pratap Airport?
When choosing to fly into Udaipur Maharana Pratap Airport with a private jet hire service you gain more control over your travel experience while avoiding many common air travel inconveniences like long lines at check-in and delays due to flight cancellations. On top of this you can take advantage of our convenient booking services and secure transportation options.
What Options Does Udaipur Maharana Pratap Airport Offer for Private Flights By Blueheights Aviation?
Udaipur Maharana Pratap Airport offers a wide variety of options for private flights. When you hire a private jet with Blueheights Aviation, you have the luxury of choice when it comes to customizing your experience. Our experienced team takes care of all the details from end-to-end, allowing you to travel in style and comfort. With our extensive fleet of planes and helicopters, we can accommodate any size group for domestic and international trips to Udaipur Maharana Pratap airport. From VIP charters to executive transfers and more, Blueheights has everything you need for an unforgettable journey.

How Can You Benefit From Chartering a Plane to Udaipur Maharana Pratap Airport?
When you rent a private jet from Blueheights Aviation, you can enjoy numerous benefits such as the flexibility to book flights with shorter notice, full privacy and convenience throughout your journey, direct airport access for quicker connection times, and a stress-free experience thanks to our experienced staff who take care of all the details. With powerful speed and smooth flight capabilities, you'll also enjoy more opportunity to arrive at your destination on time. Whether you're traveling alone or in a group, Blueheights will make sure your private jet charter is an experience that exceeds expectations.

What Are the Necessary Requirements When Flying on a Private Jet to Udaipur Maharana Pratap Airport?
Depending on the regulations of your destination country, you may need to meet certain regulations when flying a private jet to Udaipur Maharana Pratap Airport. When booking a flight, we will provide you with the relevant information and ensure that all necessary requirements are satisfied. These may include, but are not limited to, obtaining all valid visas for entry into your destination country, making sure that your passport is up to date and in good condition, obtaining liability insurance for passengers and crew members, providing proof of financial means for the return journey, and ensuring compliance with medical fitness regulations.

What Additional Services Do We Provide with Our Private Jet Packages?
We offer various additional services that can make your private jet experience even more enjoyable and hassle-free. These include private lounge access at Udaipur Maharana Pratap Airport, chauffeured transfers between the airport and your hotel or destination, bespoke onboard catering with drinks and snacks tailored to your tastes, concierge assistance for any special requests you may have before take off, on-board Wi-Fi access for internet browsing during the flight, and much more. Contact us today to learn more about these services!

Your Private Charter Journey Starts Here
Subscribe and we'll send the best deals to you