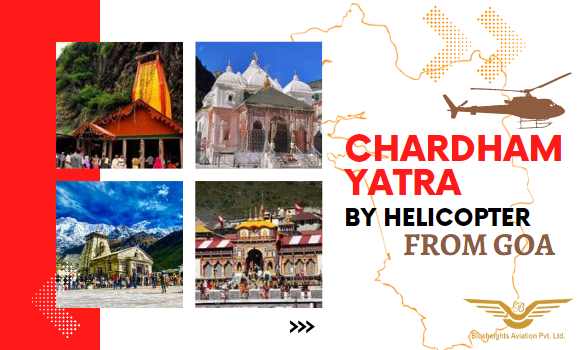 Explore The CharDham Yatra By Helicopter From Goa
PRICE- 2,00,000 PER PERSON
Take an unforgettable journey to the sacred sites of India with a luxurious and convenient helicopter tour! Experience the iconic CharDham Yatra from Goa by helicopter and get ready to be amazed by the incredible sights of these spiritual and historical treasures.
Choose the Best CharDham Yatra Helicopter Service and price
With so many CharDham Yatra helicopter services available, it can be difficult to choose the right one that offers the best price, safety and convenience. It's important to take time to research and compare each company and read reviews from customers who have experienced these tours before. Search for companies that provide certified pilots, provide a high level of customer service and work with an established operator. Compare pricing packages between different services to make sure you get the best deal for your budget.
What are the Most Popular CharDham Pilgrimage Destinations?
The four most popular pilgrimage destinations of the CharDham Yatra are Yamunotri, Gangotri, Kedarnath, and Badrinath. Yamunotri is located in Uttarkashi district in the state of Uttarakhand, while Gangotri is situated in Uttarkashi district too. Kedarnath is found in Rudraprayag district of the same state, whereas Badrinath beckons pilgrimages right at the feet of Nar & Narayan mountain range. Explore these legendary sites with a magnificent scenic tour from Goa.
All the four Dhams – Yamunotri, Gangotri, Kedarnath and Badrinath – offer an insight into the spiritual heritage of India. Tens of thousands of travelers make CharDham pilgrimage every year, irrespective of their location and caste. With great airfare and discounted tour packages available now, devotees can enjoy easy accessibility and a comfortable journey to these sites with online booking options. One can easily arrange for helicopter bookings from Goa to each of these destinations with help from specialized travel operators. A two-hour scenic flight over some picturesque landscapes will surely uplift your spirits in the most profound manner!
Discover The CharDham Yatra's SpiritualSignificance
The CharDham Yatra is a pilgrimage of immense spiritual significance to Hindus. It is believed that completing the four sacred sites in the CharDham Yatra will grant salvation and purify all past sins. The sites are regarded as some of the holiest places in India and have a lot of cultural relevance as well. Experience these remarkable sites from a bird's eye view by taking a luxury helicopter journey from Goa.
The CharDham Yatra begins in the east at Yamunotri, home to the shrine of goddess Yamuna. Then, you will journey to Gangotri and witness the source of India´s holy river, Ganga. Next, is Kedarnath in the north which is one of Lord Shiva's 12 Jyothirlingas. Finally, head south to Badrinath, a temple dedicated to Lord Vishnu that has become one of the most prominent sites for Hindus over hundreds of years. On your chardham yatra by helicopter from Goa you will enjoy stunning aerial views and fly high over these important pilgrimage sites that are situated within the daunting backdrop of the Himalayan mountains.
Enjoy Luxury Helicopter and Accommodation to See All Four Sites Effortlessly
Experience the CharDham Yatra from Goa without all the hassle and difficulty of travelling by road. Book a luxury helicopter journey and have the convenience of staying at comfortable accommodation along the route. See all four sites of the CharDham—Yamunotri, Gangotri, Kedarnath, Badrinath—effortlessly in one luxurious trip!
Start your CharDham Yatra from Goa with a comfortable ride in a luxury helicopter. Enjoy breathtaking views of the Himalayas on the way, and have access to all of the sites within just 6-7 days. Each stop gives you the chance to visit temples, explore local culture and delicacies, trek nearby mountains and riverside trails, and enjoy other activities such as yoga and spa treatments. Accommodation is also included at selected locations along the way for added comfort during your journey. With this Chardham yatra from Goa, you'll also get transfers between airports and sites along with complimentary meals. Book now for an unforgettable experience!
Why to book chardham yatra package or do dham yatra by helicopter with Blueheights Aviation
With Blueheights Aviation, you can make your Chardham Yatra experience outstanding and stress-free. Our luxury helicopters provide unmatched convenience and comfort, allowing you to reach all four holy sites of the CharDham quickly and with little effort. In addition, our experienced pilots ensure that your journey will be safe, secure, and enjoyable. We offer chauffeur-driven cars for your convenience if helicopter travel isn't possible or preferred.
Our all-inclusive luxury packages are some of the most competitively priced in the market, with choppers available for hire that can be customized to accommodate large or small groups. We have taken care to make advanced aviation facilities at the destinations accessible and cost effective, making it possible for pilgrims from all walks of life to enjoy these sacred sites from the sky. We provide convenient helipads close to each temple complex, so our passengers can get as close as possible without any travel fatigue. In keeping with our commitment to safety and excellence of service, we also offer round-the-clock air ambulance support.
Your Private Charter Journey Starts Here
Subscribe and we'll send the best deals to you