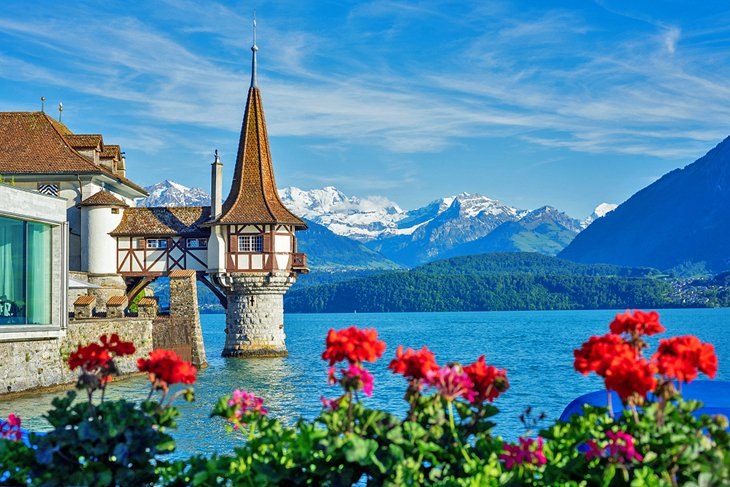 Travel by Private Jet to Switzerland

Switzerland is a country with many advantages when it comes to business. Its language proficiency and central location in Europe make it attractive for companies looking to expand internationally.
Companies from all around the globe choose to base themselves in Switzerland because of its highly skilled workforce. Private jets provide a comfortable and fast means of transport for those who need to travel to meetings and conferences.
Save Precious Time with a Charter Flight to Switzerland
If you work in London or France and have essential meetings in Geneva, you might consider booking a private jet to Switzerland. Chartering a plane directly from Geneva Airport (GCN) to your destination means you won't have to wait for connecting flights. You'll also arrive in time for your meeting without any hassles.
And when you're returning to Switzerland, you can fly direct to Paris Le Bourg (LFPB/LBG), London Farnborough (EGLG/FAB), or Zurich International Airport (ZRH). Private jets are an efficient way to cross Switzerland in the shortest possible time.
We've got you covered if you're looking for an alternative to flying commercials! We offer private flights to Zurich and Geneva from many airports across Europe. Our modern and spacious aircraft allows passengers to enjoy a relaxing journey. You won't miss your flight because our jets are designed to fit your schedule. And if you'd like to get away from it all, you can even choose to fly solo.
With our extensive time flexibility, you can book flights anytime, even if it's late at night. You don't need to wait for check-in, baggage drop, or boarding. And there's no airport security line to get through either.
With our extensive location flexibility, you can fly anywhere, even in places where commercial airlines aren't allowed. Private jets also offer privacy. There are only limited passengers on board that lets you travel hassle-free.

Private Jet Charter to Switzerland - What Makes Switzerland a HotSpot?
Switzerland is a great place to visit for many reasons. For starters, there are plenty of museums and galleries, including the famous Swiss Museum of Fine Arts in Bern. There are also numerous hiking trails in the country, and you can even go skiing at places like St Moritz. If you're looking for something a bit different, head to the Alps, where you'll find stunning mountain scenery and fantastic views. You can also enjoy the city lights in Zurich, Geneva, and other major cities.
When you fly to Switzerland, you'll see lots of beautiful places, including cities like Geneva, Zürich, and Basel. But there are also mountains, lakes, forests and valleys to explore. You can hike through the Alps, ski down the slopes, or enjoy the views. There are also many different languages, cultures, and cuisines to experience.
When you book your trip with Blueheight Aviation, we'll help you choose the best time to visit, depending on what you're looking for. We'll also give you a complete itinerary so you can plan everything. And if you'd prefer to stay closer to home, we have flights to London, Paris, Frankfurt, Amsterdam, Milan, Madrid, Barcelona, Athens, Istanbul, Dubai, Doha, Singapore, and Hong Kong.

Lucerne Switzerland Private Jet and Air Charter Flights
Lucerne is an essential stopover for people visiting Switzerland. This capital city is known for its snow-capped mountains and stunning locations.
BlueHeight Aviation provides private air charters in Lucerne, Switzerland. We offer top-notch service and unparalleled customer care. Our clients benefit from a wide range of aircraft, including Gulfstream V, Challenger 604, Citation CJ4, Cessna Citation XLS+, and many others. For a free quote, call us now!

About Lucerne and Places to See
Lucerne Land is a beautiful region in Switzerland, located on the shores of Lake Lucerne. It is famous for its picturesque old town, Chapel Bridge, and natural beauty. It offers excellent hiking opportunities, including the hike to Mount Pilatus. Lucerne is also close to other exciting places like Weggis, St. Gallen, and the capital of Bern. Lucerne is easily accessible via Lucerne Emmen airport (EML) and Zurich international airport (ZRH).
City guide Zurich Switzerland | Private jet charter
Referred to as the largest city in Switzerland, Zurich is the financial capital of Switzerland. It is one of the most expensive cities offering high-end shopping and luxurious lifestyles.
Switzerland's largest city enjoys a breathtaking location on Lake Zurich. Known for its outdoor lifestyle, Zürich also boasts an intriguing Old Town with Renaissance and Medieval architecture within walking distance of the major sights. Modern living spaces, galleries, and restaurants now occupy former industrial sites, giving new life to the city's historical legacy. The city's vibrant culture, culinary scene, and thriving arts and music scenes make it a popular year-round destination.

Top Five Must-See Sights and attractions
Zurich's Old Town is an ancient settlement dating back to Roman times. Its cobbled streets and alleyways rise from both sides of the Limmat River, which flows through the city's heart. The old town is divided into two parts: the Altstadt (old town), which lies along the river, and the Neustadt, which lies to the west.
The old town is identified by its towering blue spire, the Fraumünster, dating back to the 13th century. The oldest buildings in the area date back to the 11th century. The first written record of "Zurich" came from 740 AD when Charlemagne mentioned the city in his will.
Zurich's Old Town is an important tourist attraction. There are many museums, churches and other historic buildings here. The Old Town is also a great place to shop. You'll find everything you need in the shops along Bahnhofstrasse. If you're looking for something special, head to Niederdorf and visit the boutiques there. On the lakefront, you can take a boat ride on Lake Zurich.
Zurich is located at the confluence of three major European waterways. The Rhine River flows through the city center, while the Limmat River runs alongside the city's eastern side. The Aare River flows through the western portion of the town. These waterways provide an excellent backdrop for walking around the city. The Bürkliplattform boat dock is the starting point for lake cruises. On weekends, there is also a flea market here.
Best Time to Visit
Zurich is an excellent city for festivals throughout the year. Many events are happening during the summer, including the famous Swiss National Day Parade, the Long Night of Museums, the Sechseläuten spring festival, the Zurich Street Festival, and the Christmas Markets. If you're looking for something specific, check out the website of the local tourism office.
Autumn is the season when the sun shines brightly and days are longer. There is also less rainfall than in summer, making it easier to get around. In winter, snow is usually on the ground, and temperatures drop below freezing. However, the weather is milder than in other parts of Europe. Tourist numbers are lower than in summer but increase during the Christmas market period.

How to Hire a Private Jet to Switzerland?
If you're looking for a private jet to fly you to Switzerland, you've come to the right place. We offer low-cost flights to Zurich and Geneva. Our team will help you plan your trip and get you there safely. You need to tell us what you'd like to see and when you'd like to go.

Zurich Private Jet Charter
Blueheight Aviation provides a variety of private jet charters to and from Zurich, including light jets, medium jets, heavy jets, and ultra-long-range jets. Clients may choose from several different types of aircraft, including small executive jets, midsize jets, and larger corporate jets. All aircraft have state-of-the-art communication systems, navigation equipment, and other amenities.
Zurich Airport (ZUR) is the largest airport in Switzerland and the second largest in Europe. It is the primary hub for Swiss International Air Lines (SWISS), Lufthansa, Austrian Airlines, and United Airlines. It is also the leading international gateway to Switzerland and offers direct flights to cities across Europe.
There are currently over 26 aircraft types in the vicinity of Zurich, including older models like the Cessna 172 and Piper Cherokee. Most of them are less than 20 years old. There are also many other smaller aircraft options available in the region, including light jets (Citation Mustangs, Phenom 100s), midsize jets (Hawker 900 XPs, Citation CJ1s, Citation CJ2s, and Citation Bravos), super-light jets (Phenom 100s), midsize jets (Challenger 600s, Citation Sovereigns, and Dornier 828s), large jets (Challengers 700s, Challenger 800s, Gulfstream 450s, and Gulfstream 550s), and ultra-long-range jets (Gulfstream G500s and Falcon 7x).
In addition, a small fleet of Boeing 757 VIPs, Airbus 318 Elite, and A319 corporate jets are available for charter.

Which Aircraft Category is Best for my Charter Flight to Zurich?
Private jet charter is about choosing the best plane for you. You need to consider your needs, whether you will be flying with family members or just yourself, what size plane you need, and the number of seats available. Private jets come in different sizes, ranging from 10 to 50 passenger capacity. Some aircraft are even larger, like the Boeing 747 jumbo jet, which can hold up to 300 passengers.
Aircraft categories range from light aircraft to ultra-long-range jets. The size of an aircraft category determines its maximum flight time. Cabin height varies depending on the type of aircraft. Baggage capacity depends on the number of passengers and cargo carried. Maximum flight times vary greatly depending on the type of airplane.
The busiest airports in Switzerland are:
Zurich Airport
Geneva Cointrin Airport
Basel Airport
Lugano Airport
Bern Airport
St Gallen Altenrhein Airport
Sion Airport
Blueheights charter gives you a wider choice and can help save time, allowing you to take-off or arrive closer to your destination and as well as the airports above there are over 30 airports in Switzerland that can cater Blueheights clients, including:
Alpnach Airport
Gstaad Saanen Airport
Samedan Airport
Grenchen Airport
Dubendorf Airport
Luzern Emmens Airport
Payerne Airport
Bern Belp Airport
Mollis Airport
Les Eplatures Airport
Airfields in Switzerland
AEROPORT DE LAUSANNE-BLECHERETTE (LSGL/QLS)
ALPNACH AB (LSMA/)
ALTENRHEIN ST GALLEN (LSZR/ACH)
AMBRI (LSPM/)
BERN BELP (LSZB/BRN)
BUOCHS (LSZC/BXO)
BUTTWIL (LSZU/SZU)
DUBENDORF AB (LSMD/)
FRIBOURG-ECUVILLENS (LSGE/LSG)
GENEVA COINTRIN (LSGG/GVA)
GLARUS MOLLIS (LSMF/)
GRENCHEN (LSZG/ZHI)
GSTAAD SAANEN (LSGK/VVL)
LA CHAUX DE FONDS - LES EPLATURES (LSGC/ZHV)
LUGANO (LSZA/LUG)
LUZERN BUOCHS (LSMU/...)
LUZERN EMMEN AB (LSME/)
NEUCHATEL (LSGN/SGN)
PAYERNE AB (LSMP/)
SAMEDAN ST MORITZ (LSZS/SMV)
SION (LSGS/SIR)
ST STEPHAN AB (LSTS/)
VISP RARON (LSTA/ZLB)
ZURICH (LSZH/ZRH)
Your Private Charter Journey Starts Here
Subscribe and we'll send the best deals to you