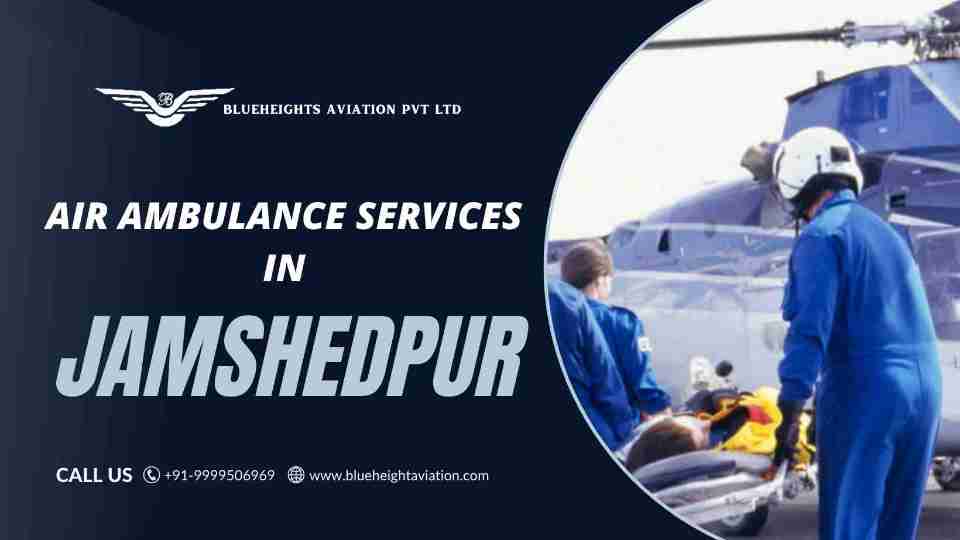 Air Ambulance in Jamshedpur
Referred as one of the most populated cities in Jharkhand, Jamshedpur is India's first planned industrial city. The city derived its name from Jamshedji Tata, the visionary to curate a bright future for the city. While East Singhbhum is considered one of the central districts known for its health service, the surrounding areas also visit here to avail of medical services. However, Jamshedpur still depends on other metros like Delhi and Mumbai for advanced medical facilities.
Considering the geographical constraints, road ambulances take longer to reach the required inter-state or inter-city medical facilities. Many critically ill patients lose their lives as they need immediate medical attention, which is impossible with road ambulances due to various constraints.
Hence, Air Ambulance is an ultimate choice for:
1) Patients requiring emergency treatment at any location within the country.
2) Patients needing urgent transfer to another hospital/medical facility.
3) Patients requiring specialized care such as Cardiac Care, Neurosurgery, etc.
4) Patients require specialized care during pregnancy.
5) Elderly patients requiring specialized care.
6) Patients requiring specialized cancer treatments.
7) Patients requiring specialized post-operative care.
8) Patients requiring specialized intensive care.
What is the Air Ambulance Cost in Jamshedpur?
Several factors play a crucial role in deciding the air ambulance price in Jamshedpur, as follows:
• Departure Location - It depends upon where the aircraft departs from. If the aircraft leaves from locations with difficulty issues, then the price would be higher than if it leaves from places with better accessibility.
• Flight Duration - The flight's duration decides the trip's total cost. Longer flights mean more fuel consumption and hence higher costs.
• Aircraft Type - Different types of aircraft consume different amounts of fuel. Hence, the type of aircraft used also affects the final cost.
• On Board Medical Facilities - Depending on the type of medical facilities available onboard, the cost can vary.
• Requirement of Paramedic Team - A paramedic team is required to accompany the patient during the entire journey. It adds to the overall cost.
So, before you book air ambulance service in Jamshedpur, one should consider all these factors carefully.
On average, air ambulance cost per hour from Jamshedpur is Rs 120000/-
How does Charter Air Ambulance work?
The process of chartering an air ambulance in Jamshedpur is straightforward. All you need to do is call us at 09650578989 or email us at sales@blueheightaviation.com. Once we receive your request, we will send you a confirmation mail with the same details. After receiving the confirmation mail, you need to pay the amount mentioned in the mail. Once the payment is made, we will assign a representative who will contact you shortly after the payment is cleared. They will guide you through the whole process.
Once the payment is made, the representative will book the tickets and arrange for the pickup point. The representative will also help you with the documentation needed for the flight.
In recent times, there has been a significant increase in patients suffering from cardiac ailments. Due to a lack of proper transportation facilities, most patients end up getting admitted to hospitals far away from home. To overcome this problem, we have established our office in Jamshedpur. We aim to ensure that no patient suffers due to a lack of timely treatment.
Our main objective is to offer affordable and reliable medical emergency services. Here, we provide both air ambulance and special train ambulance services. For the safety of the passengers, we use modern equipment and highly qualified doctors and paramedics. We hire experienced pilots and conduct regular training sessions for them. We keep ourselves updated with the latest technology and thus ensure that our vehicles remain safe and comfortable throughout the journey.
We provide 24×7 round the clock assistance to the passengers. If you face any health issues, you don't have to worry about anything because we will care for everything. You need to inform us about your travel plans and rest assured that we will reach you within minutes.
We offer the following services:
• Air Ambulance Services in Jamshedpur
• Medical Emergency Response Team
• Specialized Hospital Transfer Service
• Non-Emergency Helicopter Transport
• Train Ambulance Service
We offer the most competitive pricing to make air ambulance services affordable for everyone in need.
Frequently Asked Question
How long it takes to reach the hospital?
The ambulance can cover distances up to 500 km within 30 minutes, which is impossible with road ambulances. Air ambulances ensure the fastest evacuation, which is crucial in emergency cases.
How much time does it take to get an Air Ambulance in India?
It takes approximately 2 hours to get an air ambulance in India. However, there could be delays due to weather conditions. So, it is always better to plan.
Can I get an air ambulance from Jamshedpur Airport to Delhi?
Yes, getting an air ambulance from Jamshedpur to Delhi is possible. There are regular flights between both cities.
Is It Safe To Travel In A Private Ambulance?
It is safe to travel in a private ambulance. All the air ambulances are equipped with life-support systems and para-medic teams to care for critically ill patients in an emergency.
You May also like :
Your Private Charter Journey Starts Here
Subscribe and we'll send the best deals to you