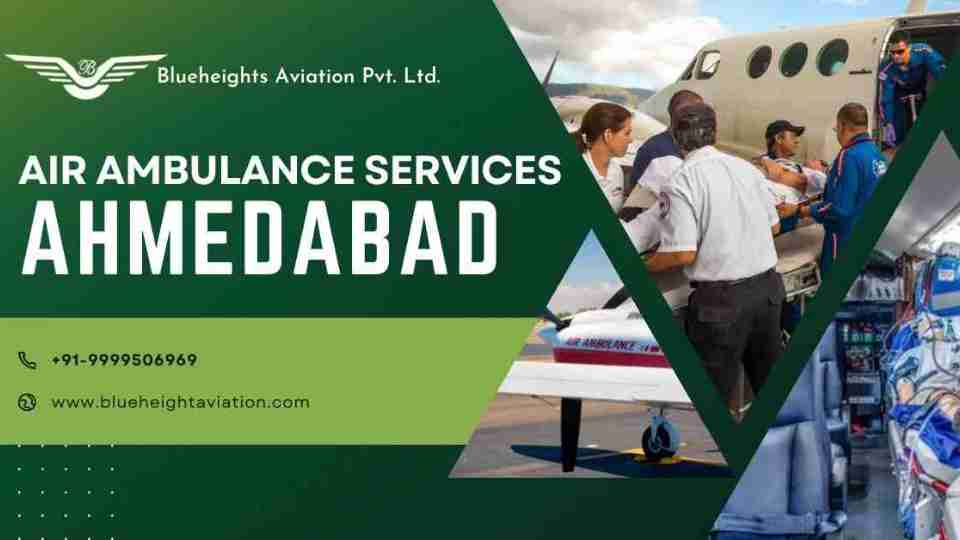 Air Ambulance Services in Ahmedabad
Blueheights Aviation is an ISO 2000 Certified company which provides the best quality of services to our clients at affordable prices. Our team is highly skilled and qualified and has years of experience in this field. We provide 24/7 emergency ambulance service for medical emergencies like heart attacks, strokes, accidents, etc.
We are a leading provider of air ambulance services in India. We offer world-class air ambulance services with state-of-the-art equipment and trained paramedics. We also provide ground ambulance services.
We are one of the most trusted names in providing Emergency Medical Evacuation (EME) services across India. We are known for offering reliable and cost-effective emergency care solutions.
Our mission is to provide quality healthcare services at affordable costs. We take pride in being able to provide efficient and timely responses to every call we receive.
What is the difference between air ambulance services and medical evacuation?
Air ambulances are specially designed to transport patients from remote locations to hospitals. They are equipped with advanced life support systems and trained paramedics who provide emergency care during the flight.
Medical evacuations are performed by ground ambulances or helicopters. The former is usually reserved for major emergencies like heart attacks and strokes. The latter is often used for minor injuries and illnesses.
What is an Air Ambulance Service?
An air ambulance service is a company that provides specialized medical transportation using fixed-wing aircraft, helicopters,s or both. These companies provide emergency medical services to people who need immediate treatment but cannot be transported safely by road.
How do I choose an air ambulance service?
There are several things you should consider when choosing an air ambulance service:
1. Cost of the service – How much does it cost? Is there any additional fee if you have insurance coverage? Will your health plan cover the costs?
2. Emergency Medical Technician (EMT) training – Does the air ambulance service offers EMT training? If so, how many hours of training will they require?
3. Patient's location – Where is the patient located? Are there any restrictions on where the patient can go? For example, are there any airports near the patient's home?
4. Flight time – How long will the flight take? Do they fly over populated areas? How far away from the nearest hospital will the plane land?
5. Insurance coverage – What type of insurance coverage does the air ambulance service offer? Who will pay for the service?
6. Experience – How many years has this air ambulance service been operating? Have they ever had any accidents?
7. Customer reviews – Has anyone else used their air ambulance service? If so, what were their experiences like?
8. Availability – When is the next available flight? Can you contact them directly?
9. Reputation – How well known is this air ambulance service? Have they received any complaints?
10. Quality assurance – How qualified are the pilots and crew members? How frequently do they undergo training?
11. Language – What languages do they speak?
12. Safety record – Has this air ambulance service ever had any serious incidents?
13. Certification – How are they certified?
14. Equipment – What equipment does the air ambulance service use?
15. Accreditation – How accredited is the air ambulance service?
16. FAA approval – Does the air ambulance have FAA approval?
17. Licensing – Does the air ambulance operate under its license or through a third party?
18. Training – How many hours of training do they require?
19. Insurance – Does the air ambulance carry liability insurance?
20. Complaints – Have any complaints filed against the air ambulance service?
What is the cost of an Air Ambulance from Ahemdabad?
The cost of an air ambulance varies depending on the size of the aircraft, the distance traveled, and the number of patients being transported. The average price of an air ambulance in Ahemdabad ranges between 1.6 lakhs to 2 lakhs per hour. However, prices may vary based on the experience of the pilot, the aircraft, and the destination. The most expensive air ambulances charge up to 18 lakhs per flight.
Why Choose Blueheights Aviation Air Ambulance Service?
Blueheights Aviation Air Ambulance Service is one of India's leading providers of air ambulance services. We provide 24/7 emergency medical evacuation services with our state-of-the-art aircraft and highly trained EMS professionals. Our team consists of experienced paramedics and doctors who help patients get better faster. We also provide pre-hospital care before transporting the patient to the closest hospital.
We understand the importance of timely medical assistance, and therefore, we make sure that every patient gets the best possible treatment. We work closely with hospitals and clinics to ensure that patients reach their destination safely and quickly.
Our air ambulances are equipped with advanced life support systems such as oxygen supply systems, defibrillators, ventilators, suction machines, infusion pumps, etc. We also have a fully stocked pharmacy on board, which allows us to administer medication needed by the patient during the flight. All these facilities allow us to provide quality emergency medical care.
We offer a bed-to-bed transfer facility to our patients. We also provide transportation services to and from airports. We can even take patients home after discharge if required.
Separate arrangements are made for COVID and Non-COVID patients. We follow the COVID-19 Protocols strictly to ensure the highest safety of all our passengers.
All the international Air Ambulance services are available from major cities like Delhi, Mumbai, Chennai, Hyderabad, Bangalore, and other international airports across India.
Our fleet includes both fixed-wing aircraft (Cessna) and helicopters. The Cessna planes can be operated on short runways, while the helicopters need longer runways. Both types of aircraft are very safe and reliable. They are equipped with modern communication devices allowing us to communicate with the ground control station and other aircraft in real-time.
You can avail yourself the air ambulance for Ahmedabad from Sardar Vallabhbhai Patel International Airport (IATA: AMD, ICAO: VAAH), also known as Ahmedabad Airport.
We take great pride in providing world-class emergency medical services. At Blueheights Aviation, we believe that no patient should die because of a lack of access to proper healthcare. That's why we offer affordable air ambulance services for everyone.
Contact Us: +919999506969,9650578989 Email Us: sales@blueheightaviation.com |
Website: www.blueheightaviation.com
You May also like :
Your Private Charter Journey Starts Here
Subscribe and we'll send the best deals to you