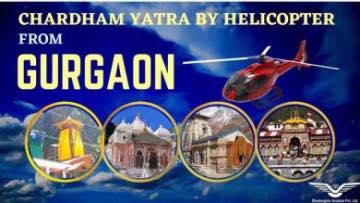 Chardham Tour Package By Helicopter from Gurgaon (2023)
The Chardham yatra is one of the most popular pilgrimage destinations in India. This holy journey starts from Uttarakhand and ends up at Uttarkashi. During the trip, one must visit the four sacred places: Badrinath, Gangotri, Yamunotri, and Kedarnath. These are known as the four Char Dham temples.
Chardham Yatra generally beings in April every year and ends by November. Every year thousands of pilgrims visit Char Dham to dive into the spirituality of these four sacred sites. It is a beautiful experience for everyone wishing to make this trip.
The best time to visit Char Dham is during April -May, as the temperature is pleasant. However, it can be called anytime throughout the 6 months.
While there are many modes of transportation, such as bus, train, flight, etc., the most preferred way to visit Chardham is by Helicopter. It is the easiest and most convenient way to complete the holy char Dham Yatra in the shortest possible time.
If you are looking for an exciting Char Dham Yatra By Helicopter from Gurugram. Premier aviation services like Blueheight Aviation are all set to deliver an impeccable experience to all devotees.
How To Reach Char Dham Yatra?
Your journey can be started by air, rail, or even road. You can drive to Delhi's Indira Gandhi International Airport and then take a flight to Dehradun. You can rent a private car to reach Jolly Grant Airport.
A representative will receive you at the Jolly Grant Airport to proceed with your holy Chardham Yatra. The Yatra beings from Yamunotri cover the Gangotri, Badrinath, and Kedarnath.
You can also choose public and private buses from the Gurgaon bus stop. The commute takes approximately 15 hours. You can also drive down via National Highway 334. You will be able to see many mountain peaks along the road.
A train runs daily from Gurgaon, Haridwar, and Rishikesh. These stations are located closest to Badrinath. The Haridwar Mail 19031 is the best option as it is both time-saving and economical.
Itinerary For Chardham Yatra From Gurugram
Here is the detailed Itenaray for Chardham Yatra By Helicopter from Gurugram:
Day 1: Gurugram to Dehradun
Fly from Gurugram Airport to Dehradun Airport in 50 minutes. A train from Delhi or a cab ride from Gurugram to Dehradun is also an option. However, this takes longer and can be tiring. To save time, we recommend flying from Gurugram to Dehradun.
To embark on a pleasant journey in Chardham, arrive at Dehradun. Blueheight provides a complimentary overnight stay in Dehradun. We can arrange for your hotel transfer and assist you with the check-in process. We can also provide a duffel bag to allow you to carry the essential items while keeping the rest in the cloakroom.
Day 2: Dehradun to Kharsali
Yamunotri is our first stop among the four Dhams. After a hearty breakfast, you will be ready to take off for the Dehradun Helipad to land at Sahastradhara helipad. In approximately 20 minutes, you will reach Kharsali and be transferred to your hotel. Enjoy a delicious lunch before heading to Yamunotri's hot springs via pony, palki, or trek. The Shani temple can be visited, and you will return to your hotel for some rest.
Day 3: Kharsali to Harsil
We will then head to Gangotri Dham the next day, which is known for its origins of the holy Ganga. To reach the Gangotri temple for Dharshan, you must cross the Harshil. You will pass the beautiful apple orchards along the way. The Gangotri Temple can be reached by road in approximately 50 minutes. The Shiv Temple in Harshil and Bagodi Village Walks, a Nature Walk to Jhala, and a short trek up to Chholmi village are all available.
Day 4: Harsil to Sersi
You will fly to Harsil Helipad to reach Sersi Ji Darshan the next day. Kedarnath Ji is accessible by a shuttle flight. Darshan at Kedarnath Ji takes approximately two hours. Devotees will find Kali temple in Guptakashi a great sightseeing choice.
Day 5: Sersi to Badrinath
After a wholesome breakfast at Sersi, devotees will depart for Badrinath. The passengers will then be transferred by car to the temple from the hotel. Mana village is a popular sightseeing option around Badrinath. Because of its proximity to China, it is often called the "last village in India."
Day 6: Dehradun
It's time for you to leave after visiting the four dams. Pre-booked Maha Abhishek Pujas requires you to arrive between 4:30 and 6:30 in the morning. Shastradhara will be open at 9:30 am. You will be taken to the hotel to collect your luggage from Dehradun's cloakroom. You will be taken to the railway station or airport to board your flight to Delhi.
At the client's discretion, Blueheight aviation can arrange flight tickets or helicopter charter services from Dehradun to Delhi. You can conveniently hire a private cab to reach Gurugram thereon.
Terms and Conditions for Blue Height Aviation Helicopter Services
A passenger should not carry luggage that is more than 2 kg. Extra luggage weight will not be allowed on the helicopter.
Every child over two years old gets a full-fare ticket.
Make sure to distinguish the departure time and reporting time. The departure time is an hour before the reporting time.
CTT vouchers are required for all passengers to enter our office.
Based on weather conditions, the minimum waiting time for travelers is 2 hours.
Travelers should bring a medical kit as the temples are at high altitudes.
Children and older adults are not eligible for any other concessions or restrictions.
The hotel will not pay for additional nights due to adverse weather conditions.
Our Services reserves the right to delay flight time due to adverse weather conditions.
Senior citizens and people with disabilities will get a preference
Passenger darshan takes 1hr 30 min.
We do not assume responsibility for baggage during a helicopter ride.
We are not responsible if you make any mistakes on your trek.
Chardham Yatra Packages 2023 are designed to accommodate passengers in small groups. However, dividing passengers into groups to adjust their weight is only sometimes possible.
Important Note:-
A complete refund will be issued if a flight is canceled or modified due to weather conditions, technical difficulties, or lack of passengers. 4 Dham Yatra helicopter service issues can be contacted on our support line, and our experts will assist you immediately.
Frequently Asked Question
What is the importance of the Chardham Yatra in Hinduism?
Chardham yatra is considered one of the most revered yatras in Hinduism. It is regarded as the religious duty of every Hindu to visit the Chardham Yatra at least once in their lifetime. It is firmly believed that visiting Chardham takes you to the path of salvation. People visit the Chardham yatra in anticipation of breaking the cycle of death and rebirth and attaining moksha.
What is the best time to visit Chardham Yatra?
The yatra opens in April and remains open till November. The best time to visit the Chardham yatra is in April and May when the weather remains pleasant. July and August experience rainfall and landslides, so the helicopter yatra may cancel abruptly due to bad weather conditions. If you are seeking fun and adventure, consider visiting Chardham in September and October.
What Should I Take along for My Chardham Yatra Darshan?
Considered one of the toughest Yatra in the Northern region, you should be well-prepared before you visit Chardham Yatra. Hence, it is essential to take along the things like Jackets, Coats, Gloves, Sweaters, trekking shoes, slippers, and a first aid kit to make your Yatra a pleasant affair. Irrespective of the time you visit Chardham, you must carry woolen clothes as the temperature drops during the evening.
Also, carry mosquito repellent, a torch, a raincoat, and medicines during your journey to deal with any emergency.
Why is Blueheight Aviation Best?
With so many aviation companies in the market, Blueheight aviation possesses years of experience and expertise in serving devotees with outstanding Chardham yatra experience. The experienced staff at blue height takes end-to-end care of your requirement to make Chardham a smooth experience. The highly trained staff at Blueheight aviation curate customized yatra plans considering your preferences and needs.
Are You Ready to Embark on Your Holy Char Dham Yatra By Helicopter from Gurugram with Us?
Call Us Now!
You Might Also Like:
Do Dham yatra by helicopter (1N2D / Daily Tour)
Chardham Yatra Helicopter Services 5N6D
Dodham yatra by helicopter (Same Day )
Kedarnath yatra helicopter services (Same Day )
Your Private Charter Journey Starts Here
Subscribe and we'll send the best deals to you