Why You Should not Stress About Your Air Ambulance Services
Jun 03, 2023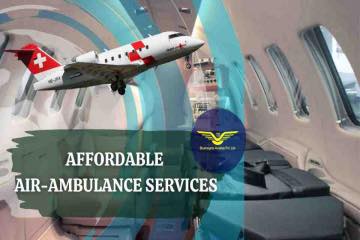 Air Ambulance services are one of the best ways to transport a patient in emergencies. When a patient needs to get to a destination that is far from their reach and it is impossible to take the risk on a commercial flight, the best bet is hiring an air ambulance service in India. Although short-haul aircraft are compact and can land in far-off locations or near an accident scene, they aren't the ideal option for the task. However, when traveling great distances in emergencies, modern planes outperform helicopters in speed and cost.
Especially, when it's about saving the life of a dear one, the best way to give all that you can in saving them is to take them to treatment facility at the earliest. Let's give you three basic reasons why you shouldn't stress about air ambulance services once you have booked them.
They Offer 24/7 Service over A Wide Range
It's fascinating that air ambulance services are freely accessible at all hours of the day or night. An air ambulance may travel straight into areas where other medical services would get stopped due to unreliable roads. They make it simple to reach anyone, anywhere, at any time.
Moving Between Countries
The majority of air ambulance firms can travel more freely between nations. Although this is also possible with an ambulance on the ground, the patient may feel considerably less at ease if the ambulance is held up at a checkpoint rather than at an airport where they may wait for their documents to pass. BlueHeights air ambulance services make traveling between countries easy.
It Saves Lives
• When called upon, air ambulance services are always prepared to transport patients and the injured.
• Regardless of their illnesses or injuries, they treat all different types of patients. Because airlifting a patient takes less time, fewer patients experience difficulties while being transported, which allows them to reach the care center easily and fast.
• Although the time between the pickup and arrival at a hospital is much shorter, the majority of air ambulances in use today still have competent professionals on board who may assist during the journey.
Air ambulance services are the best for patients that need to get somewhere quickly. Visit us at https://blueheightaviation.com/ for any issues related to Air Ambulance Services in India. And Air Ambulance Services Patna
Your Private Charter Journey Starts Here
Subscribe and we'll send the best deals to you