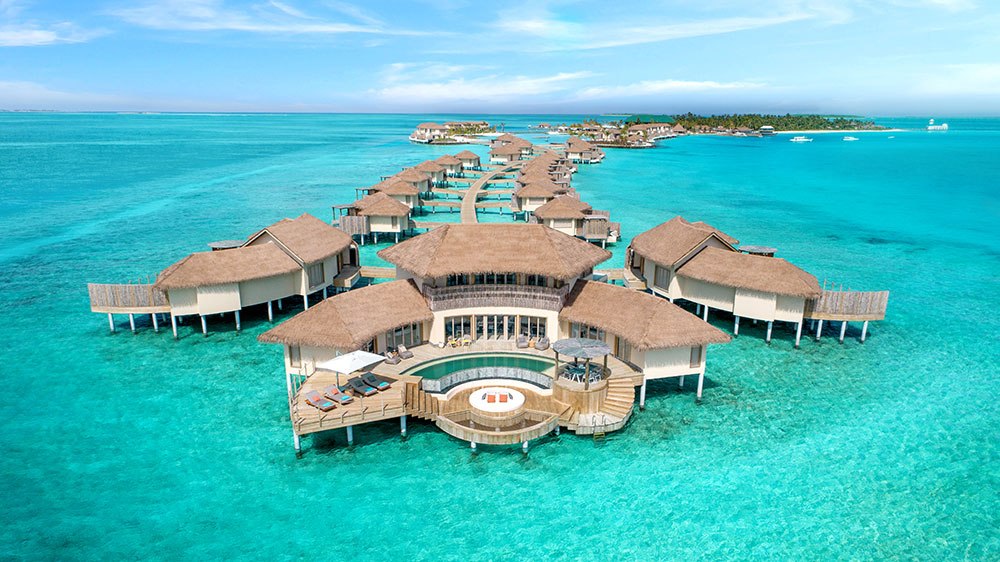 Destination Private Jet Charter from the Maldives

Private Jet Charter to Maldives Best Private Jets flying to the Maldives
If you're looking for an exotic vacation destination, then the Maldives might be your dream come true. You'll enjoy beautiful beaches and clear waters all year round. If you want to visit the Maldives, there are many different ways to get there, including flying to the Maldives via private jet charter. The flight time from the US to the Maldives is approximately 27 hours, but the popular route is New York to Male, which takes almost 18 hours.
Book your private jet charter to Maldives Islands today!
About the Maldives
Geography And Climate of Maldives
The Maldives is an archipelago nation in Southeast Asia. It is located at the southern tip of India, about 700 kilometers from the mainland. The Maldives consists of 1,200 coral islands and islets, of which around 200 are populated. The Maldives' tropical climate is well known due to its warm weather and crystal clear waters.
During the summer months, temperatures are pleasant, with a range of 23 to 31 degrees Celsius (89 degrees Fahrenheit), while the sea temperature is usually around 26 degrees Celsius (79 degrees Fahrenheit)
It is an all-round year fun destination offering warm weather. The average temperature of around 30 degrees Celsius during summer doubles the fun of water sporting. March is considered the hottest month, while September is the wettest.
Things To Do in the Maldives
Many different types of sports and activities can be done here. Some of the most popular ones include scuba diving, snorkeling, windsurfing, kite surfing, parasailing, jet skiing, kayaking, sailing, canoeing, fishing, swimming, boating, water skiing, wakeboarding, surfing, horse riding, mountain biking, hiking, trekking, rafting, etc.
East Coast USA to the Maldives is about 16 hours, and it takes the same time if you're heading west. Because the Maldives is located on the other side of the world, your flight will travel around the globe in the opposite direction.
Where to stay in Maldives?
Maldivian resorts offer all kinds of accommodations, including luxurious suites, private pools, and even luxury villas. There are also numerous hotels and resorts on the island of Hulhumale'a, considered the Maldives' best resort destination. Some of the most famous resorts are the Radisson Blu Resort & Spa Maldives at Landaa Giraavaru, the Four Seasons Resort Maldives at Kuda Huraa, and the Conrad Maldives Rangali Island.
A luxurious resort experience awaits you at the Park Hyatt Maldivian Atoll. You'll wake up to the sounds of the ocean and the gentle breeze blowing through the palm fronds. Enjoy an unforgettable dining experience at award-winning restaurants, each with its distinct menu. Indulge in signature treatments at our award-winning Spa Sanctuary, inspired by Asian beauty rituals.
Getting in and out by private jet charter
Male International Airports (MIAL) is an airport located in the Maldives. It is the primary and most significant international airport serving the country. Male International Airport (MIAL) has a dedicated FOB facility that accommodates the arrivals and departures of private jet charter flights and is owned by MIAL Holdings Ltd. The airport's official name is Velana International Airport.

How much is a private jet from London to the Maldives?
As we know, the cost of a destination private jet varies depending on the type of aircraft, time of booking, availability of the jet, amenities offered, etc. On average, a charter flight from London to Male costs around 7 lakhs if you avail of Ultra Long Range Jet.

How much is a private jet from Dubai to the Maldives?
The cost of destination private jet services between Dubai to the Maldives generally costs around 3.5 lakhs to 7 lakhs. However, the prices vary depending on the availability of private jets. A lean season may cost you less. On the other hand, a rush season may cost you high.

Advantages of private jets
Private jets offer an efficient alternative to commercial flights. You can save time and get to your destination quicker. It only takes to pass through security checks in just 15-20 min, while in the case of commercial flights, you'll have at least 2-3 hrs to go through security checks.
Private jet flights are flexible. You can choose when you leave and where you go. Your private jet can land on short runways, meaning you can get to your destination as quickly as possible. Unlike commercial flights, pets and luggage are allowed on board.
When flying privately, there is always a possibility of changing the flight schedule. Business aviation customers can change their travel plans at any time. There is a high safety level because fewer passengers and crew members are on board. You share a confined indoor space with a few others for a short period, reducing the risk of getting infected. Even wearing personal protective equipment (PPE) cannot completely protect you against COVID-19 on commercial flights.
If you charter a plane, you will fly alone or with a small number of your colleagues, friends, or family members, significantly reducing infection risks.
Business jet flights offer ultimate comfort and privacy. The cabins of long-range private jets usually have comfortable convertible seating and a fully equipped kitchen. Passengers can order special meals on board. Confidentiality is guaranteed because no one knows what you're doing or meeting with the partners.
Business aviation is growing at an unprecedented rate. More and more companies are using private jets to get around. Businesses need to fly fast, safely, and comfortably, and we are always ready to arrange those flights from the airports that fit your needs best.
About Malé Maldives
Malé is an island in the Maldives archipelago and the capital of Maldives. The country primarily depends on tourism, accounting for the vast majority (90%) of its foreign exchange receipts. Most tourists come here to enjoy the warm climate and beautiful beaches.
Due to the high number of visitors, the island is almost completely covered in concrete buildings and roads. There are very few green spaces left on the island. However, travelers will not miss the opportunity to see the stunning blue waters and white sand beaches.

Luxury Lodging in Malé
Malé is known for its luxurious resorts, many of which are located along the island's south coast. Some of the best known are Angsana Uhura, Banyan Tree Vabinfaru, Baros Maldives, Jumeirah Vittavali, Kurumba Maldives, Per Aquum Huvafi Fushi, Taj Exotica Resort and Spa.
Why is Blueheight Aviation the Best Destination Charter Private Jet?
With over ten years of experience in Destination Charter, Blueheight aviation excels professionally in serving Jet Charter Service to the highest industry standard. Our experienced staff caters to the customized requirements of our esteemed clients with utmost perfection.
We have various jet flights to choose from depending on your needs and requirements.
Here are some Airports that are popular with Blueheights clients:
Gan International Airport
Hannimaadhoo Airport
Male Ibrahim Nasir International Airport
Kaadedhdhoo Airport
Kadhdhoo Airport

Airfields in Maldives

DHAALU GENERAL AIRPORT (VRMU/DDD)
DHARAVANDHOO (VRMD/DRV)
GAN ISL (VRMG/GAN)
HANIMAADHOO ISL (VRMH/HAQ)
KAADEDHDHOO ISL (VRMT/KDM)
KADHDHOO ISL (VRMK/KDO)
MAAFARU INTERNATIONAL AIRPORT (VRDA/MNF)
MALE INTL (VRMM/MLE)
VILLA INTERNATIONAL (VRMV/VAM)
Your Private Charter Journey Starts Here
Subscribe and we'll send the best deals to you