The Devastating Impact of Coronavirus on Air Ambulance
Jun 03, 2023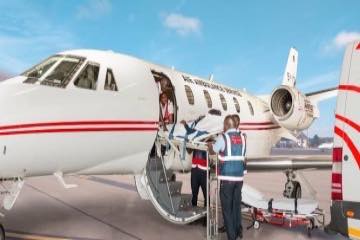 There is hardly any sector that hasn't witnessed the onslaught of COVID-19. The demand for air ambulance services was incredibly low when the pandemic was at its peak. Due to the higher risk of infection, governments of most countries haven't allowed the functioning of air ambulances until the scenario became normal.
Even the best air ambulance services India by Blue Height Aviation felt the heat owing to travel restrictions and quarantine measures all over the world. These organizations didn't get enough opportunities to transport patients across the countries. The circumstances were tough and air ambulance services had to embrace a new realm of aeromedical procedures and spent a huge amount of money on buying new accessories. However, there were few chances for any profit.
The harsh reality of COVID-19 on air ambulance services
The functioning of air ambulances was hugely affected during COVID-19 particularly due to restrictions on travel. A lot of air ambulance service providers were worried about how to handle this tough situation. Coupled with it, there is the risk of contracting COVID-19 which even led some operators to shut down their businesses and isolate their affected employees. As a result, the air ambulance cost in India was also on a decreasing note at that time.
How is the air ambulance industry coping with the consequences?

Air ambulance services had to update their accessories and equipment due to COVID-19 while adhering to new safety guidelines. Many aviation experts are of the view that this crisis will prepare air ambulances for the forthcoming times. It will put the air ambulance services in a better situation if a similar situation arises. Several air ambulance companies have purchased ISO-Chamber accessories to transport COVID-19 patients. This initiative will expand their ability when it comes to transporting infectious disease patients to distant countries.
Among the negatives, there are also many positives for affordable air ambulance services. According to experts, COVID-19 won't bother people for a long time. The positive thing is that the meetings in the future will shift towards digital media. It will save a huge amount of your time and resources.However, personal contact may be better in certain situations.
Every business needs to evolve while adapting to special situations. The air ambulance industry was also affected when the whole airspace of Europe was locked down for weeks due to the Iceland Volcanic Outbreak. The Ebola outbreak in Africa and the COVID-19 pandemic are some of the recent instances. These crisis situations won't have a constant impact on the operation of air ambulances but will bring some little changes to the pattern.
If you want to know more info about our services visit our website https://blueheightaviation.com/ or call us +91 99995 06969 today.
Your Private Charter Journey Starts Here
Subscribe and we'll send the best deals to you