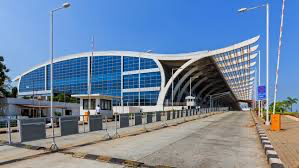 Goa Private Jet Charter Flights
Get ready to experience the luxury and convenience of a private jet flight to Goa with our charter services. Fly in comfort and style, knowing that your safety is our top priority while you enjoy the ultimate in personalized travel.


Goa Private Jet Charter Service- Blueheights Aviation
Blueheights Aviation is your top choice for Goa private jet charters. Our reliable and experienced team of professional pilots and friendly staff will make sure that your trip goes as smoothly as possible, ensuring you have the most comfortable journey to your destination. With our excellent customer service and unbeatable prices, we're confident you'll enjoy every moment of your flight experience with us. Book today! Blueheights Aviation specializes in offering Goa private jet charter services to individuals and businesses looking for a hassle-free, comfortable way to fly into or out of this exotic and beautiful area. Aviation is our passion and we strive to deliver outstanding service and competitive prices on all flight charters. Our aircraft are regularly serviced and maintained to the highest standard, ensuring a safe and luxurious experience as you travel with us. Book your Goa charter jet flight today for an unforgettable journey!
Benefits of Private Jet Charter in Goa and List of airports in Goa
When you book a private jet charter to Goa, you'll enjoy numerous advantages over other forms of air travel. Not only do we offer unparalleled convenience, safety and comfort, but our prices are unbeatable. You won't have to worry about long check-in queues or lengthy delays - instead, your aircraft will be ready for takeoff on your desired schedule. Additionally, there are multiple airports located in Goa that allow easy access to the entire region. These include Goa International Airport (GOI), Panjim Airport (PANJ) and Margao Airport (MRG).
When travelling to Goa by private jet, passengers can fly directly into these airports. Once in Goa, passengers can benefit from having no transport delays or waiting in traffic when heading to the many popular tourist spots like Anjuna Beach and Calangute Beach. Additionally, your aircraft will be able to carry larger groups than commercial airlines and luggage numbers are more flexible. Furthermore, for those looking for a bit of luxury after a long business trip, a private jet charter offers an executive solution to get home quicker with all the additional amenities you deserve.
Choose the Perfect Plane for Your Needs.
We provide a wide range of aircraft options to make your flight comfortable and stress-free. Choose from small private jets for quick trips, medium jets for corporate events, or large ultra-luxury aircrafts for pleasure excursions. All our planes are equipped with the latest gadgets and amenities—from onboard Wi-Fi and video gaming systems to first-class cabins and gourmet meals. You'll arrive in Goa refreshed and ready to explore!
Whatever your purposes, we guarantee to make your trip hassle-free and fully personalized. Our experienced team will gladly tailor flight schedules to suit tight meeting schedules, partner with the best crew and cabin attendants to provide a smooth journey experience, and select the finest flying programs available in India. And all our aircrafts are regularly maintained by licensed technicians, so you can travel safely and with confidence. Experience the comfort of private jet charter flights when traveling to Goa—contact us now for more information.

Enjoy Stress-Free Travel With 24/7 Support.
Our expert flight staff are available to help with every step of your travel needs. Whether booking a flight or navigating the airport, we take the worry out of air travel so you can focus on having an enjoyable journey. We offer 24/7 customer service, online flight booking and tracking, secure payment options, and personalized departure-to-arrival services to ensure you have a safe and comfortable experience.


Your Private Charter Journey Starts Here
Subscribe and we'll send the best deals to you