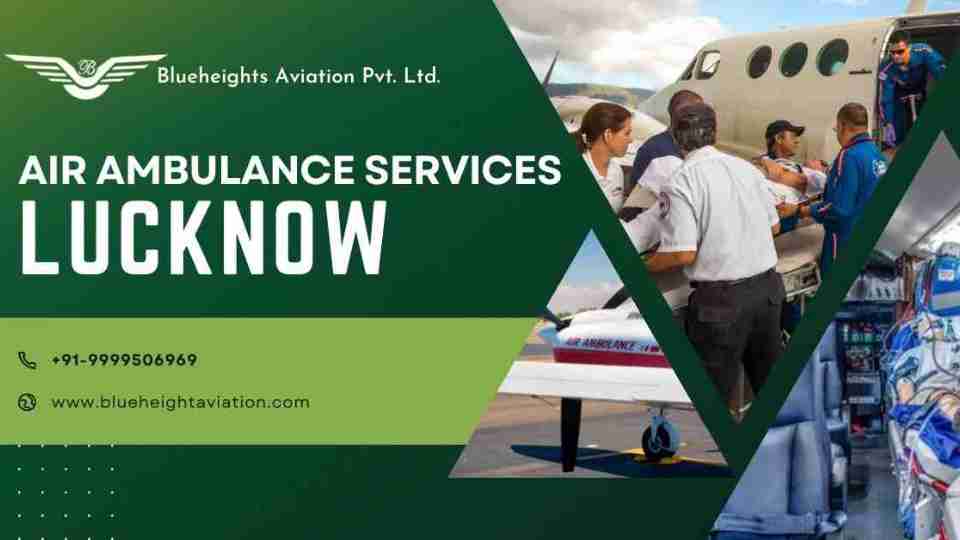 Lucknow Air Ambulance Service
What happens when you get injured or sick and need immediate medical attention? You'll call an ambulance. However, if you have to travel to another city or country for treatment, an air ambulance is the best option.
An air ambulance service is a vital part of emergency medicine. Air ambulances are usually equipped with life support systems, oxygen tanks, defibrillators, and other equipment needed to save lives.The cost of an air ambulance service in Lucknow varies depending on where it's going, how long it will take to reach its destination, and what kind of patient needs to be transported.
If you are looking for a reliable Air Ambulance Service in Lucknow, this guide will help you through.
What Is An Air Ambulance Service?
An air ambulance service provides transportation for people who need urgent medical care but cannot receive it from local hospitals. These services typically operate within specific regions, such as cities or countries.
They also tend to focus on transporting critically ill patients, those suffering from trauma, and pregnant women. Most of these Air Ambulance services are equipped with the advanced medical equipments and life support systems to deal with medical emergencies on board. A team of paramedic doctors is also available to handle the critically ill patient with their expert know-how.
Who Uses Air Ambulances?
Anyone who has been injured or suffers from a serious illness may benefit from an air ambulance. Patients who require transport include:
People living in rural areas without access to proper healthcare facilities
Those who are too far away from a hospital to receive adequate care
Pregnant women seeking maternity care in other city
Children requiring specialized medical care in other state
People with disabilities who cannot travel safely by themselves
Those who suffer from chronic illnesses like heart disease, diabetes, and cancer
Individuals who need to be transferred to a specialist facility
How Does An Air Ambulance Work?
The process begins when someone calls for an air ambulance. On receiving the call, a dispatcher at the company receives the request. They then contact the nearest air ambulance provider to determine whether the patient qualifies for assistance.
The dispatcher will ask questions about the patient's condition, location, and special requirements. Once they determine that the patient meets the criteria, they are scheduled for transport.
Once the patient arrives at the air ambulance provider's base, paramedics perform a physical examination and assess the patient's injuries. They also check for signs of pregnancy, blood pressure, pulse rate, breathing rate, and body temperature.
Paramedics then begin preparing the patient for transport. They strap them into a stretcher and connect them to monitors. Next, they load the patient onto the aircraft and secure them inside. Finally, they close all doors and prepare the plane to fly.
When the plane reaches its destination, the pilot lands the aircraft, and the crew takes over. Paramedics board the plane and begin treating the patient before transferring them to a nearby hospital.
How to Choose An Air Ambulance Provider?
Choosing an air ambulance provider can be complicated because there are so many options. The following factors should be considered when choosing an air ambulance service:
Cost – How much does the service cost?
Quality – What kind of quality assurance measures are in place?
Experience – How long have these providers been operating?
Reputation – How well known are they among other air ambulance companies?
Safety – Are they licensed by the FAA (Federal Aviation Administration)? Do they meet safety standards set by the government?
Availability – Where will the flight take you? Will your destination be a major city or a small town?
What To Look For In A Good Air Ambulance Service
There are several things to consider when looking for an air ambulance provider. Here are some tips to help you find one that fits your needs:
Look for a reputable company. There are plenty of fraudulent air ambulance companies out there. Ensure that the company has a good reputation and that the FAA properly licenses it.
Make sure that the company uses only certified pilots. Also, ensure that the patient is safe during transport.
Ask if the company offers 24-hour emergency medical services. If not, how soon after receiving the call will the company arrive on the scene?
Ask if the company provides patient monitoring equipment. It includes oxygen tanks, IV pumps, and other necessary items.
Consider the type of aircraft used. Is it equipped with advanced life support capabilities? Does it have a paramedic on board?
If possible, choose a company that flies smaller planes. These tend to be more manoeuvrable than larger ones.
Why Get An Air Ambulance?
An air ambulance can save lives. Whether you need to get from point A to B quickly or whether you need to go to the hospital right away in other cities, states, or countries, an air ambulance can get you there safely and quickly.
Paramedics board the aircraft and handle any medical emergency before transporting the patient to a hospital.
Why Choose Blueheight Aviation for air ambulance service in Lucknow ?
Blueheight Aviation is a leading air ambulance company based in India. We provide high-quality medical evacuation services throughout India and abroad. Our team consists of highly trained paramedics who provide emergency care in remote locations. You can board the Air Ambulance in Lucknow at Chaudhary Charan Singh International Airport, Amausi .
Specializing in all types of medical emergencies, we offer ground and air transportation services. Our fleet of helicopters and fixed-wing aircraft allows us to serve anywhere globally.
We understand that every situation is different. Our team works closely with each client to ensure that their experience is as smooth as possible. We provide a bed-to-bed patient transfer facility.
We also provide 24/7 emergency medical services worldwide. Our staff is available around the clock to assist patients in need.
Separate arrangements are made for Covid and Non-Covid Patients.
All our international Ambulance Services can be availed from major cities like Delhi, Mumbai, Hyderabad, Chennai, and other International Airports in India.
To avail of the best Air Ambulance Services in Lucknow from Chaudhary Charan singh international airport,
Call us Now! 9999506969,9650578989
You May also like :
Your Private Charter Journey Starts Here
Subscribe and we'll send the best deals to you